A joint oceanography research mission developed by Chinese and French scientists launched Monday on top of a Long March 2C rocket from the Jiuquan space center in remote northwestern China.
After a period of post-launch checkouts and activations, the China-France Oceanography Satellite, or CFOSat, will begin a three-year mission to survey the world's oceans, becoming the first satellite to simultaneously measure winds and waves.
The research satellite launched at 0043 GMT Monday (8:43 p.m. EDT Sunday) from the Jiuquan space center in the remote Gobi Desert of northwest China's Inner Mongolia region. Liftoff occurred just after sunrise Monday at Jiuquan, or 8:43 a.m. Beijing time.
Data collected by CFOSat will be distributed to weather forecast centers to help predict the development of tropical cyclones and formulate sea state forecasts. CFOSat also has a major role in basic scientific research, and experts will use the satellite's measurements to investigate the relationship between the oceans and the atmosphere, an exchange critical to understanding Earth's changing climate.
The CFOSat mission "will help increase the observation and prediction of catastrophic sea states, such as huge waves and tropical storms, and provide security support for offshore operations and engineering, ship navigation, fisheries and coastal management," said Zhao Jian, a senior official with the China National Space Administration, in a report published by China's state-run Xinhua news agency.
Comprising a Chinese-built satellite with a part-Chinese, part-French instrument payload, CFOSat marks the most significant space collaboration between China and France in history. Chinese and French officials kicked off the project in 2007 with preliminary studies, according to a mission timeline published by CNES, the French space agency. Officials formally approved final development and launch of CFOSat in 2014.
"It was in 2014 that we decided to go ahead with the CFOSat ocean-surveying mission, a major project confirming our nations' commitment to tackling climate change and the culmination of a unique partnership in this domain," said Jean-Yves Le Gall, president of CNES. "CNES and CNSA have constantly combined their efforts in this area ever since. We signed a memorandum of understanding in January this year, in the presence of Presidents Emmanuel Macron and Xi Jinping, to step up this cooperation and encourage wide uptake of CFOSat data."
Le Gall said CFOSat will contribute to the Space Climate Observatory, a broad initiative building on the 2015 Paris climate agreement aimed at pooling satellite and ground data on Earth's environment.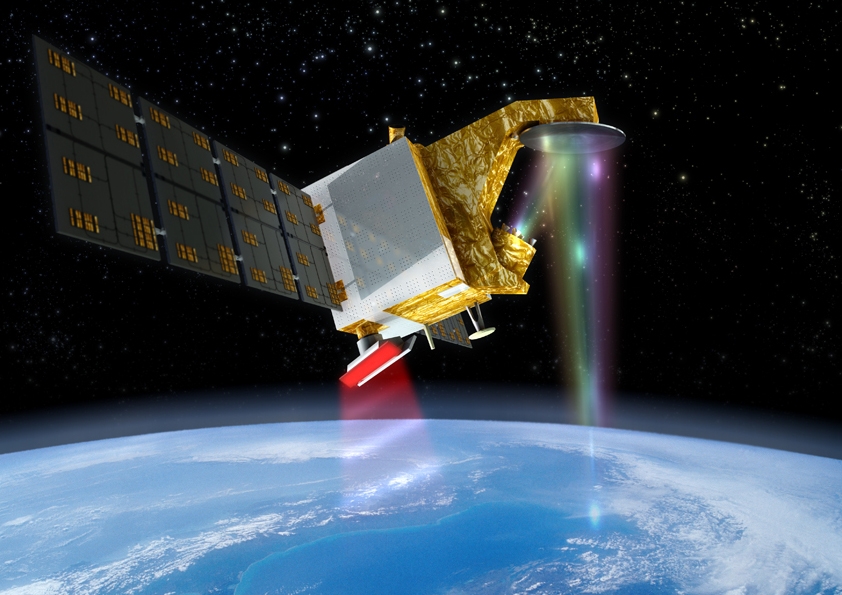 The Long March 2C rocket's second stage deployed CFOSat in a roughly 323-mile-high (520-kilometer) sun-synchronous polar orbit, and ground controllers confirmed the satellite extended its solar panel around a half-hour after liftoff.
"The solar panel is deployed, the satellite works!" Le Gall tweeted. "A very great success of the cooperation between France and China, hailed by the French and Chinese presidents!"
CFOSat's two observing instruments include a first-of-its-kind French-built Ku-band wave radar known as SWIM, and a wind scatterometer produced in China.
The SWIM scanning radar, using a rotating antenna spinning once every 11 seconds, will transmit signals in six beams down to Earth and measure how they are reflected back to the satellite. The "backscatter" data will will yield information about the roughness of water surfaces, from which software algorithms will derive the direction, length and height of waves, along with estimates of wind direction and speed.
During each pass by CFOSat, the SWIM radar will measure wave and wind conditions across a swath around 112 miles (180 kilometers) wide. The radar instrument was built by Thales Alenia Space.
According to CNES, the SWIM radar will be ready to start collecting data around one month after launch. The first calibrated measurements should be delivered to scientists in early 2019, and SWIM's radar beams will cover the globe every 13 days.
France's contribution to the CFOSat mission is a partnership between CNES and CNRS, the French national scientific research center. Meteo France, the country's weather forecast agency, will analyze and validate CFOSat data.
"With the CFOSat satellite, scientists can look forward to new and original insights into ocean surface winds and waves that will inform their research into ocean and atmosphere processes," said Antoine Petit, chairman and CEO of CNRS. "Teams at CNRS and CNES have been working to prepare this space mission for more than 10 years. They are now readying to validate and then use its data in a spirit of international cooperation."
The Chinese-built scatterometer on CFOSat was designed by the National Space Science Center of the Chinese Academy of Sciences. Fitted with its own rotating Ku-band antenna, the scatterometer will provide a global map of wind fields in less than three days.
CFOSat will broadcast its measurements to three ground stations in China and two data receiving stations in Sweden and Canada, ensuring the data get to scientists and forecasters within three hours after acquisition. Research centers in both nations will receive data from both CFOSat instruments.
The mission will also cover the polar ice sheets, providing information on snowpack and ice surface characteristics. Over land, CFOSat can measure soil moisture and soil roughness, according to CNES.
Email the author.
Follow Stephen Clark on Twitter: @StephenClark1.