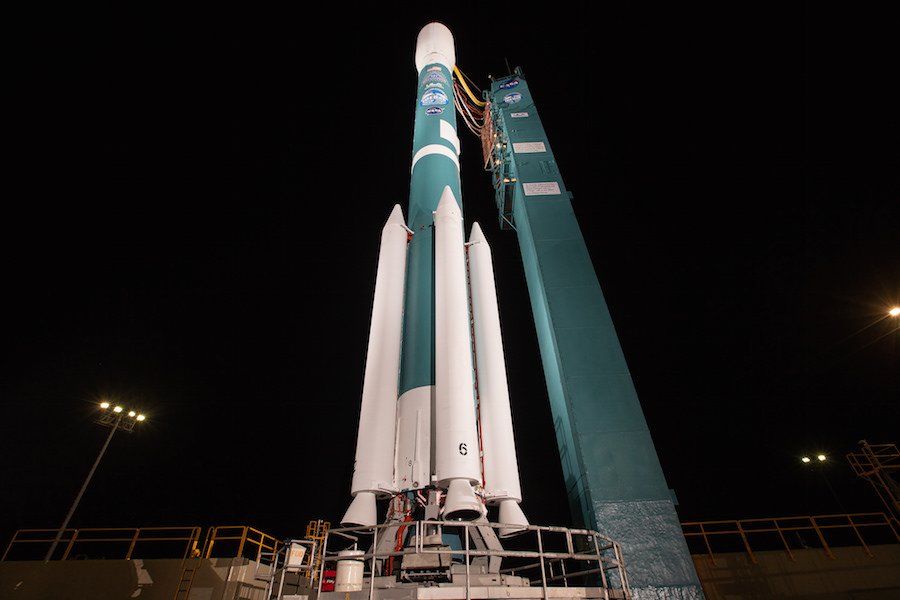 United Launch Alliance plans to assemble leftover parts for a Delta 2 rocket display at the Kennedy Space Center Visitor Complex in Florida alongside other icons of U.S. rocketry, the company announced Saturday soon after the final Delta 2 launch.
"Just because we recently watched a Delta 2 lift off for the last time doesn't mean we have to say goodbye," said Tory Bruno, ULA's president and CEO. "I'm excited to announce that the final Delta 2 rocket will soon take its place in the lineup of historic rockets located in the Rocket Garden as NASA's Kennedy Space Center Visitor Complex in Florida."
"Thank you, United Launch Alliance," said Darlene Koenig, vice president of new business development at the KSC Visitor Complex. "The Delta 2's legacy will always be emblazoned in the hearts and souls of our guests."
The final Delta 2 flight delivered NASA's Ice, Cloud and land Elevation Satellite — ICESat 2 — to an orbit nearly 300 miles (about 475 kilometers) high after liftoff from Vandenberg Air Force Base, California, at 6:02 a.m. PDT (9:02 a.m. EDT; 1302 GMT).
Designed to measure the height and slope of land and sea ice, ICESat 2 carries an Earth-pointing laser firing 10,000 times per second, and a telescope to collect laser photons that bounce off the planet's surface and back into space. By precisely measuring the time it takes for the laser light to travel down to Earth and back to the satellite, scientists can determine how far ice extends above world's oceans, the height of tree canopies, and the status of inland freshwater reservoirs.
The ice measurements are the driving reason for ICESat 2, which will extend a data series recorded by a predecessor satellite named ICESat that ended its observations in 2009. Scientists say the ICESat mission discovered ice was melting around the edges of Greenland and Antarctica, and found sea ice thinning around the world.
Saturday's launch extended a streak of successful Delta 2 flights to 100 in a row, and 153 of the 155 Delta 2 launches since 1989 were successful.
Spaceflight Now has covered 68 Delta 2 missions since 2000. Our Delta 2 coverage can be viewed here and here.
The Delta 2's basic design traces its origins to the Thor intermediate range ballistic missile in the late 1950s. Engineers uprated the Thor missile by adding a series of more capable upper stages, extending the size of its propellant tanks, and installing strap-on solid rocket boosters to carry heavier satellites into orbit.
The Thor's evolution into a reliable satellite launcher culminated in the Delta 2 rocket, which debuted in 1989 and lofted 48 GPS navigation satellites, Mars rovers, interplanetary probes, and numerous military and communications payloads in its nearly 30-year career.
Read our earlier story for details on the Delta 2's legacy.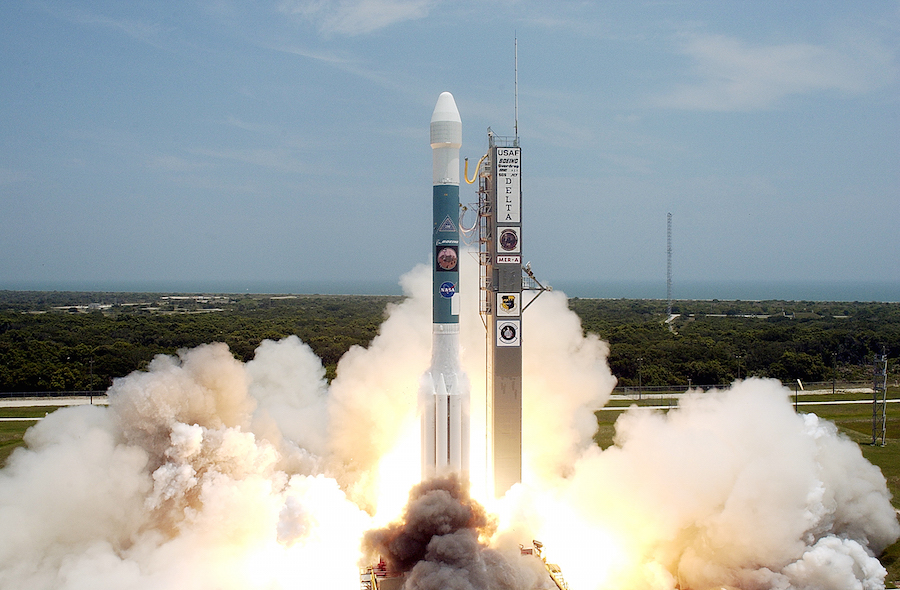 The Delta 2 launched for the last time from Cape Canaveral on Sept. 8, 2011, with NASA's GRAIL mission, a pair of probes to measure the moon's gravity field. Five more Delta 2s lifted off from Vandenberg, a spaceport suited for launches into polar orbit, a perch often used by Earth-observing satellites.
No more launches were on the Delta 2 schedule when the medium-lift rocket blasted off from California with NOAA's Suomi NPP weather satellite in October 2011. The Air Force ended its financial support of the Delta 2 program after the final GPS launch using the rocket in 2009, leaving NASA to shoulder infrastructure costs to keep the Delta 2 flying until new commercial rockets were certified to replace it.
At the time, ULA said it had parts for five more unsold Delta 2 rockets, and NASA eventually ordered four of them to launch Earth science and weather-monitoring spacecraft from Vandenberg Air Force Base:
July 2, 2014: Orbiting Carbon Observatory 2
Jan. 31, 2015: Soil Moisture Active Passive
Nov. 18, 2017: Joint Polar Satellite System 1
Sept. 15, 2018: ICESat 2
The fifth Delta 2 rocket in ULA's inventory never flew. Instead, it will be displayed at the KSC Visitor Complex, a destination for more than 1.5 million visitors each year.
"The Visitor Complex will help us keep the story of success of this much-revered rocket in the hearts and minds of the public," Bruno said.
The Delta 2, with its blue color scheme, will join the Juno 1, Juno 2, Mercury-Redstone, Mercury-Atlas, Atlas-Agena, Thor-Delta and Gemini-Titan 2 vehicles standing in the Rocket Garden. A Saturn 1B rocket is displayed nearby on its side.
The Delta 2 will become the second largest rocket displayed in the Rocket Garden, exceeded only by the Saturn 1B.
"We're going to be able to show off this blue beauty to everybody, and they can get a chance to experience the heritage of Delta 2, the legacy of reliability … and how much Delta 2 has really played part in the U.S. government and people's lives with all the scientific missions, commercial missions, and the GPS satellites that are out there that have changed the way we do business today," said Mic Woltman, a vehicle systems engineer with NASA's Launch Services Program at the Kennedy Space Center.
"The Delta 2 will live among these giants," said Jennifer Mayo, manager of exhibits and artifacts at the KSC Visitor Complex. "We will care for this precious treasure for generations to come."
Bruno added on Twitter that the Delta 2 display will consist of "mostly flight-worthy" hardware.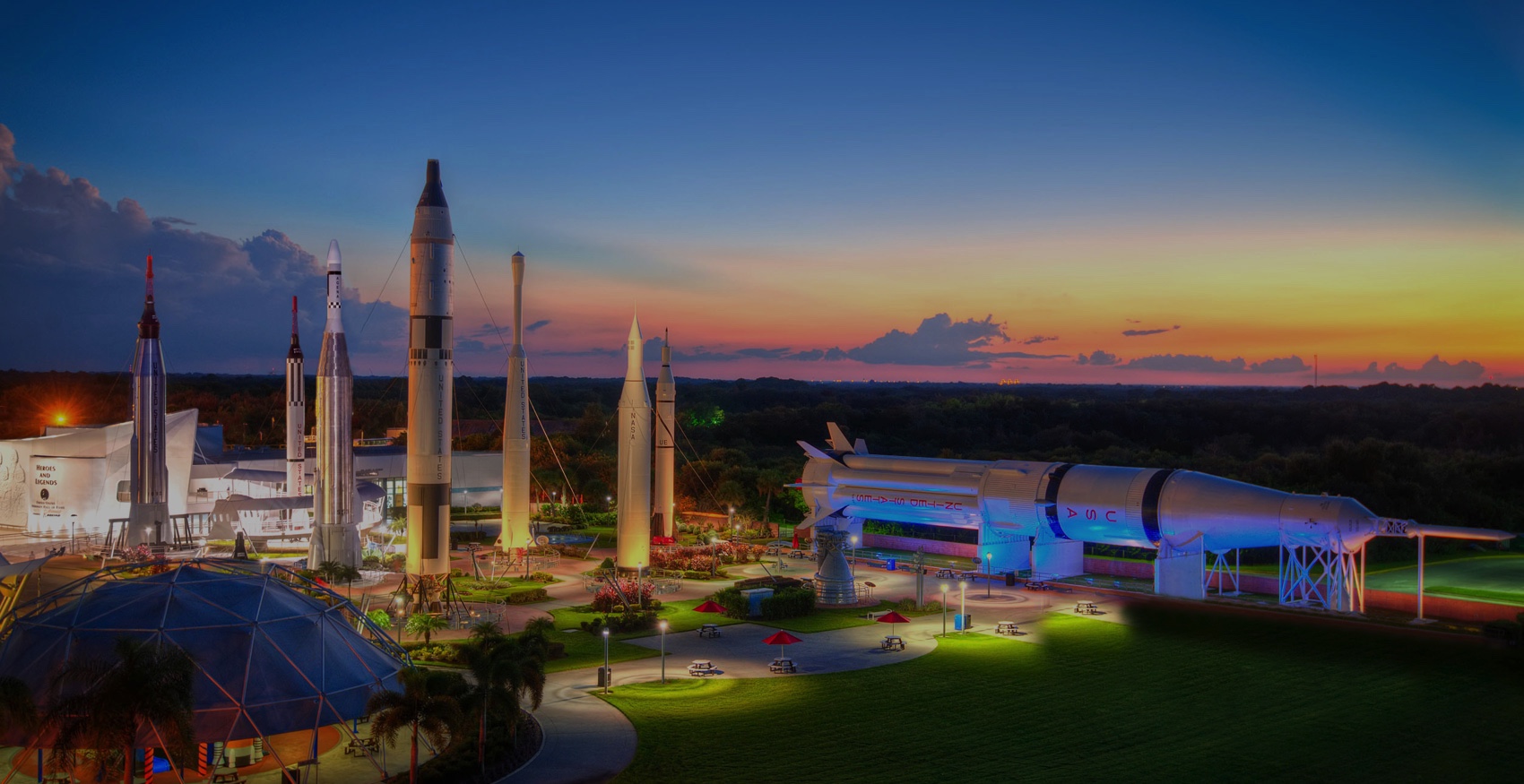 New rocket company expected to take over Vandenberg's Delta 2 pad
Once launch crews clean up and secure the Delta 2 pad at Vandenberg — named Space Launch Complex 2-West — the facility will be turned over to a new tenant.
Firefly Aerospace, a Texas-based company developing a family of commercial smallsat launchers, announced earlier this year its intention to base its first rocket flights from SLC-2W at Vandenberg. The Air Force's 30th Space Wing issued has issued a "statement of support" for Firefly to launch its Alpha and Beta rockets from the pad overlooking the Pacific Ocean.
Tim Dunn, NASA's launch director for the ICESat 2 mission, said he hopes for a speedy transition of SLC-2W to a new launch operator.
"When the Air Force launched out GPS (on Delta 2) in 2009, they closed out the program on their end and turned it over to us as the government custodian of the Delta 2 program," Dunn said in a recent interview. "So we have to close out the program. What that means is, at the hardware level, we have to … find new homes or find an appropriate way to dispose of all of the hardware, primarily the ground support equipment (and) the manufacturing hardware."
"What you do is you try to find new users for it, that you can somehow transfer that to the new user, or you have to find a way to scrap it, at the lowest cost possible," Dunn said. "That's all the associated mechanical and electrical ground support equipment. Then you have the real property, so there's a process we will go through at SLC-2 to basically evaluate what has been the impact of the Delta program over the years at SLC-2, and then come to an agreement with the eventual owner/operator, or at a minimum with the real property owner, which is the Air Force.
"So we'll safe it, secure it, if there's any contamination, we'll remove that from property and get it into configuration."
There remains some "uncertainty" about how much of the Delta 2-era structures and support equipment at SLC-2W will be used by future rockets that lift off from the launch pad, according to Scott Messer, ULA's Delta 2 program manager. The launch facility includes a mobile gantry, cranes, a fixed umbilical tower and propellant tanks.
"There are some other folks who are trying to get ahold of SLC-2, so we're working with NASA and that company, and others who may be interested, to see what exactly the closeout activities are," Messer said, without identifying the names of companies showing interest in the launch pad.
"There's some possibility that the new company will take on, and keep, a lot of the government-furnished equipment that's out there, and maybe even some of the ULA equipment if they find it useful," Messer told Spaceflight Now. "That's kind of undetermined at the moment.
"At the moment, we don't have any scope or contractual direction from NASA to go off and dispose of anything. If the new tenant keeps most of it, then there might not be any disposition," he said.
More than 70 Thor and Delta rockets took off from the SLC-2W launch pad over more than 50 years, including 45 Delta 2 missions since 1995.
The Air Force demolished the towers at the Delta 2's launch pads at Cape Canaveral in July. Moon Express plans to develop a factory and test site on the property for its commercial lunar lander program.
Messer said the ULA team that prepared for the final Delta 2 launch will continue working on the company's Atlas 5 and Delta 4 rockets. The Delta 2 production line closed around a decade ago, and ULA's launch team is trained across the Atlas and Delta families.
"They'll just continue to launch the existing product line," Messer said.
Email the author.
Follow Stephen Clark on Twitter: @StephenClark1.