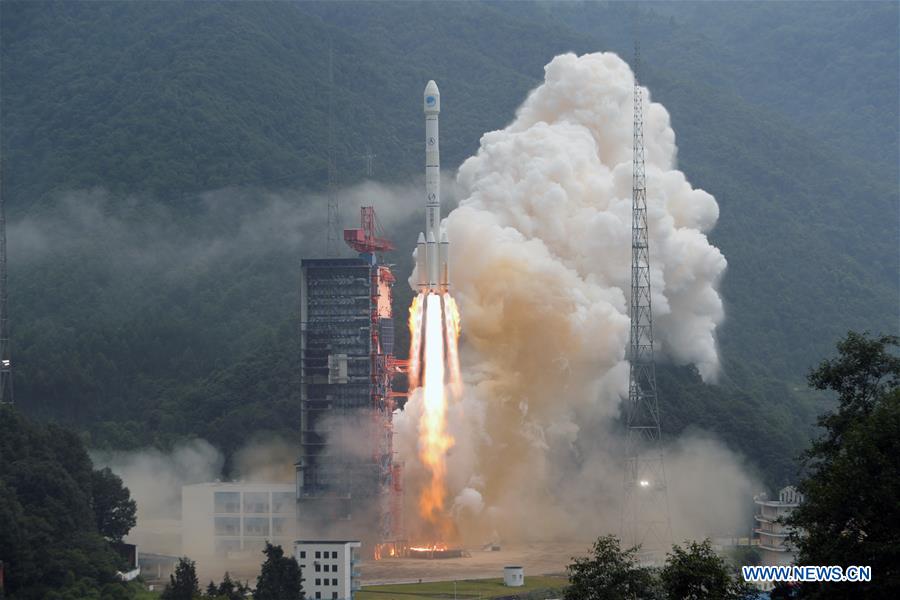 Two navigation satellites joined China's growing Beidou network with a successful rocket flight Friday that set a new record for the most Chinese space launches in a year.
The satellite duo lifted off at 2352 GMT (7:52 p.m. EDT) Friday from the Xichang space center in southwestern China's Sichuan province, according to the China Academy of Launch Vehicle Technology.
A Long March 3B rocket climbed away from the mountainous launch base, soared through an overcast sky, and headed southeast atop 1.3 million pounds of thrust from its core stage engines and four hydrazine-fueled strap-on boosters.
Liftoff occurred at 7:52 a.m. Beijing time Saturday.
A Yuanzheng upper stage delivered the two Beidou navigation satellites into an more than 13,000 miles (21,000 kilometers) above Earth, on a track inclined 55 degrees to the equator. Chinese officials declared the launch a success.
The mission was the 23rd space launch this year from China, a new annual record for the country's space program, eclipsing a mark of 22 launches conducted by China in 2016. It was the 67th space launch worldwide so far in 2018.
All of China's space launches this year have been successful.
Launches from Chinese and U.S. sites heading for Earth orbit — or beyond — have accounted for two-thirds of the global launch activity so far this year — 23 from China and 22 from the United States.
China has more launches planned in the coming months, including the Chang'e 4 lunar lander set to attempt the first soft touchdown on the far side of the moon, additional launches with Beidou navigation satellites, and an oceanography satellite jointly developed by Chinese and French scientists.
The Beidou navigation satellites deployed on Friday's mission are the 10th and 11th spacecraft to join China's homegrown positioning and timing network this year. The third-generation Beidou satellites launched Friday are also the 11th and 12th of their type to join the navigation constellation since last November.
Named for the Chinese word for the Big Dipper constellation, the Beidou constellation achieved an initial operating capability with coverage over the Asia-Pacific region in 2012. Development of the Beidou program began in 1994, and global service is expected to begin in 2020.
The first Beidou test satellite launched in 2000. With Friday's mission, China has launched 36 Beidou navigation payloads into orbit, but some were test satellites and many are no longer operational. The Beidou network, an analog to the U.S. Air Force's Global Positioning System, will consist of 35 operational satellites when fully deployed.
Email the author.
Follow Stephen Clark on Twitter: @StephenClark1.