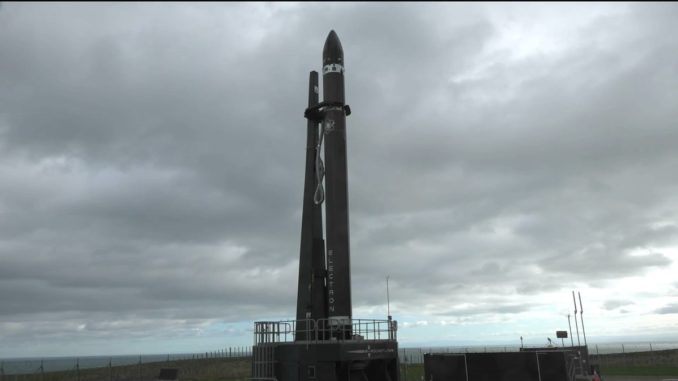 The liftoff of a Rocket Lab Electron booster from New Zealand with five U.S.- and German-built nanosatellites was grounded Tuesday, U.S. time, after engineers identified a problem with a motor controller on the two-stage launcher.
Rocket Lab officials did not immediately set a new target launch date, as engineers examine the motor controller issue, an apparent recurrence of a problem encountered during a countdown rehearsal in April, according to Peter Beck, the company's founder and CEO.
Looks like we did not totally resolve the controller from last attempt. Similar behaviour. https://t.co/0P5Kxve16W

— Peter Beck (@Peter_J_Beck) June 27, 2018
Beck said in an interview last week that during a wet dress rehearsal in April, Rocket Lab's launch team noticed "unusual behavior" in a DC motor controller driving turbopumps on the rocket's first stage.
The Electron's Rutherford engines use electrically-powered turbopumps, not the gas-driven turbines used on other rockets. That makes the engines simpler and lighter, according to Rocket Lab.
Engineers studying the motor behavior concluded it was "not a hardware issue," Beck told Spaceflight Now last week. "It was completely a process issue with production."
Rocket Lab delayed the launch from April until June to investigate the motor controller problem.
"We took our time to really drill down and make sure we fully understood the cause because from here on out, we're looking at a very high clip of manufacturing and launch for the rest of the year," Beck said. "The last thing we want to do is interrupt our manufacturing and launch flow with any kind of unresolved issue."
By the end of the year, Rocket Lab aims to achieve a launch cadence of one flight per month.
But the glitch observed during Tuesday's countdown (Wednesday in New Zealand) suggests Rocket Lab has more work to do on the motor controller.
Rocket Lab's privately-developed, 55-foot-tall (17-meter) Electron rocket is sized to carry up to 330 pounds (150 kilograms) into a 310-mile-high (500-kilometer) orbit for less than $5 million. Headquartered in Huntington Beach, California, with a launch base on New Zealand's North Island, Rocket Lab aims to carve a niche in the launch market carrying lightweight CubeSats and microsatellites into orbit.
After reaching orbit in January on its second test flight, Rocket Lab is proceeding into commercial operations with the third Electron launch, which is nicknamed "It's Business Time."
A launch attempt on Friday, U.S. time, was scrubbed due to a problem with a downrange tracking station in the Chatham Islands. Rocket Lab bypassed launch opportunities over the following three days due to poor weather, then tried again Tuesday before engineers identified the motor controller issue.
Rocket Lab has four-hour launch windows available each day through July 5, U.S. time (July 6 in New Zealand).
Two of satellites stowed inside the nose of the Electron rocket are owned by Spire Global, a San Francisco-based company which builds and operates a fleet of CubeSats collecting weather data and tracking maritime traffic. Another California-based company, GeoOptics, is also launching a small satellite for its own commercial weather monitoring constellation.
The Electron rocket will also launch a German-built craft to test an aerodynamic drag sail that could be used to de-orbit future satellites and help clear space junk out of orbit. A CubeSat named Irvine01 built by Southern California high school students is also set for liftoff on the Electron rocket.
Email the author.
Follow Stephen Clark on Twitter: @StephenClark1.