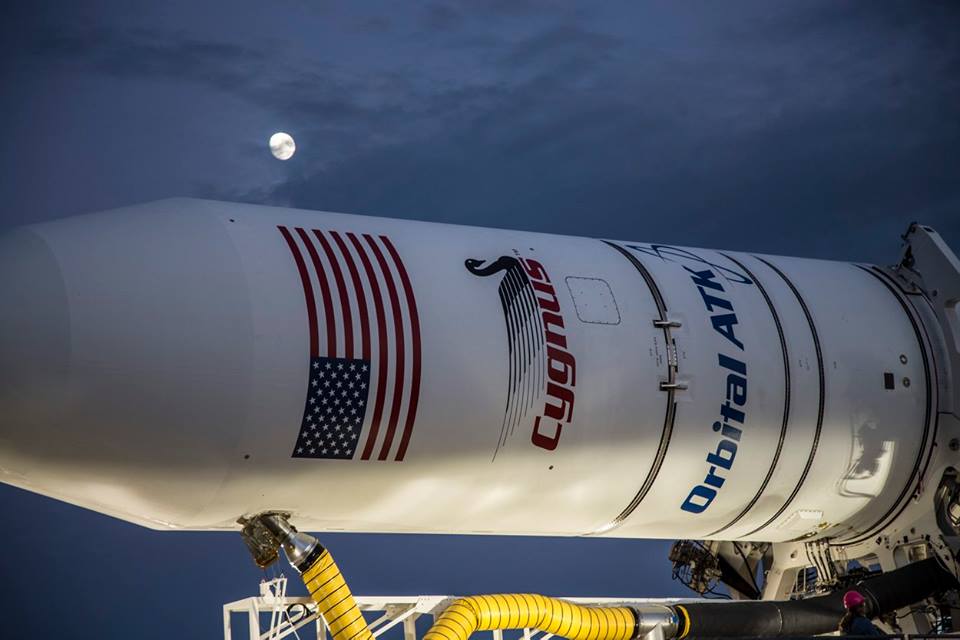 Northrop Grumman concluded its purchase of Orbital ATK on Wednesday, with the absorption of launch vehicle developer, satellite manufacturer, and munitions supplier as a new business unit named Northrop Grumman Innovation Systems.
The $9.2 billion acquisition, executed with a $7.8 billion cash purchase and a $1.4 billion debt transfer, closed a day after the Federal Trade Commission cleared the transaction to proceed with a provision requiring Northrop Grumman to make Orbital ATK-developed solid rocket motors available to other defense and aerospace contractors.
Officials expect no immediate changes to Orbital ATK's major space initiatives, such as its cargo resupply program for the International Space Station, a new rocket in development to compete with SpaceX and United Launch Alliance for U.S. military launch contracts, and its role as a builder of commercial communications satellites and military spacecraft.
"We welcome Orbital ATK's talented employees," said Wes Bush, chairman and chief executive officer of Northrop Grumman, in a statement. "We are delighted to have them join the Northrop Grumman team, and we are very excited about the value creation our combination represents for our customers, shareholders and employees.
"Together, through our leading technologies and innovation-focused culture, we look forward to developing enhanced mission capabilities and more competitive offerings in critical global security domains," Bush said.
Northrop Grumman and Orbital ATK announced the acquisition last September. Orbital ATK's shareholders and U.S. and international regulatory agencies had to approve the deal.
Before its purchase of Orbital ATK, Northrop Grumman was not a leading player in the launch industry, but it has a long history in producing spacecraft. The company's space facility in Redondo Beach, California, is building the spacecraft bus for the James Webb Space Telescope. Northrop Grumman also builds airplanes and airplane components, and supplies radars, avionics and other components to military customers.
Orbital ATK built smaller satellites and light- and medium-class launchers, supported missile defense programs, and produced ammunition.
Headquartered in Dulles, Virginia, with 13,000 employees and major sites in eight states, Orbital ATK was formed in early 2015 with the merger of Orbital Sciences and ATK. The corporate marriage combined Orbital's satellite manufacturing, missile and launcher expertise with ATK's solid propulsion and composite structure heritage.
In a statement announcing the FTC's approval of the acquisition, Northrop Grumman said the commission's order required "solid rocket motors to be available on a non-discriminatory basis."
The FTC said Northrop Grumman is one of four companies capable of supplying the U.S. military with tactical missiles, strategic missiles, and missile interceptors.
The commission said in a statement that Northrop Grumman's acquisition of Orbital ATK, if allowed to go forward without conditions, "would have reduced competition in the market for missile systems purchased by the U.S. government, resulting in less innovation and higher prices for taxpayers."
"By ensuring that other missile suppliers can continue to compete, the settlement preserves the procompetitive benefits of the transaction while addressing the potential anticompetitive harms," the FTC statement said.
In remarks during an April conference call with investment analysts, Bush said Northrop Grumman and Orbital ATK were "a very complementary match."
"Northrop tends to focus on the larger systems that have a set of mission applications that is attendent with that class of platform, whereas Orbital ATK has demonstrated a very significant capability in the small and medium size, and I would say, more agile class of spacecraft.
"If you think about what is happening in the space environment today, we are clearly moving into an arena where we need a mix of those capabilities to address the set of missions that we need to address, particularly given the contested environment that is not only the future of space, but that is the today of space," Bush said. "It's on us already."
"Our ability to bring to the customer set a full range of offerings will be significantly enhanced with this coming together of the companies," he said.
Blake Larson, Orbital ATK's chief operating officer since 2015 and a former head of ATK's aerospace business, will lead Northrop Grumman Innovation Systems.
Email the author.
Follow Stephen Clark on Twitter: @StephenClark1.