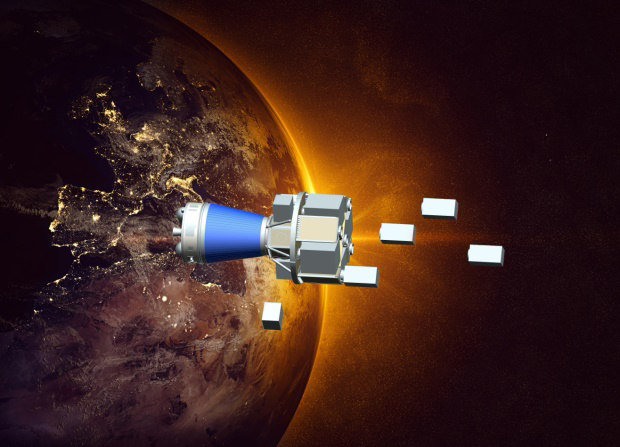 Spaceflight Industries has booked reservations for two commercial rideshare missions on Arianespace's Vega rocket, officials announced Tuesday, beginning with a proof-of-concept flight in early 2019 of a new Italian-built multi-payload dispenser tailored to accommodate small satellites and CubeSats seeking a ride into orbit.
The launch contract between Spaceflight and Arianespace covers the launch of a microsatellite and a "significant number" of CubeSats on the first demonstration of the Vega rocket's Small Spacecraft Mission Service, an adapter structure designed for rideshare missions, in which multiple spacecraft share a rocket flight, instead of only a primary payload.
The names and owners of the satellites set to launch on the Small Spacecraft Mission Service proof-of-concept flight in early 2019 were not disclosed. Spaceflight is in charge of identifying customers for the mission.
The Vega rocket will take off from the Guiana Space Center, Europe's spaceport on the northeastern coast of South America, and head into a polar sun-synchronous orbit a few hundred miles above Earth.
Seattle-based Spaceflight is a payload aggregator, arranging launch services for small satellite owners. The launch broker has managed — or was already planning — commercial smallsat missions on Russian, Indian and U.S. launchers.
"Striking this deal with Vega will serve a growing part of our market demand – namely organizations that need a diversified launch plan for small satellite constellations," said Curt Blake, president of Spaceflight. "We are thrilled to add Arianespace to our network of launch partners."
Spaceflight also has an agreement with NASA to book commercial rocket rides for some of the space agency's CubeSats.
The Spaceflight launch agreement is a key win for Arianespace and Avio, an Italian company which serves as lead contractor for the Vega rocket and designer of the Small Spacecraft Mission Service platform.  SAB Aerospace, another Italian company, is charged with building the carbon-fiber SSMS structure.
With development funded by the European Space Agency and the European Commission, the new multi-satellite dispenser is intended to help the Vega rocket capture the growing smallsat launch market. India's Polar Satellite Launch Vehicle, Russia's Soyuz rocket and SpaceX's Falcon 9 rocket have won the lion's share of rideshare contracts in recent years, with the PSLV holding the current record for launching 104 satellites into orbit on one mission.
According to ESA, the SSMS adapter can accommodate up to 15 small spacecraft or CubeSat deployers, some of which can hold multiple individual CubeSats.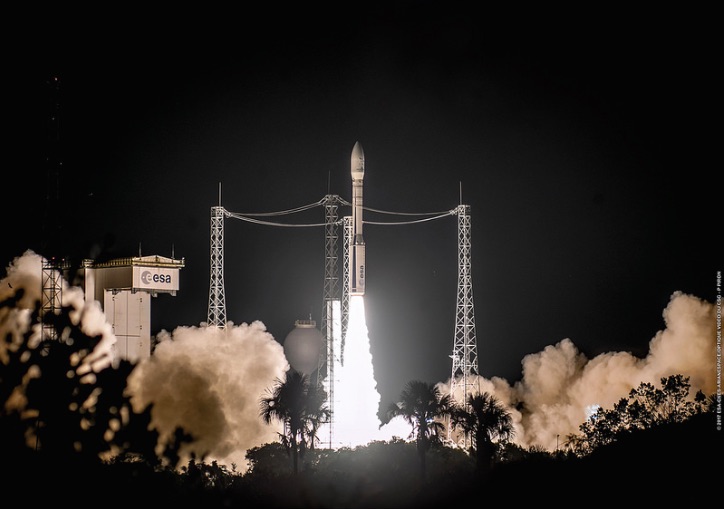 The Vega rocket has launched 11 times to date — all successfully — primarily with satellites for ESA, the European Commission and other governments, including Israel, Italy, Kazakhstan, Morocco, Peru, Turkey and Vietnam. A Vega rocket also launched a batch of four SkySat Earth observation satellites for Terra Bella, now part of Planet.
Up to two more Vega launches are planned later this year carrying ESA's Aeolus environmental satellite to measure global winds and the Italian space agency's experimental Prisma Earth observation spacecraft.
"We are honored to have been selected for the first time by Spaceflight for the launch of small satellites on the POC (Proof-of-Concept) flight of the Vega's Small Spacecraft Mission Service dispenser," said Stephane Israel, CEO of Arianespace. "It is exciting to be able to partner with Spaceflight, a company that has helped to revolutionize our industry! This multi-launch mission demonstrates Arianespace's dedication to providing access to space for the quickly evolving small satellite market. With a flawless record, Vega is perfectly suited for the job."
The Vega rocket is powered by three Italian-built solid-fueled booster stages, topped with a liquid-fueled fourth stage capable of multiple restarts, allowing the launcher to place satellites into different orbits on the same mission.
ESA and Avio are developing an upgraded version of the Vega launcher called the Vega-C set for a maiden flight in mid-2019, debuting enlarged first and second stage solid rocket motors, and a fourth stage with a lighter structure. The enhancements will give the Vega-C the ability to lift up to 2.2 metric tons — 4,850 pounds — of cargo into a 700-kilometer-high (435-mile) polar orbit, up from the current Vega configuration's 1.5-metric ton (3,300-pound) lift capacity.
Email the author.
Follow Stephen Clark on Twitter: @StephenClark1.