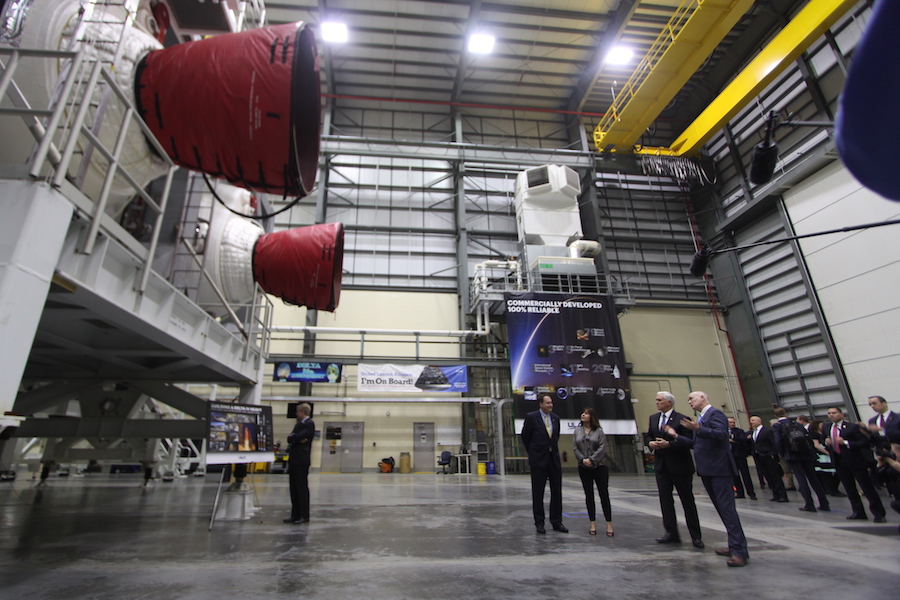 A roster of representatives from the commercial space industry, astronauts, retired military officers and politicians will advise the National Space Council as the top-level government panel seeks to reshape U.S. space policy, regulations and exploration strategies.
The Users Advisory Group will offer testimony and input to the council's deliberations, and the 29 selectees come from industry, government and multiple spaceflight advocacy organizations.
But leaders from commercial telecom and Earth observation companies who use much of the civilian U.S. rocket and satellite capacity, along with scientists currently active in space research, are largely absent from the group.
Members of the Users Advisory Group include Apollo astronaut Buzz Aldrin, former Speaker of the House Newt Gingrich and Homer Hickam, a former NASA engineer and author of "Rocket Boys," which was adapted into the film "October Sky."
Executives from Blue Origin, Boeing, Lockheed Martin, Northrop Grumman, Orbital ATK, Sierra Nevada, SpaceX and United Launch Alliance were also named to the advisory board. The group's membership also includes Dean Cheng, an expert on China from the conservative-leaning Heritage Foundation, Alabama Gov. Kay Ivey, and shuttle-era astronauts Eileen Collins, Pam Melroy and David Wolf.
The White House announced the make-up of the Space Council's advisory committee Tuesday in conjunction with Vice President Mike Pence's visit to the Kennedy Space Center. The nominees for the Users Advisory Board will be officially appointed by the NASA administrator, who is part of the full National Space Council, according to a White House statement.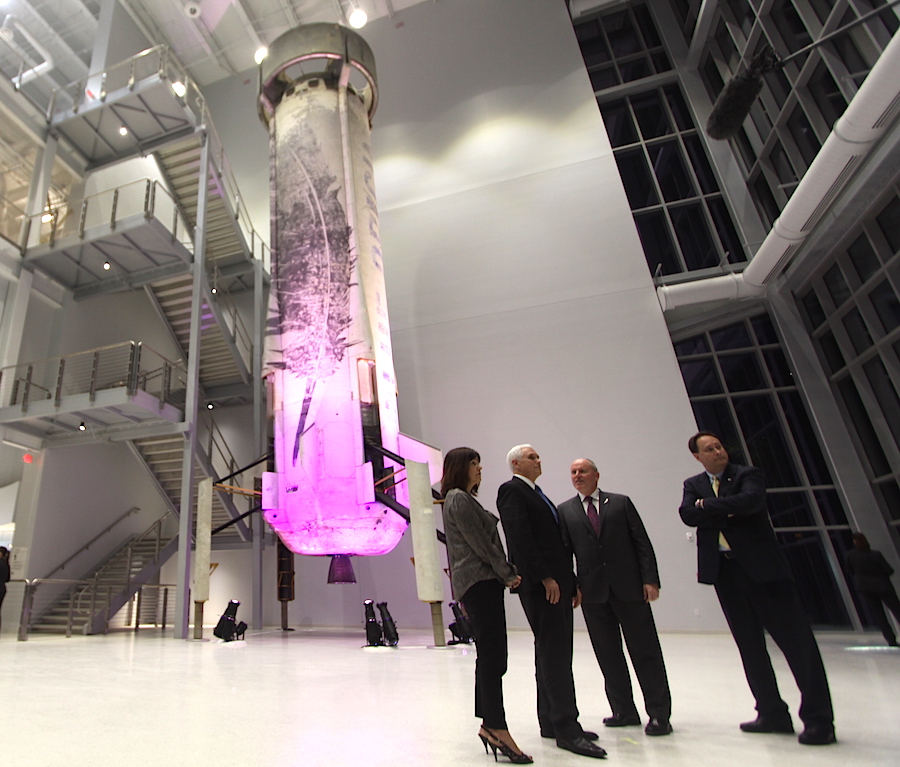 Pence chaired the National Space Council's second meeting Wednesday at the Florida spaceport.
"All of the individuals nominated for the Users Advisory Group are pioneers in their field," Pence said Wednesday. "Some have built rockets, some have built businesses, and each of them has played a critical role in building America's space future."
Most of the group's members come from engineering and business backgrounds, and few of the nominees have science degrees.
Astronaut Harrison "Jack" Schmitt, who has a doctorate in geology and walked on the moon during the Apollo 17 mission in 1972, is a member of the Users Advisory Group. Schmitt was also a Republican senator from New Mexico.
Pete Worden, a retired Air Force general and former director of NASA's Ames Research Center with a doctorate in astronomy, was also named to the panel.
Pence's two-day visit to Florida's Space Coast began Tuesday evening with a tour of United Launch Alliance's Delta 4 rocket hangar at Cape Canaveral Air Force Station. Tory Bruno, ULA's president and CEO and a nominee for the Users Advisory Group, greeted Pence and showed off a Delta 4-Heavy rocket scheduled for launch in July with NASA's Parker Solar Probe, a robotic mission that will travel closer to the sun than any spacecraft before it.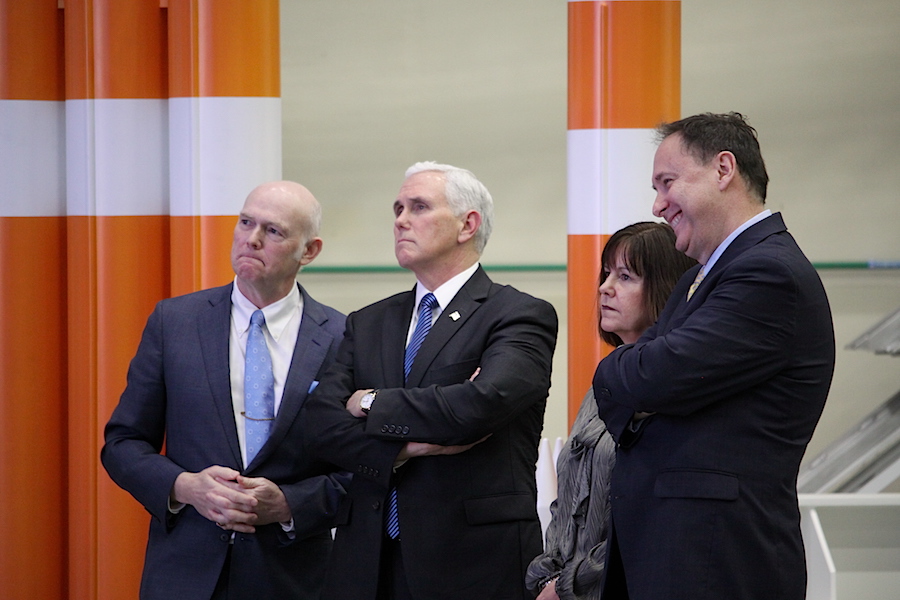 ULA officials also showed Pence a highlights video of recent Atlas and Delta rocket missions.
The next stop for Pence was a new rocket factory recently completed by Blue Origin, a space company founded by Amazon.com billionaire Jeff Bezos. Blue Origin chief executive Bob Smith joined Vice President Pence in the factory, where he signed a guest book and saw the company's flown New Shepard booster, veteran of five suborbital launches and landings.
The New Shepard is designed to carry researchers and space tourists on short, up-and-down hops to the edge of space, as soon as next year. A bigger orbital-class rocket in development by Blue Origin, the New Glenn, will be manufactured at the new factory just outside the gates of the Kennedy Space Center.
Pence was accompanied by acting NASA administrator Robert Lightfoot and President Trump's national security advisor, Army Gen. H.R. McMaster, on Tuesday evening's tour.
Vice President Pence then attended a reception at the Kennedy Space Center Visitor Complex hosted by the Commercial Spaceflight Federation. Set adjacent to a display of the space shuttle Atlantis, the event was closed to news media.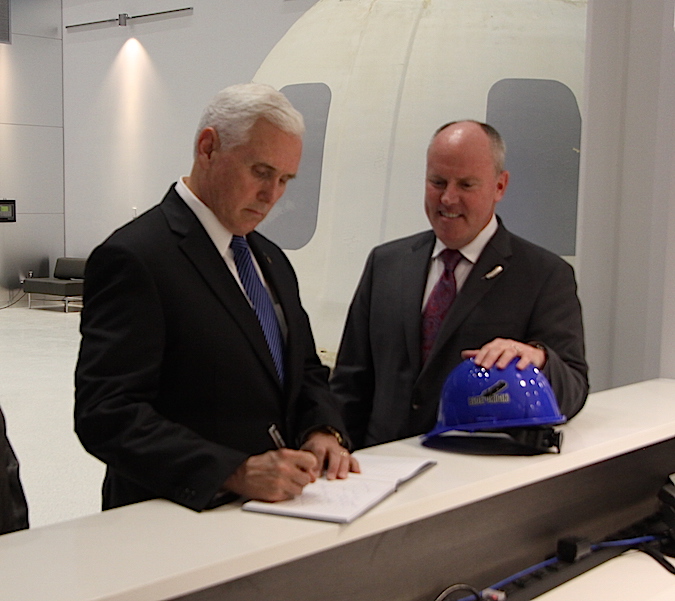 After chairing the National Space Council meeting Wednesday morning, Pence visited SpaceX's rocket integration hall at Kennedy Space Center's launch pad 39A, where he saw a booster that flew on the Feb. 6 maiden flight of the Falcon Heavy rocket.
He also toured the facility at KSC where Boeing is building a fleet of CST-100 Starliner space capsules designed to carry NASA astronauts to and from the International Space Station.
The Trump administration aims to bolster NASA's commercial partnerships, eyeing a return of astronauts to the moon, and eventually Mars. In the near-term, the Trump administration plans to continue commercial crew and cargo programs initiated under the tenures of President Bush and President Obama, along with the government-owned Space Launch System and Orion crew capsule already in development.
The White House's fiscal year 2019 NASA budget proposal released last week calls for turning over International Space Station operations to the private sector in 2025, and would cancel multiple Earth science missions and NASA's Wide Field Infrared Survey Telescope — WFIRST — to pay for a revamped human exploration campaign.
Here is a complete list of the Users Advisory Group members:
Buzz Aldrin, Apollo 11 Astronaut
Tory Bruno, President and CEO of United Launch Alliance
Wes Bush, CEO of Northrop Grumman
Dean Cheng, Scholar at the Heritage Foundation
Eileen Collins, 4-time Shuttle astronaut, first female shuttle commander
Steve Crisafulli, Former Speaker of the Florida House of Representatives
Mary Lynne Dittmar, President and CEO of The Coalition for Deep Space Exploration
Adm. Jim Ellis, Retired 4-star Admiral, former head of STRATCOM, and member of the Space Foundation Board of Directors
Tim Ellis, CEO of Relativity Space
Newt Gingrich, Author, former Speaker of the House
Marillyn Hewson, CEO of Lockheed Martin Corporation
Homer Hickam, Author of the book "Rocket Boys" and former NASA Marshall Spaceflight Center engineer
Governor Kay Ivey, Governor of Alabama
Fred Klipsch, Founder and Chairman of Hoosiers for Quality Education
Les Lyles, Retired 4-star Air Force General and member of the NASA Advisory Council
Pam Melroy, 3-time Shuttle astronaut and former Deputy Director of the Tactical Technology Office at the Defense Advanced Research Projects Agency
Dennis Muilenburg, CEO of the Boeing Company
Fatih Ozmen, CEO of the Sierra Nevada Corporation
G.P. Bud Peterson, President of the Georgia Institute of Technology
Jack Schmitt, Apollo 17 Astronaut and former Senator
Gwynne Shotwell, President and COO of SpaceX
Bob Smith, CEO of Blue Origin
Eric Stallmer, President of the Commercial Spaceflight Federation
David Thompson, Founder and CEO of Orbital ATK
Pamela Vaughan, Board Certified Science Teacher
Mandy Vaughn, President of VOX Launch Company
Stu Witt, Founder of Mojave Air and Spaceport, former Navy pilot, former Chairman of the Commercial Spaceflight Federation
David Wolf, 4-time Shuttle astronaut and physician
Pete Worden, Former Air Force General and NASA Ames Center Director
Spaceflight Now joined Vice President Pence on his tour of the spaceport Tuesday evening. More photos of his visit are posted below.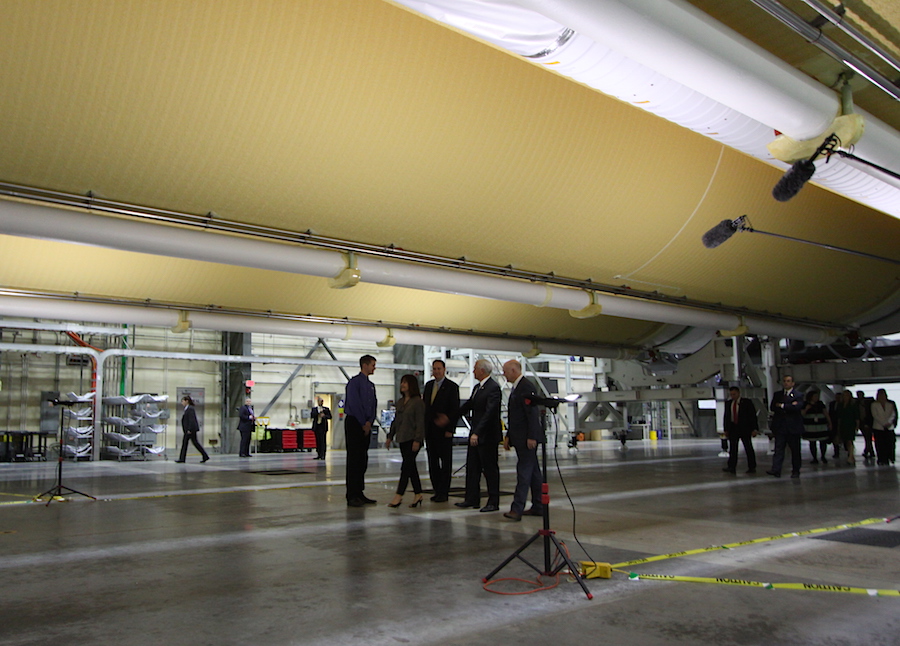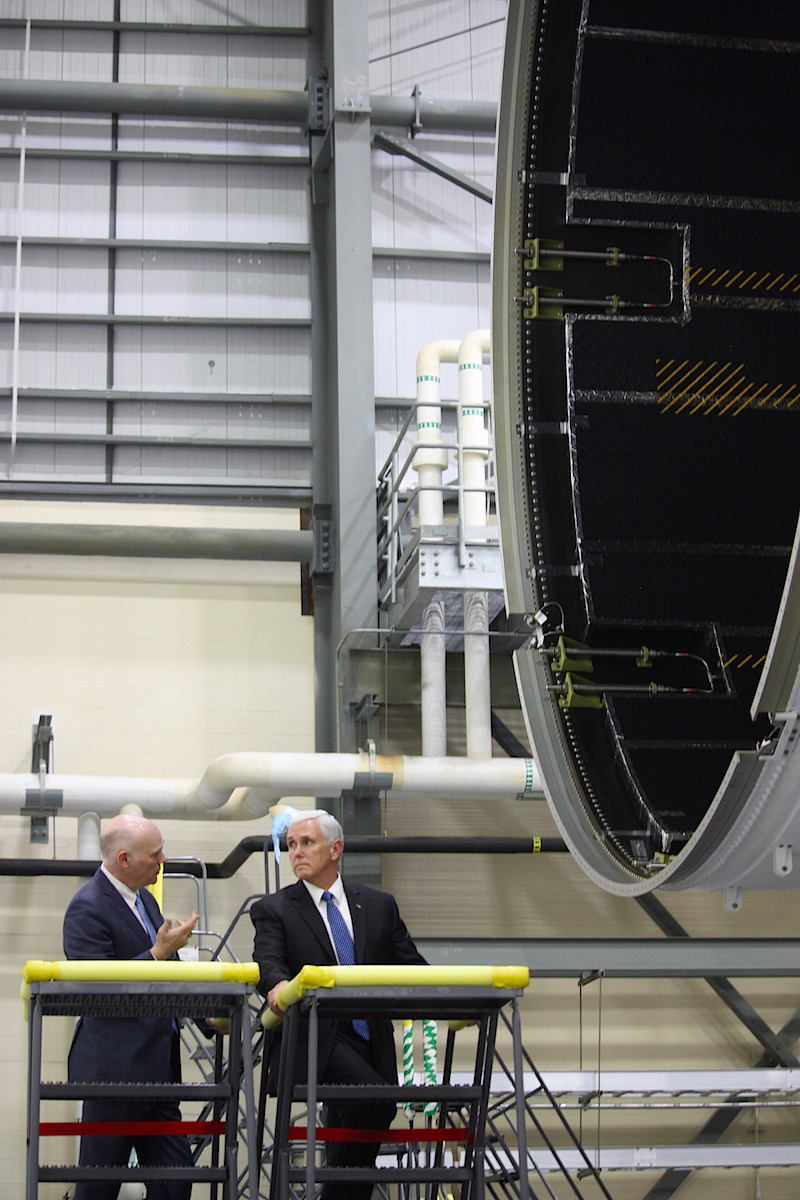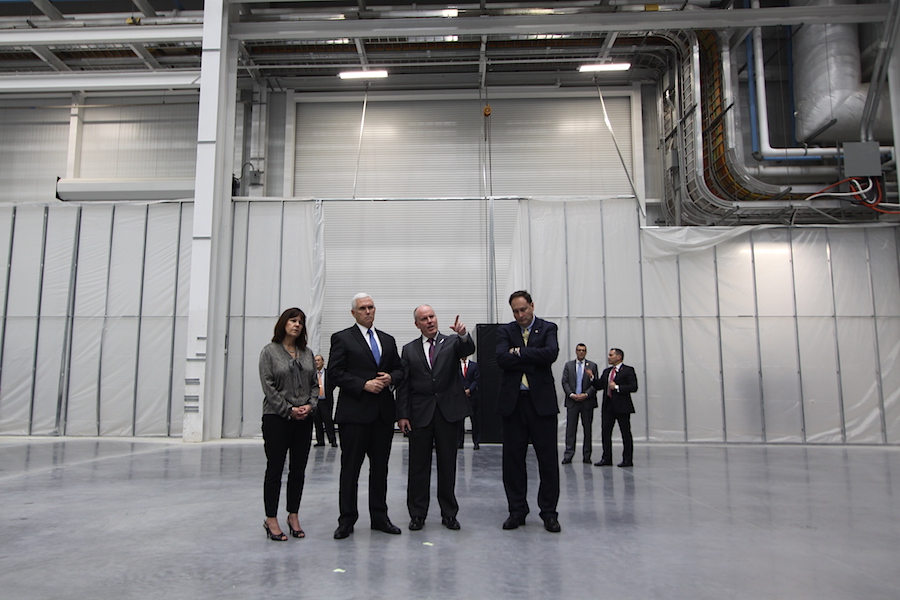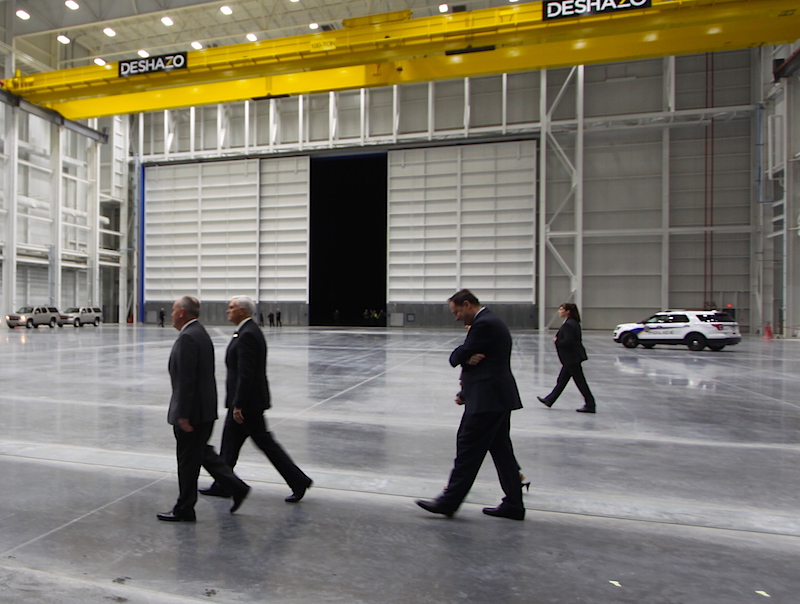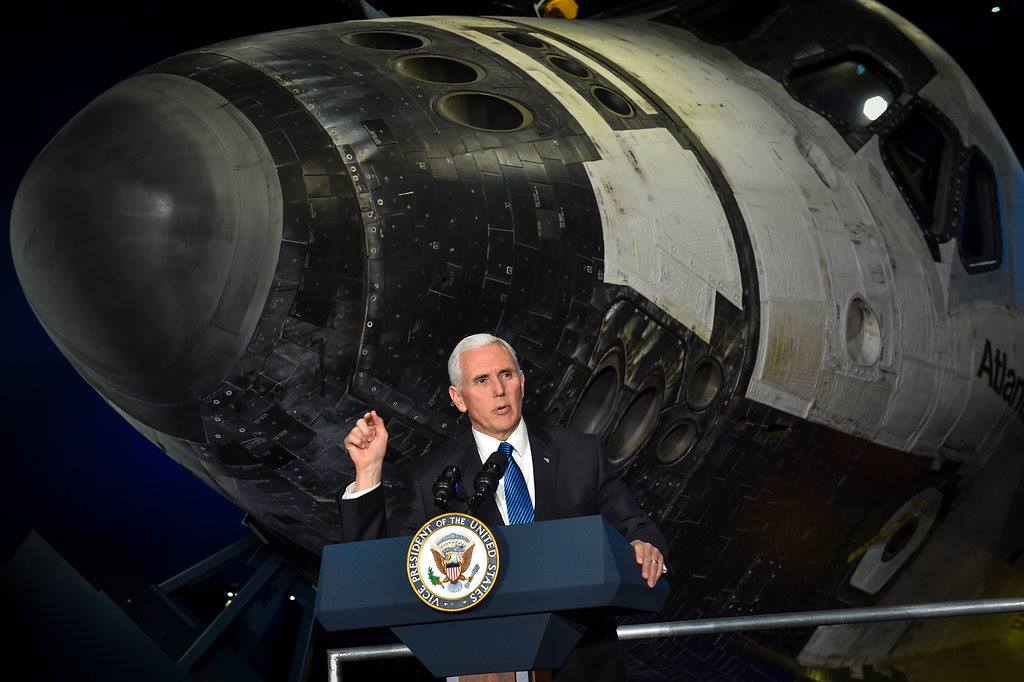 Email the author.
Follow Stephen Clark on Twitter: @StephenClark1.