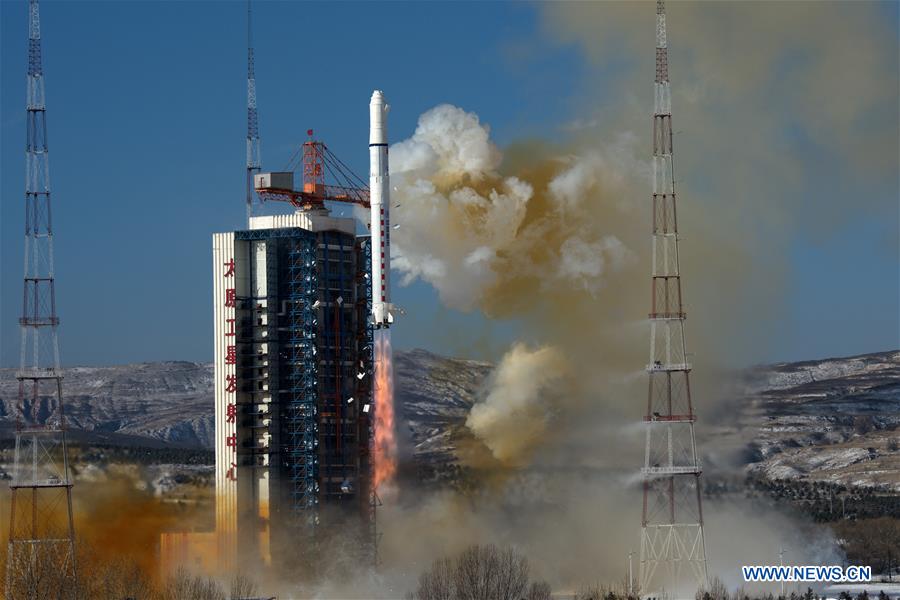 A second satellite duo for Beijing Space View Technology successfully launched Tuesday atop a Long March 2D rocket, doubling the company's high-resolution imaging capacity for sale on the global market.
Burning a mixture of hydrazine and nitrogen tetroxide propellants, the 134-foot-tall (41-meter) Long March 2D rocket lifted off from the Taiyuan space center in northeastern China's Shanxi province at 0324 GMT Tuesday (10:24 p.m. EST Monday), according to the state-run Xinhua news agency.
The two-stage rocket delivered the two SuperView imaging satellites into polar orbit around 325 miles (525 kilometers) above Earth, with tracks inclined approximately 97.6 degrees to the equator, according to data released by the U.S. military.
Officials with Beijing Space View Technology, which intends to collect and sell high-resolution imagery from the satellites, confirmed Tuesday's launch was a success.
"Success! We're thrilled to announce the successful launch of SuperView-1 03 & 04 satellites…," the company tweeted.
China Great Wall Industry Corp., the government-owned from charged with arranging commercial launches on Chinese rockets, also declared the Long March 2D mission successful.
The 1,234-pound (560-kilogram) satellites delivered to orbit Tuesday are the third and fourth SuperView 1, or Gaojing 1, spacecraft launched for Beijing Space View Technology. The first two SuperView 1 satellites were released into a lower-than-planned orbit in December 2016 after a mishap on the Long March 2D, but the spacecraft used on-board thrusters to boost themselves to the correct altitude.
Developed with government backing for commercial use, the SuperView 1 satellites are capable of collecting black-and-white imagery with a resolution of less than 20 inches (about 50 centimeters), making them the highest-resolution civilian Earth-observing craft launched by China.
"The satellites feature low weight, high agility, high image quality, and will provide high-resolution data services, value-added services and application solutions to land sources survey, mapping, environmental monitoring and surveillance," China Great Wall Industry Corp. said in a statement.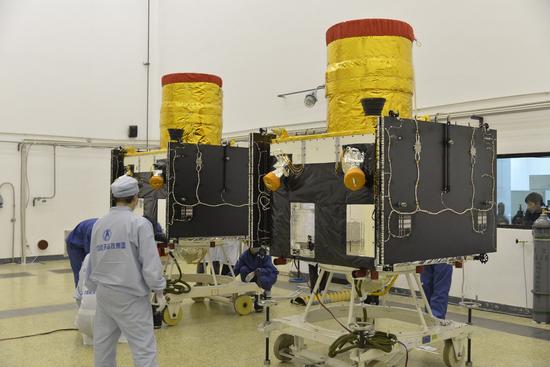 Color images from the SuperView 1 satellites will have a resolution of around 6 feet, or 2 meters, according to information released by Beijing Space View Technology.
The SuperView 1 satellites are designed to operate at least eight years in orbit.
The satellites can capture imagery in nearly 7.5-mile-wide (12-kilometer) swaths, turning to observe multiple locations on a single pass, or record images of the same point from multiple angles, allowing processors on the ground to generate stereo three-dimensional images.
Beijing Space View's sister-company Siwei WorldView is a joint venture between Siwei Surveying and Mapping Technology Co. Ltd., Navinfo and DigitalGlobe, the Colorado-based owner of the WorldView and GeoEye commercial Earth observation satellites.
The two distributors sell new and archived high-resolution imagery commercially in the Chinese market from China's own civilian-operated remote sensing observatories and international satellites like the WorldView and GeoEye series, South Korea's Kompsat family of spacecraft, Japan's defunct ALOS satellite, the Spanish-operated Deimos missions, and Kazakhstan's KazEOSat 1 Earth observation platform.
Beijing Space View intends to expand its satellite fleet in the coming years, with plans to launch 12 additional SuperView-family satellites, four higher-resolution imaging observatories, four radar-equipped commercial reconnaissance craft, and more satellites with video and hyper-spectral color cameras.
The commercial imaging constellation should be completed by the end of 2022, according to China Great Wall Industry Corp.
Email the author.
Follow Stephen Clark on Twitter: @StephenClark1.