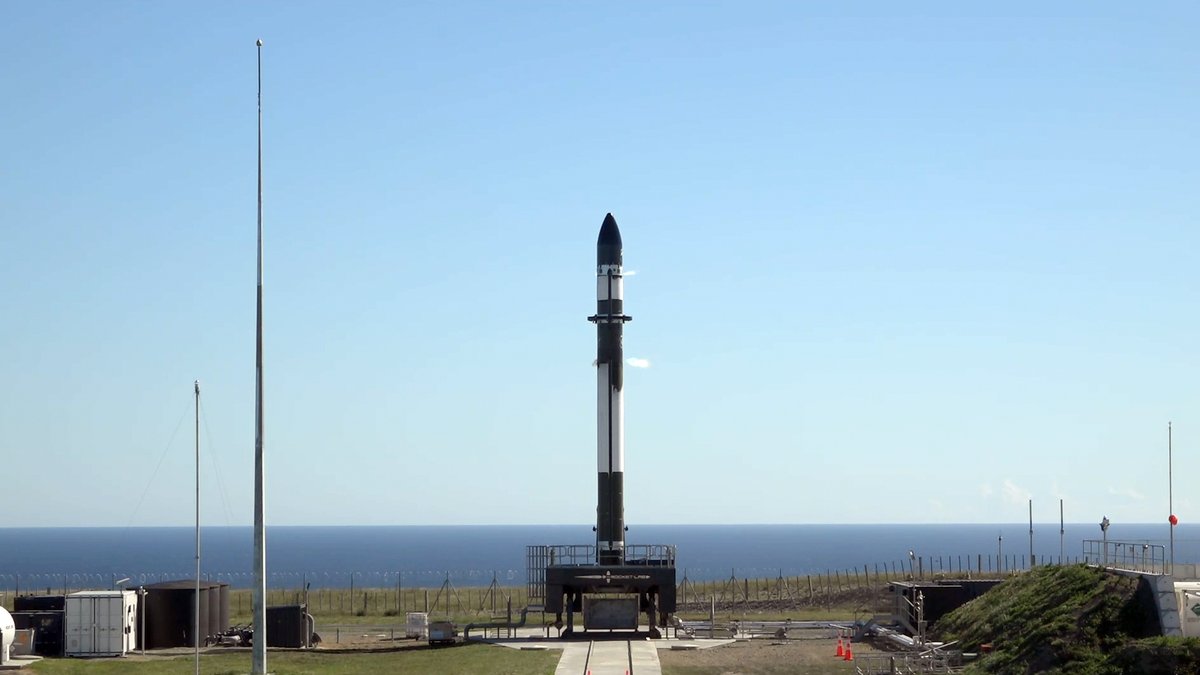 The launch of a light-class booster by Rocket Lab, a U.S.-New Zealand company aiming to provide rides to orbit for small satellites, has been delayed to early next year after technical reviews, repairs and unfavorable weather combined to keep the test flight grounded this week.
The mission's pre-approved 10-day launch window closes Sunday, and while officials may have been able to extend the window to launch next week, Rocket Lab announced Saturday the test flight from a commercial launch pad on New Zealand's North Island would be postponed into the new year.
A power system problem detected during ground checkouts ahead of a planned countdown Thursday (U.S. time) was one of several factors in the delay.
"Corrective measures have been put in place for the power fault discovered during ground checkouts yesterday, however with only one day remaining in the launch window Rocket Lab has made the decision to delay an attempt until the new year," the company said in a statement Saturday. "The current launch window ends on Sunday (Dec. 17) and will not be extended in order to preserve crew rest."
The break will give launch crews time off during the holidays.
Rocket Lab said new launch window dates will be released when they are established early in the new year.
A launch attempt Monday (U.S. time) was aborted at T-minus 2 seconds, a second after the Electron rocket's nine Rutherford main engines ignited. Rocket Lab founder and chief executive Peter Beck told Spaceflight Now that balmy weather at the New Zealand launch site caused cryogenic liquid oxygen propellant to get too warm, so the launch team planned to reconfigure the countdown's engine "chilldown" sequence to avoid the issue in the future.
High winds aloft over the launch site and other unacceptable weather conditions also prevented liftoff on some days during the 10-day window, according to Rocket Lab.
Rocket Lab's Electron rocket is awaiting its second test flight. Three small CubeSats owned by two California-based companies — Spire and Planet — are on-board the rocket, which will try to reach an elliptical, egg-shaped polar-type orbit between 186 miles and 310 miles (300-500 kilometers) above Earth.
Rocket Lab has dubbed the second Electron mission "Still Testing" after the maiden Electron launch May 25 successfully demonstrated the performance of the rocket's first stage, and partially tested the second stage. A ground tracking error led safety officials to prematurely terminate the flight around four minutes after launch from New Zealand.
The upcoming test flight will seek to verify the rest of the Electron flight profile, which should inject the three CubeSats into orbit around eight-and-a-half minutes after liftoff.
Beck said engineers have set tight bounds on technical and weather parameters because the Electron rocket is still in its testing phase, prompting some of the launch scrubs over the last week.
Rocket Lab's two-stage Electron rocket, fueled by a mixture of rocket-grade kerosene and liquid oxygen, stands around 55 feet (17 meters) tall and can place payloads up to 330 pounds (150 kilograms) into sun-synchronous orbit 300 miles (500 kilometers) above the planet.
For that service, Rocket Labs says it charges $4.9 million, significantly less than the price of any other dedicated launcher. Small satellite operators, including NASA, Silicon Valley firms and research institutions, have purchased rides for their payloads on Electron missions beginning next year.
Spacecraft that fall in the Electron's performance range currently have to book launches on rideshare missions. The schedules and orbital destinations for such missions are usually at the whim of a larger, primary payload, and the secondary passengers have little say in when or where the rocket goes.
A small satellite launcher sized to give such payloads dedicated flights could find a niche in the launch market, and Rocket Lab is one of several companies developing rockets for microsatellites.
Email the author.
Follow Stephen Clark on Twitter: @StephenClark1.