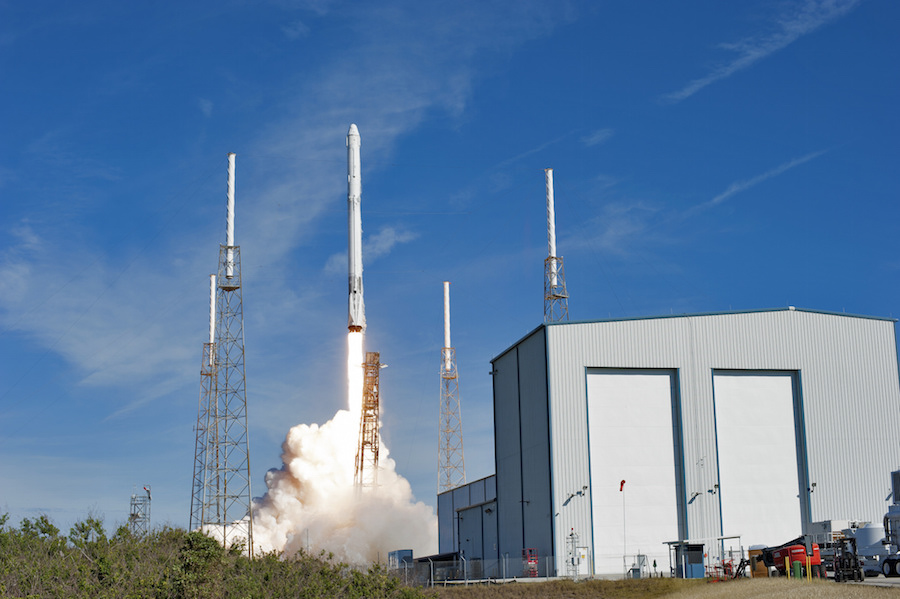 A cache of cargo bound for the International Space Station lifted off on a commercial SpaceX launcher Friday, thundering into mostly clear skies over Florida's Space Coast aboard a reused booster that made a bullseye landing back at Cape Canaveral accompanied by a crackling sonic boom.
Riding a column of brilliant flame from nine Merlin 1D main engines, the Falcon 9 rocket climbed away from Cape Canaveral's Complex 40 launch pad at 10:36:09 a.m. EST (1536:09 GMT) Friday, turning northeast over the Atlantic Ocean to align with the space station's orbital track.
The launcher arced downrange from Florida's East Coast on 1.7 million pounds of thrust before its first stage booster — a re-flown stage recovered after a space station cargo launch June 3 — shut down and detached to begin a controlled descent back to Cape Canaveral.
Meanwhile, a Merlin engine on the rocket's expendable upper stage fired to propel a SpaceX-owned Dragon supply ship into orbit, commencing a two-day pursuit of the space station more than 250 miles (400 kilometers) above Earth.
The Dragon capsule, also reused from a previous mission, deployed from the Falcon 9's upper stage around 10 minutes after liftoff. Live video from a forward-facing camera on the rocket showed the supply ship receding into space, and SpaceX officials said the capsule began pre-programmed activations, steps which included the extension of its power-generating solar panels and priming of its thrusters.
Dragon's separation from the upper stage — the primary objective of Friday's launch — came two minutes after the Falcon 9's 14-story first stage booster made a pinpoint touchdown at Landing Zone 1, a concrete target around 6 miles (9 kilometers) down the coast from the rocket's point of origin at pad 40.
Double sonic booms heralded the rocket's return as the stage's center engine fired to put the brakes on its free fall. Four landing legs unfurled from the base of the booster as it settled on the landing pad a few hundred feet from the beach.
"What a spectacular launch," said Ven Feng, manager of the ISS transportation integration office. "As a matter of fact, a spectacular launch and landing on this great morning here in Florida.
"I must admit I had a little bit of deja vu as we sat here six months ago and watched a launch and landing very similar on this very same booster, so it was quite an achievement," Feng told reporters after the launch Friday.
The unpiloted cargo mission departed Cape Canaveral a couple of weeks later than officials hoped. SpaceX attributed much of the delay to ensuring pad 40 was ready for the launch, which was the first to take off from the seaside launch complex since a Falcon 9 rocket exploded on the pad in September 2016.
The rocket left mangled debris and toxic wreckage strewn across the pad. Once SpaceX identified the cause of the catastrophic explosion — a rupture in the Falcon 9's upper stage helium pressurization system — launches resumed from pad 39A at the nearby Kennedy Space Center while crews rebuilt pad 40.
Read more about the upgrades and repairs SpaceX made at pad 40 in our earlier story.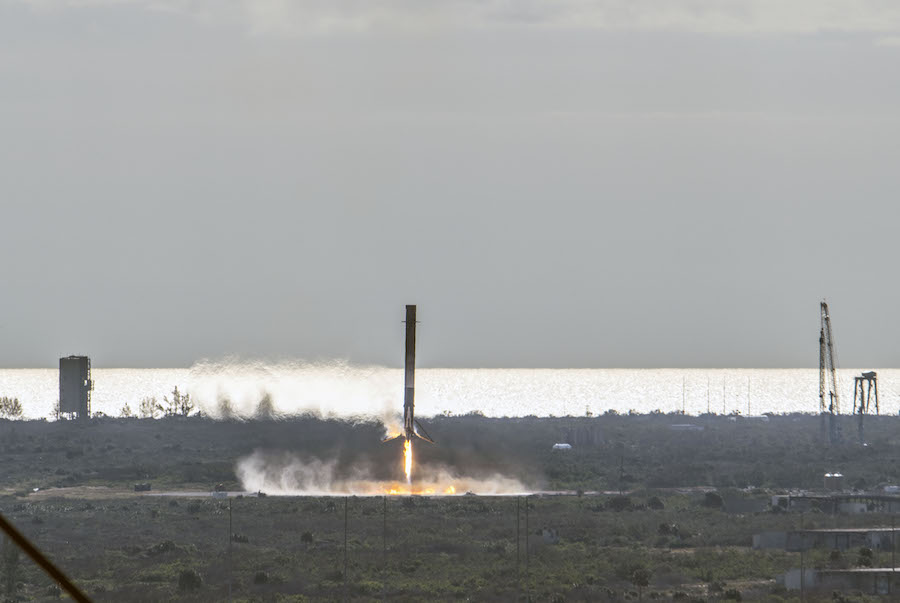 SpaceX pushed back the launch from Wednesday to flush out contaminants found in the Falcon 9's second stage fuel tank. Technicians inspected the rocket's other propellant tanks to make sure they contained no unexpected debris before proceeding with Friday's countdown.
Friday's rocket flight marked the 50th orbital launch attempt in SpaceX's 15-year history, a figure that counts the company's now-retired Falcon 1 booster. It was the 45th launch by a Falcon 9 rocket, and the 17th this year, a record for the commercial space company founded by billionaire Elon Musk.
Forty-four of the 45 Falcon 9 flights have delivered their primary payloads into orbit, a record that does not count the on-pad accident last year.
SpaceX has made major strides in its rocket reusability program this year, re-flying four recovered Falcon 9 first stages. The company's final planned flight of the year, scheduled for Dec. 22, will blast off from Vandenberg Air Force Base powered by another reused booster.
With the Falcon 9's first stage landing Friday, SpaceX has retrieved one of its boosters intact 20 times on offshore platforms and on land.
The launch Friday was the first time NASA agreed to put cargo on a re-flown Falcon 9. Agency engineers spent months reviewing how SpaceX prepares a previously-flown booster for another mission, and three successful re-flights of different Falcon 9 rockets earlier this year gave officials added confidence in the plan.
NASA officials said they will review the possibility of flying future space station cargo missions on reused rockets on a case-by-case basis. The agreement reached between NASA and SpaceX applied only to Friday's launch — the 13th Dragon resupply flight to head for the space station.
SpaceX has two multibillion-dollar cargo delivery contracts with NASA for at least 26 logistics missions through 2024.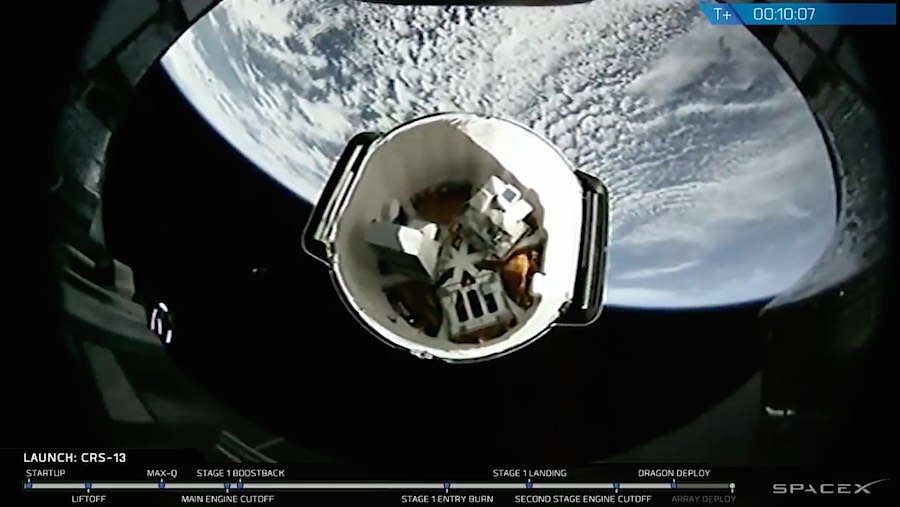 The commercial resupply run launched Friday carries 4,861 pounds (2,205 kilograms) of supplies and experiments inside the Dragon capsule, divided between an aft-mounted external cargo bay and a pressurized module, which itself was refurbished following a round-trip flight to the space station in April and May 2015.
The cargo craft is scheduled to arrive at the station Sunday after a laser-guided final approach to the research outpost. Astronaut Mark Vande Hei will unlimber the station's Canadian-built robotic arm to capture the Dragon spacecraft around 6 a.m. EST (1100 GMT) Sunday, and the ship will be attached to research lab's Harmony module for unloading.
The cargo load includes two NASA-sponsored experiments to monitor the sun's energy output, a key driver of Earth's climate, and measure the density and distribution of space junk in the space station's orbit. Both experiment packages will be mounted outside the station with the robot arm.
Also on-board: A habitat containing 40 mice to be used as research subjects for scientists investigating the efficacy of a drug delivery system for patients on Earth with muscle atrophy, a miniature blood glucose monitor that could be used by people with diabetes, and two commercial investigations from Budweiser that will study how the microgravity environment on the space station affects barley.
And the astronauts can expect a few treats, and perhaps some holiday gifts. But that's a surprise for the crew.
"I cannot confirm or deny the presence of Christmas presents on-board Dragon," said Kirk Shireman, NASA's space station program manager.
The commercial cargo craft is scheduled to depart the station in mid-January and splash down in the Pacific Ocean with research specimens for analysis by scientists around the world.
Email the author.
Follow Stephen Clark on Twitter: @StephenClark1.