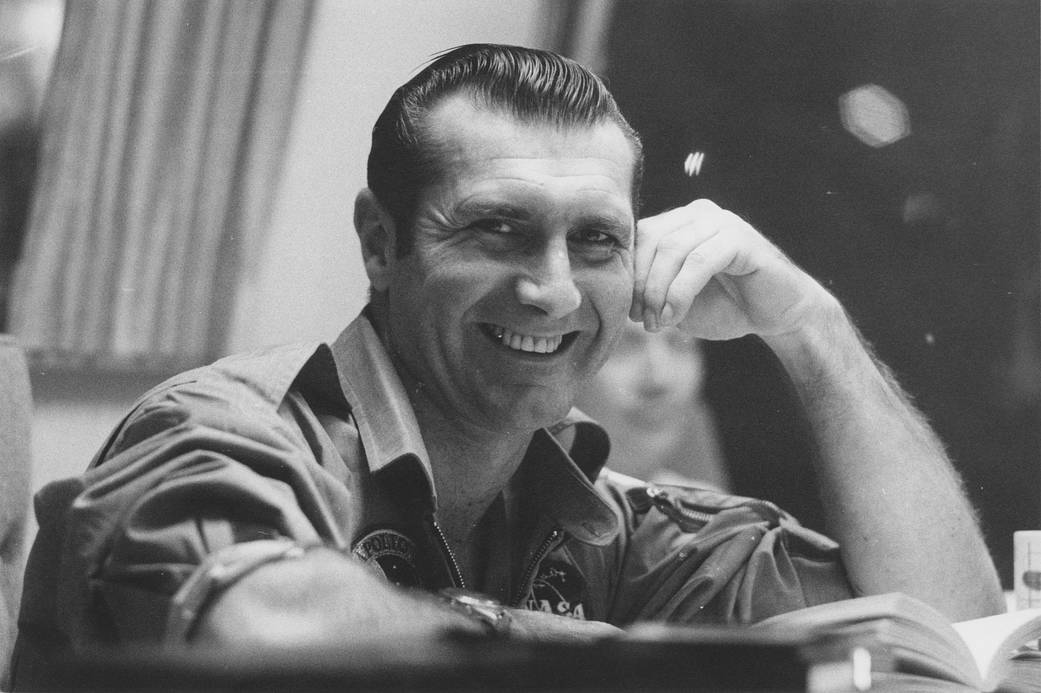 Richard "Dick" Gordon, a Navy test pilot-turned-astronaut who pioneered spacewalking procedures and orbited the moon, died at his home this week in California. He was 88.
Gordon was a two-time space flier, serving as pilot on the Gemini 11 mission in 1966 and command module pilot on Apollo 12 in 1969, logging more than 13 days in space.
"NASA and the nation have lost one of our early space pioneers," said Robert Lightfoot, NASA's acting administrator. "We send our condolences to the family and loved ones of Gemini and Apollo astronaut Richard Gordon, a hero from NASA's third class of astronauts."
"Dick Gordon is an American hero, and a true renaissance man by any measure. He was an American naval officer and aviator, chemist, test pilot, NASA astronaut, professional football executive, oil and gas executive and generous contributor to worthy causes," said Curt Brown, board chairman of the Astronaut Scholarship Foundation and a veteran of six space shuttle missions. "He was in a category all his own."
Born on Oct. 5, 1929 in Seattle, Gordon received a degree in chemistry from the University of Washington in 1951 and joined the Navy, earning his wings as a naval aviator in 1953 before his assignment as a fighter pilot. He attended the Navy's Test Pilot School at Patuxent River, Maryland, and won the Bendix Trophy Race from Los Angeles to New York in 1961, flying an F-4 Phantom jet to set a transcontinental speed record of 2 hours and 47 minutes.
Gordon was selected for NASA's astronaut corps in 1963, served as a backup pilot on the Gemini 8 mission, then was named a prime crew member on Gemini 11 with Charles "Pete" Conrad, a fellow Navy pilot.
The two-man crew accomplished a direct rendezvous with an Agena target vehicle on the first orbit following liftoff from Cape Canaveral, and Gordon stepped outside the Gemini capsule for two spacewalks.
Gordon ran into trouble on the first spacewalk, prompting an early end to the excursion. He recalled the experience in a 1997 interview with NASA's Oral History Project at the Johnson Space Center in Houston.
"I got myself in a real bind," Gordon said.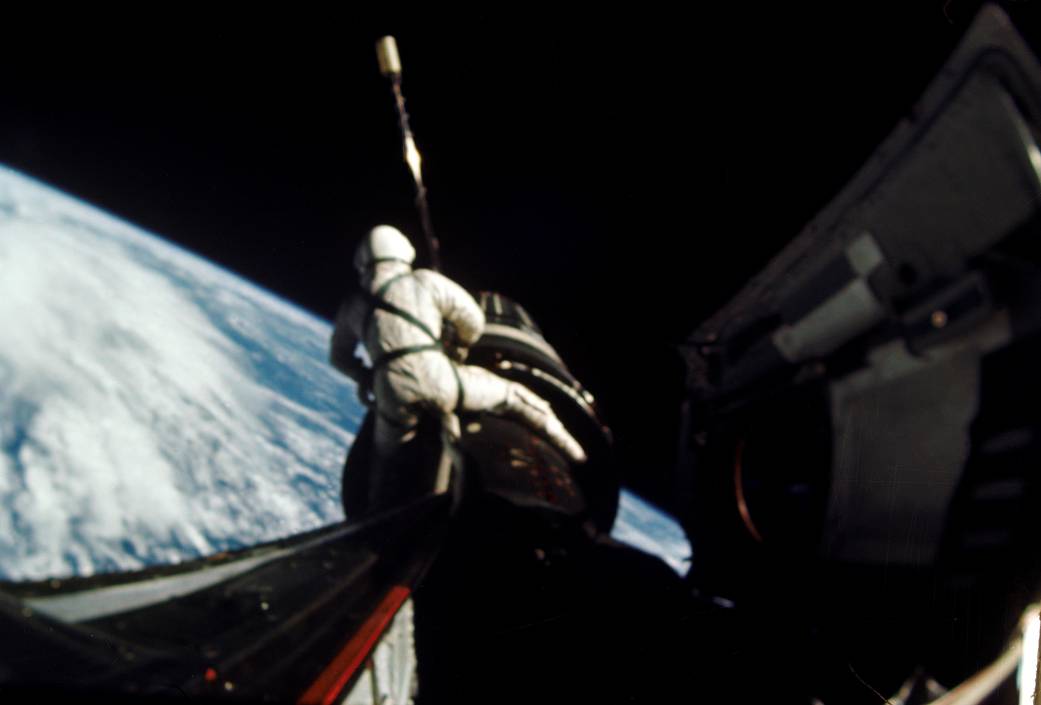 Clad in a pressure suit and helmet, he was the fourth U.S. astronaut to head outside their spaceship on a spacewalk. NASA was still in the early stages of establishing spacewalking procedures, and Gordon had no foot restraints to help him work while he remained tethered to the Gemini capsule.
He struggled to attach a 100-foot cable between the Gemini and Agena spacecraft for a planned artificial gravity experiment. Without a firm restraint, Gordon had to stabilize himself with one hand and work with the other.
"I've always equated that to the task of trying to tie your shoelace with one hand, and that was a lesson we brought back from that EVA," he said. "And I was so far behind the power curve with metabolic rates. I was perspiring. My eyes were stinging from my salt solution that they decided to quit."
NASA sent up foot restraints for future spacewalkers, thanks to the experiences of Gordon and other early astronauts.
"If you don't do that, you're just going to float away or float off somewhere else," he said. "That was the basic lesson there. Painful for me because I wanted to complete it. I was supposed to go back to the adapter section and eventually have a little propellant system that I could fly around with and never got to do it. So that was the end of that."
Gordon's second spacewalk on Gemini 11 was without incident, and the duo splashed down in the Atlantic Ocean after 71 hours in orbit.
Conrad and Gordon teamed up again on the backup crew for the Apollo 9 mission, then on the prime crew for Apollo 12, which turned out to be the second mission to land on the moon.
Alan Bean was Apollo 12's lunar module pilot and joined Conrad on the descent to the lunar surface, touching down in a region dubbed the Ocean of Storms.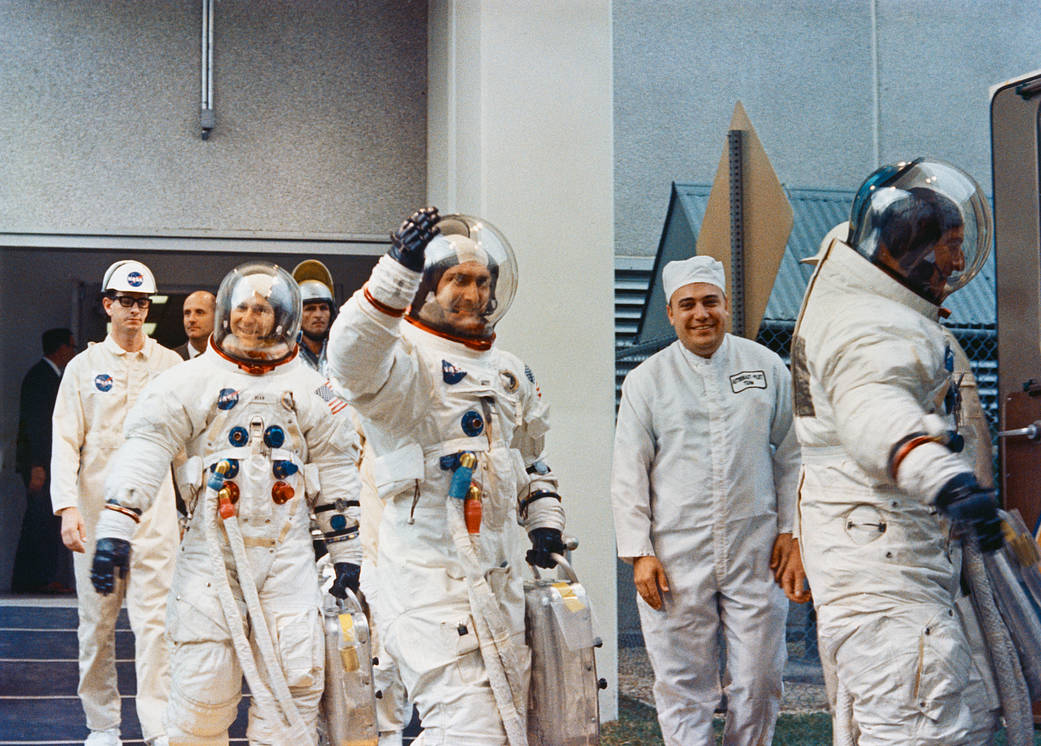 Like Gemini 11, Gordon's second spaceflight had its share of drama.
Lightning struck Apollo 12's Saturn 5 booster two times less than a minute after liftoff as the rocket climbed through thick clouds, disrupting the command module's guidance, navigation and electrical systems.
Gordon said the crew was startled as alarms pinged inside the capsule.
"We never anticipated anything like that," Gordon said. "It was not part of the training syllabus! Simulations didn't even come close to it."
With the help of mission control, the crew recovered the ship's fuel cells and navigation computer, and the astronauts pressed on to the moon. Gordon was alone in the Apollo 12 command module, named Yankee Clipper, while his two crewmates detached and landed on the moon.
Gordon flew solo in the command module for 38 hours, circling the moon at an altitude of around 60 miles and taking photos and readying the ship for Conrad and Bean's return.
Noted for their camaraderie and happy-go-lucky attitudes, Conrad, Gordon and Bean remained lifelong friends.
"We just had a great time with each other," Gordon said in 1997. "We had a lot of fun. We're very comfortable with each other. Pete and I got so that we communicated without speaking."
Conrad died in 1999 after a motorcycle crash, and Bean still lives in Houston near NASA's astronaut training base, gaining recognition for his artistry reflecting on his experiences in the space program.
Gordon never walked on the moon. He was in line get the chance with the command of the Apollo 18 mission, but the flight was canceled, and Gordon retired from the space agency in 1972, later becoming a professional football executive and a businessman in the oil and gas industry.
"The name of the game as far as I was concerned was to walk on the moon," Gordon said in a 1999 NASA interview. "And at that time, I was relegated not to do that. And I had a job and a function to perform."
"I was happy for them, that they were going to go get to do that," Gordon said of his crewmates. "Al Bean has subsequently made a painting — it's called 'The Fantasy' — and in his painting he says he could do whatever he wants to do with his paintings. And he's got one of all three of us standing on the lunar surface."
Asked how he wanted to be remembered in the annals of America's space program, Gordon replied: "A contributor."
Email the author.
Follow Stephen Clark on Twitter: @StephenClark1.