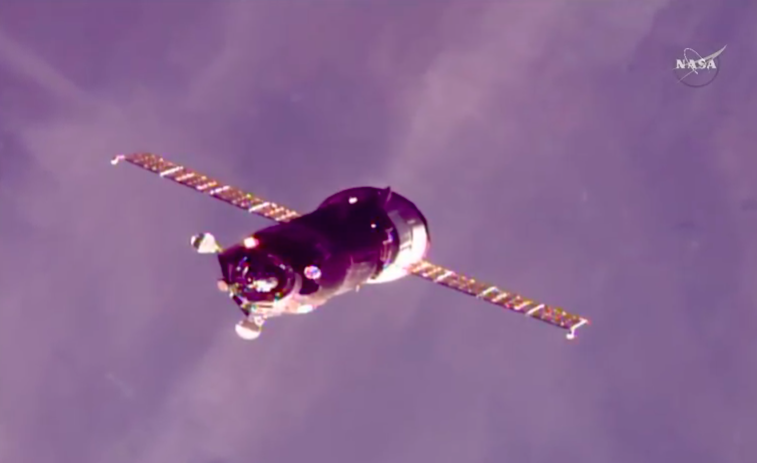 A Russian Progress resupply freighter docked with the International Space Station on Monday, delivering fuel, food and supplies to the orbiting research lab's six-person crew.
Docking with the space station's Pirs module occurred at 1104 GMT (7:04 a.m. EDT) with nearly three tons of cargo, completing a two-day pursuit that began Saturday with liftoff of the unpiloted spaceship from the Baikonur Cosmodrome in Kazakhstan.
Guided by a Kurs rendezvous radar, the Progress MS-07 spacecraft approached the station's Pirs docking compartment from below, glacially closing in on the docking target for an automated linkup 252 miles (405 kilometers) over eastern China.
The Russian cargo freighter carried 1,940 pounds (880 kilograms) of propellant, 51 pounds (23 kilograms) of oxygen and 53 pounds (24 kilograms) of air to replenish the station's atmosphere, 926 pounds (420 kilograms) of water, and 2,976 pounds (1,350 kilograms) of dry cargo, food, spare parts and other equipment for the station's six-person crew.
Cosmonauts will unload the cargo stowed inside the Progress's pressurized compartment, and propellant will be pumped from the supply ship's tanks into reservoirs inside the station.
The Progress MS-07 spacecraft is scheduled to remain attached to the space station until March, when it will undock and burn up in Earth's atmosphere with trash and other unneeded items packed inside by the lab's crew.
The mission took off Saturday aboard a Soyuz-2.1a booster launched from the steppes of Kazakhstan, and the Russian supply carrier conducted multiple thruster firings to fine-tune its rendezvous with the space station.
The launch was supposed to happen Thursday, but a last-minute abort forced a two-day delay, forcing Russian officials to cancel plans for an expedited, three-and-a-half hour trip to the space station. The position of the space station in its orbit during Saturday's launch did not allow for the fast-track rendezvous, and the mission reverted to a backup two-day approach profile.
Email the author.
Follow Stephen Clark on Twitter: @StephenClark1.