Russian ground crews are readying a robotic Progress cargo freighter for launch Thursday on an expedited trek to the International Space Station that should take less than three-and-a-half hours from liftoff to docking, cutting in half the normal transit time.
The Progress MS-07 supply ship is loaded with several tons of food, spare parts, fuel, water and breathing air for the space station's six-person crew.
The Soyuz-2.1a rocket slated to loft the unpiloted cargo freighter rolled out Tuesday to Launch Pad No. 31 at the Baikonur Cosmodrome in Kazakhstan on a specially-designed rail car. A hydraulic lift raised the Soyuz booster on the launch pad, and a service gantry enclosed the rocket for technicians to conduct final preflight checks.
The Soyuz launch team will load RP-1 kerosene and liquid oxygen propellants into the three-stage rocket in the final hours of Thursday's countdown, aiming for liftoff at 0932:03 GMT (5:32:03 a.m. EDT; 3:32:03 p.m. Baikonur time).
The launch time is precisely calculated to place the Progress MS-07 spacecraft on a direct course to the space station.
The modernized Soyuz-2.1a booster, featuring redesigned third stage propellant tanks and a digital flight control computer, will deliver the Progress MS-06 spaceship to orbit less than nine minutes later. Immediately after separating from the Soyuz third stage, the resupply craft will extend its power-generating solar arrays and navigation antennas, kicking off a series of thruster burns to rendezvous with the space station.
Thursday's cargo delivery will debut an accelerated rendezvous sequence Russian officials hope to use on future crew flights, reducing crew workload and time spent inside cramped Soyuz capsules between liftoff and docking.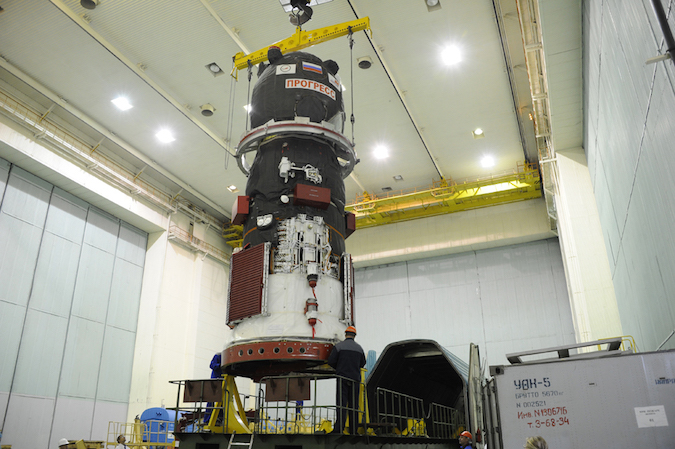 Until 2012, Russian cargo and crew flights launched on trajectories that took two days to travel to the space station. The leisurely rendezvous profile spread out the required maneuvers to approach the 450-ton orbiting research complex.
But Russian officials launched a Progress supply ship on an accelerated six-hour rendezvous for the first time in 2012, and began using the fast-track approach for Soyuz crew missions in 2013.
The six-hour trip occurs as the space station and visiting spaceship make four orbits of the Earth, while the even quicker journey set to debut Thursday takes place during just two orbits.
In order to make the fast-track rendezvous possible, the Soyuz rocket must launch at an exact instant just after the space station flies over the Baiknour Cosmodrome, and the Progress MS-07 cargo craft will commence approach maneuvers around 40 minutes after reaching orbit.
The Progress MS-07 spaceship is scheduled to completed its automated radar-guided rendezvous with a linkup at the space station's Pirs docking compartment at 1256 GMT (8:56 a.m. EDT).
Email the author.
Follow Stephen Clark on Twitter: @StephenClark1.