STORY WRITTEN FOR CBS NEWS & USED WITH PERMISSION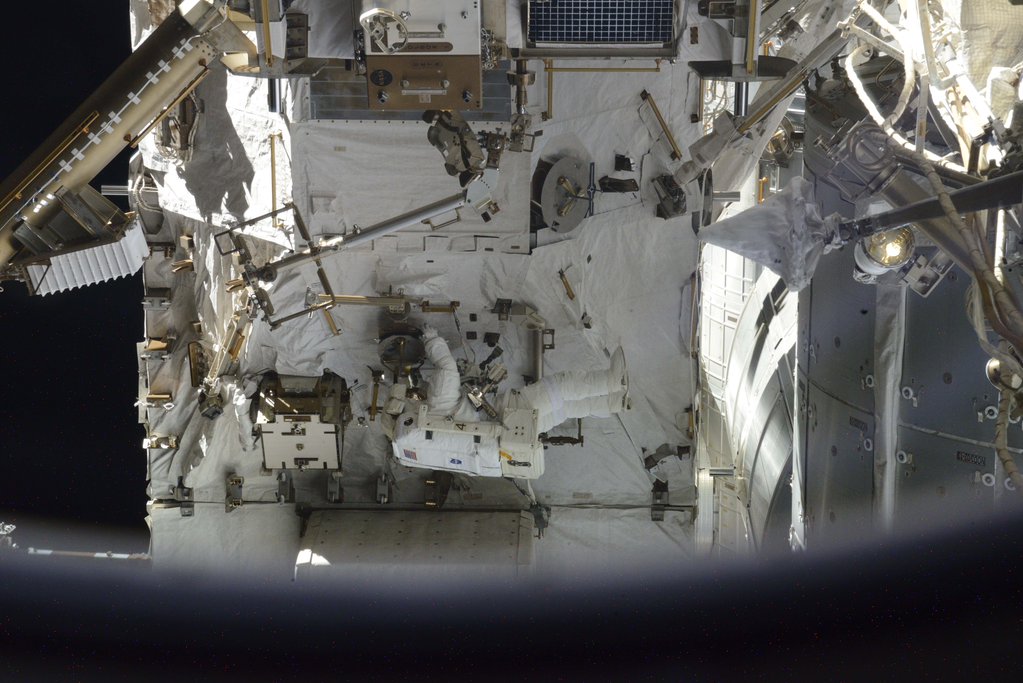 Space station commander Scott Kelly and Kjell Lindgren carried out a busy but mostly trouble-free spacewalk Friday, routing ammonia coolant back to the prime radiator used by one of the lab's solar arrays and bypassing a secondary radiator that was activated three years ago to help pinpoint a coolant leak.
The backup radiator initially was folded up against the side of the station's power truss but it later was re-extended when the spacewalkers ran out of time to cinch it down. But the primary goal of the spacewalk — restoring the coolant system of the P6 power channel 2B arrays to its normal configuration — was accomplished.
The astronauts also adjusted the brake handles of an equipment carrier coupled to a robot arm transporter and tightened bolts on a massive strut near the mechanism that rotates the left-side solar arrays in a bid to eliminate a vibration noticed in telemetry.
After re-extending the backup radiator, Lindgren and Kelly stowed their tools and tethers and made their way back to the Quest airlock, ending the spacewalk at 2:10 p.m. EST (GMT-5). Duration was seven hours and 48 minutes, pushing total station spacewalk time to 1,192 hours and 4 minutes over 190 excursions since assembly began in 1998.
"Good work, Kjell and Scott," astronaut Megan Behnken called from mission control as the spacewalkers prepared to repressurize the airlock. "It's been my privilege working with you guys today. You make us proud."
"Let me just thank all the folks that make this possible," Lindgren replied. "Really appreciate everyone from the engineers and folks that build, train and maintain our suits, folks who train us in the pool and the ops folks who worked so hard today to get as much done as possible. Just appreciate all of your hard work."
It was the second spacewalk in nine days for Kelly and Lindgren after an outing last week to carry out routine maintenance and to lay down power and data cables needed by new docking mechanisms that will be installed later.
This time around, the astronauts had to install ammonia jumpers between truss segments to route coolant from a central storage tank out to the far left-side P6 arrays. After topping off the ammonia in the primary and backup coolant systems, valves were reconfigured, isolating the secondary radiator and switching cooling back to the original panel.
The secondary radiator was extended and activated three years ago during an attempt to pinpoint a leak in the coolant system. As it turned out, the leak was in a pump module that later was replaced. Ever since then, engineers have wanted to switch cooling back to the primary radiator and to preserve the secondary as a backup.
Spacewalkers have had problems in the past working with finicky quick-disconnect fittings in the ammonia coolant system, but Kelly and Lindgren has no major difficulties Friday. Even so, the astronauts acted in deliberate fashion and it took longer than budgeted to complete the reconfiguration.
They had planned to end the spacewalk by cinching down the secondary radiator and attaching a thermal blanket. But that would have added an hour and a half or so to the crew's time outside.
Already nearly six hours into a planned 6.5-hour spacewalk, flight controllers opted instead to simply redeploy the radiator and leave it extended. The radiator will be more structurally sound extended than it would be if left stowed but not locked down.