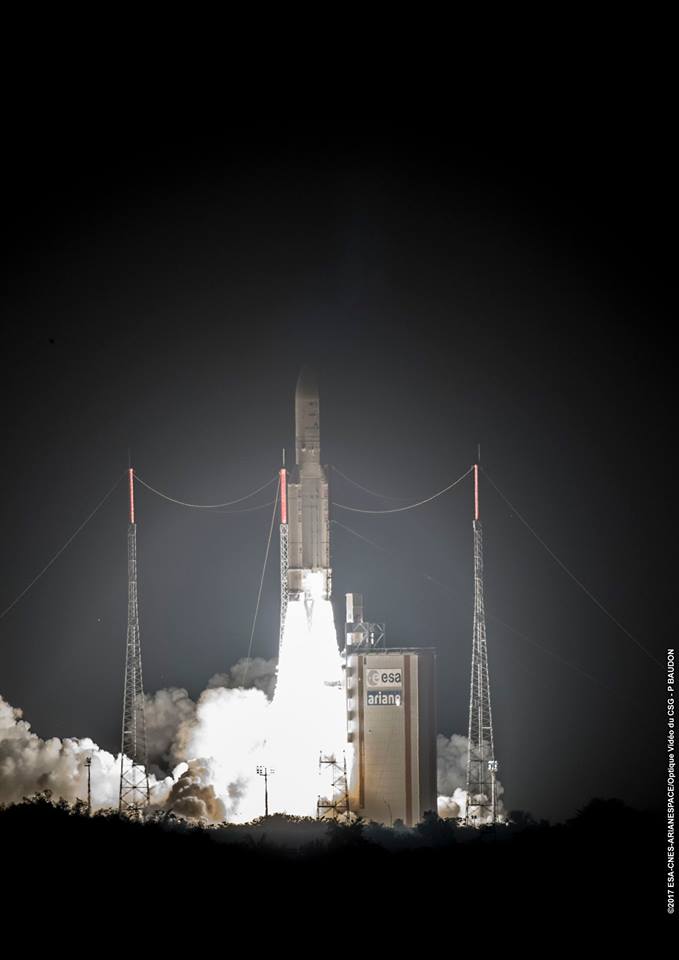 Recovering from a last-second launch abort earlier this month, an Ariane 5 rocket climbed into space Friday night from Europe's spaceport in French Guiana to place two U.S.-built communications satellites in orbit for Intelsat and Broadcasting Satellite System Corp. of Japan.
After a nine-minute delay, the Ariane 5 rocket took off with 2.9 million pounds of thrust at 2156 GMT (5:56 p.m. EDT; 6:56 p.m. French Guiana time) Friday, heading toward the east over the Atlantic Ocean with the Intelsat 37e and BSAT 4a communications satellites.
Two side-mounted solid rocket boosters burned out and jettisoned around two-and-a-half minutes into the flight, and the Ariane 5's Swiss-made payload shroud fell away about a minute later.
The Ariane 5's Vulcain 2 main engine consumed around 700 pounds, or 320 kilograms, of super-cold liquid hydrogen and liquid oxygen propellants per second until shutting down at the nine-minute point of the flight.
A smaller HM7B engine ignited on the Ariane 5's second stage to send the Intelsat 37e and BSAT 4a spacecraft into an elliptical geostationary transfer orbit, aiming to guide the satellites into an orbit with a high point of 22,186 miles, a targeted low point of 155 miles and an inclination of 6 degrees.
A member of the Ariane launch team confirmed the rocket reached a near-perfect orbit, and Intelsat 37e and BSAT 4a separated from the launcher at approximately Plus+29 minutes and Plus+47 minutes, respectively.
Arianespace declared the flight a success, extending the Ariane 5's streak of consecutive successful launches to 81 in a row, a record dating back to 2003. Friday night's mission marked the fifth Ariane 5 launch of the year, and the 95th Ariane 5 flight overall.
"Arianespace is proud to share this fifth successful Ariane 5 launch of the year, its 81st in a row, with our American and Japanese customers," said Stephane Israel, CEO of Arianespace.
The mission's first launch attempt Sept. 5 was aborted after ignition of the Vulcain main engine, and before the irreversible ignition of the boosters, when a computer discovered a problem with an electrical component on one of the side-mounted motors.
Ground teams rolled the Ariane 5 back to its vertical assembly building at the spaceport to replace the suspect part and reattach fueling arms to the rocket's second stage, which retracted as designed in the final seconds of the halted countdown.
Two U.S.-built satellites are bolted on top of the Ariane 5 rocket.
The 14,193-pound Intelsat 37e satellite, occupying the upper position in the Ariane 5's dual-payload stack, will beam broadband, wireless communications, television and government services across the Americas, the Atlantic Ocean, Europe and the Middle East from a perch in geostationary orbit at 18 degrees west longitude. Made by Boeing in El Segundo, California, Intelsat 37e was the fifth new-generation Epic-series satellite launched for Intelsat.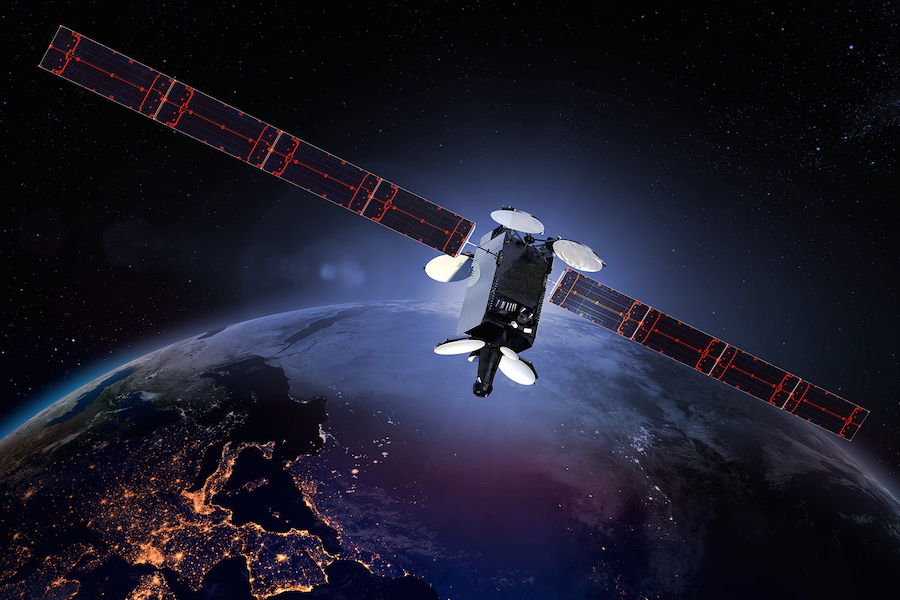 "Intelsat 37e includes new innovations that further our performance goals," said Stephen Spengler, Intelsat's CEO. "The Intelsat 37e satellite features power-sharing technology to optimize performance for specific applications and regions. This satellite also includes steerable beams to support high-performance mobility and government applications in Africa, Europe and the Americas."
Designed for a lifetime of at least 15 years, Intelsat 37e is the most capable Intelsat satellite ever launched. The new satellite will replace Intelsat 901 launched aboard an Ariane 4 rocket in June 2001.
"Intelsat 37e is also the first high-throughput satellite to offer full beam interconnectivity between C, Ku and Ka-band beams," Spengler said. "This unique feature, enabled by the digital payload, underscores the flexibility and high performance our customers have come to expect from the Intelsat Epic fleet."
Companies such as Speedcast, Omni-Access, Algeria Telecom and TIM Brazil will be among the first customers to deploy services on Intelsat 37e, Intelsat said in a statement, supporting 3G and 4G wireless networks and broadband services on commercial ships.
A Sylda adapter was discarded from the Ariane 5 a few minutes after separation of Intelsat 37e, revealing the 7,760-pound BSAT 4a spacecraft, the mission's other satellite passenger.
BSAT 4a will provide HD, 4K and 8K Ultra HD television broadcasts over Japan for Broadcasting Satellite System Corp. The satellite was built by Space Systems/Loral in Palo Alto, California, and carries 24 Ku-band transponders.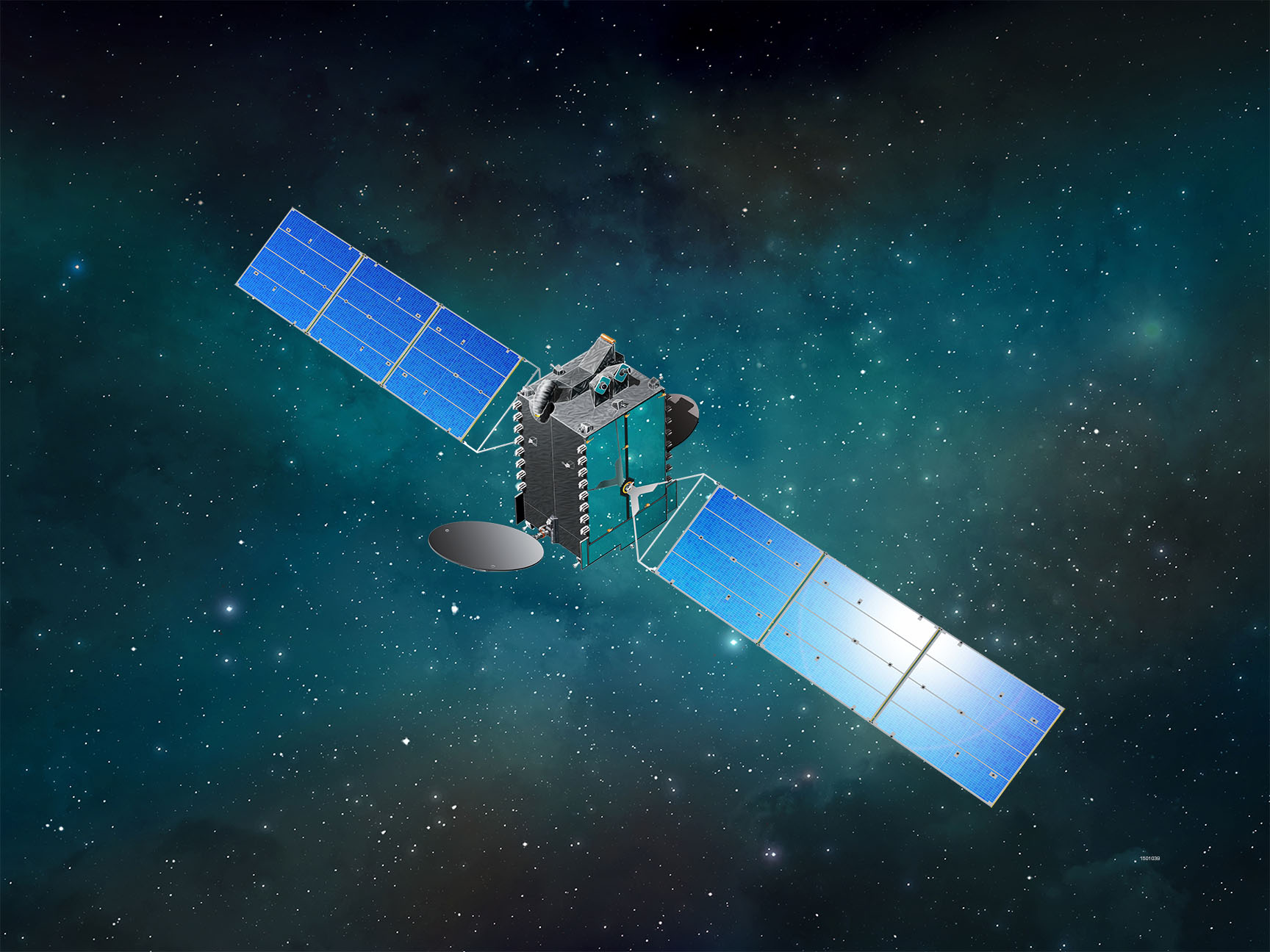 "BSAT 4a is the world's first 8K satellite," said Lincoln Day, senior executive director for the BSAT 4a program at SSL. "It will provide advanced television services for Japan, and it will provide 4K and 8K satellite television for the 2020 Olympics that happen in Tokyo, as well as the Paralympics that happen in that summer."
SSL will hand over control of the BSAT 4a satellite to its Japanese owners in October. BSAT 4a will replace the BSAT 3a satellite launched by an Ariane 5 rocket in 2007.
Both payloads launched Friday will fire on-board thrusters to reach their final circular orbits more than 22,000 miles over the equator. The orbit-raising burns will take around two weeks, then the satellites will complete their final solar array and antenna deployments and functional testing before starting commercial service.
Intelsat 37e will operate from a perch in geostationary orbit at 18 degrees west longitude, while BSAT 4a is heading for a geostationary slot at 110 degrees east longitude.
Arianespace's next launch is scheduled for Nov. 7, when a lightweight Vega rocket will send up a European-built reconnaissance satellite for the Moroccan government.
The next Ariane 5 launch is on track for Dec. 12 with four European Galileo navigation satellites.
Email the author.
Follow Stephen Clark on Twitter: @StephenClark1.