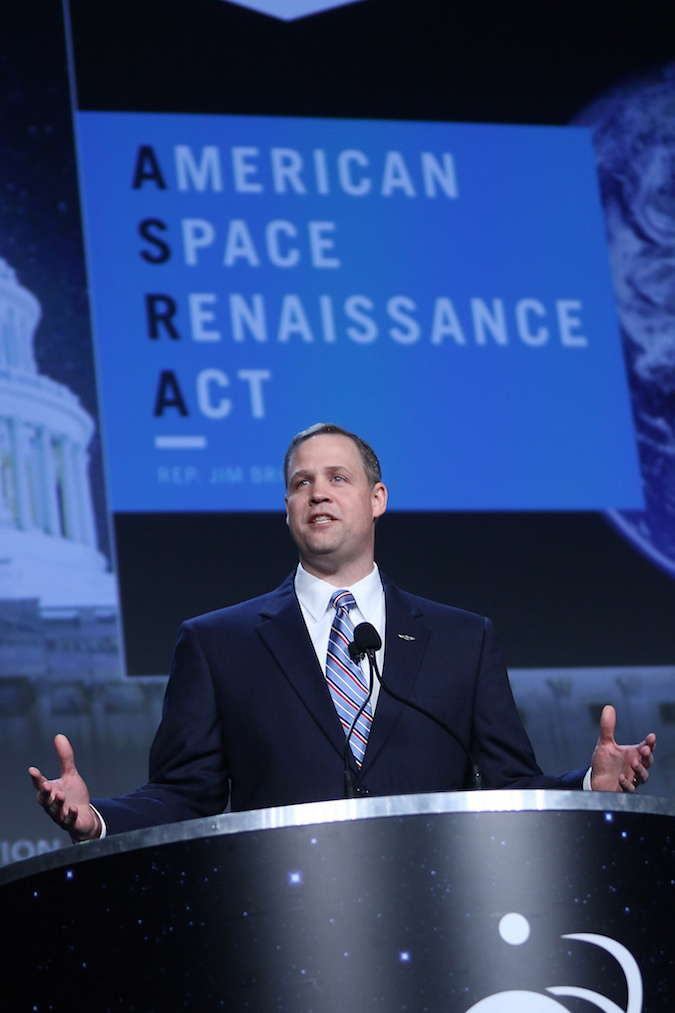 President Trump plans to nominate Rep. Jim Bridenstine, an Oklahoma Republican who has championed commercial spaceflight and a return to the moon, to be the next NASA administrator after months of speculation.
Bridenstine was long rumored to be the favorite for the post, taking over for former NASA administrator Charlie Bolden, who left the agency at the end of the Obama administration in January.
The three-term Oklahoma congressman is a pilot in the U.S. Navy Reserve who has taken an interest in space policy in his time on Capitol Hill. Bridenstine is a member of the House Armed Services Committee and the Committee on Science, Space and Technology.
"I am pleased to have Rep. Bridenstine nominated to lead our team," said Robert Lightfoot, NASA's acting administrator. "Of course, the nomination must go through the Senate confirmation process, but I look forward to ensuring a smooth transition and sharing the great work the NASA team is doing."
Lightfoot, a career civil servant and aerospace engineer, has led the agency since Bolden's departure.
"I look forward to working with a new leadership team, and the administration, on NASA's ongoing mission of exploration and discovery," Lightfoot said. "Our history is amazing, and our future is even brighter, as we continue to build on this nation's incredible global leadership in human exploration, science, aeronautics and technology."
Bridenstine is a proponent of increased commercial involvement in space exploration, and he has advocated a return of U.S. astronauts to the lunar surface before NASA mounts a human expedition to Mars.
The Senate must confirm Bridenstine's nomination.
Before his election to Congress, Bridenstine was executive director of the Tulsa Air and Space Museum and Planetarium. He holds an MBA from Cornell University and undergraduate degrees in economics, psychology and business from Rice University.
A crewed mission to Mars is NASA's stated long-term objective, a destination set by the White House and Congress during the Obama administration in the aftermath of the space shuttle's retirement. The space agency has no official plans for a return to the moon, but has said it will support commercial or international efforts to land crews on the lunar surface.
"I think it's important for us to keep Mars as a priority, but I also think that if the rest of the world is going to the moon, we ought to be leading that effort and not following, or just dismissing it altogether," Bridenstine told reporters in February.
He has raised concerns about China's ambitions on the moon, and has called for NASA to make room for commercial partnerships on a potential lunar mission.
The European Space Agency, one of NASA's main international partners, has openly discussed creating a moon village, or lunar base, with a broad global partnership like the alliance that created the International Space Station.
""I think it's important for the United States to lead there," Bridenstine said. "I think what is available on the moon is very helpful to get to Mars, and it's a place where we can learn.
"We're talking about going to Mars. Would you rather learn for the first time on Mars, or would you rather learn where there's a three-day emergency trip back to Earth? I would rather learn where there's a three-day emergency trip back to Earth."
It's not clear how much input Bridenstine will have on President Trump's space policy, which will be driven by a new National Space Council chaired by Vice President Mike Pence. The space council includes members from NASA, the Department of Defense and other government agencies.
Supports of a "Mars first" policy say a lunar expedition would delay missions to the red planet and ultimately be more expensive. They also question how much could be learned with a lunar landing or a moon base because a Mars descent requires different technology, such as a heat shield, a parachute and braking rockets.
NASA says it could send a crew to the vicinity of Mars by the early-to-mid 2030s, with a landing to come some time later. Bridenstine is skeptical whether that schedule is realistic.
"I don't want to do anything that would slow our path to Mars, but I want make sure we get there, and I want to make sure we get there safe, and I think the moon represents the best opportunity to develop technologies that are necessary to do that."
"When we ultimately go back to the moon, which is what I believe we should do and I believe we will do, I think it is important that we don't go to leave flags and footprints again, that we go for a permanent presence," Bridenstine said in a February speech at the FAA's Commercial Space Transportation Conference in Washington. "There are strategic important reasons to do that. The poles of the moon contain billions of tons of water and at the poles of the moon, you also have almost permanent sunlight. That water ice represents power. It represents fuel."
Bridenstine has also authored legislation to streamline regulations on the commercial space industry, and he has proposed changing the way the U.S. government tracks space junk in orbit, shifting the responsibility for orbital traffic management from the military to a civilian agency.
"We need to provide regulatory certainty for new non-traditional space activities like commercial space stations, orbital robotic servicing of satellites, and other orbital servicing capabilities, and resource utilization from the moon and asteroids," Bridenstine said in February.
He's helped drive efforts at NOAA to acquire commercial satellite weather data to add to the observations gathered by expensive government-owned weather satellites.
In the realm of space exploration, Bridenstine said he backs NASA's Space Launch System and Orion programs, a huge heavy-lift rocket and crew capsule that could be used to support Mars or lunar missions. But he said government-run space projects should be handed over to the commercial sector when feasible, such as a future research outpost in low Earth orbit once the International Space Station is retired.
"When space development is in the national interests of our country and the capital costs and risks are too high for commercial enterprise to 'close the business case,' the U.S. government should lead," Bridenstine said. "But it should do so with the purpose to retire risk and eventually commercialize when able."
Bridenstine pledged to serve only three terms in the House of Representatives, and he said he was not planning to run for re-election before his nomination to head NASA.
Some space advocacy groups welcomed Bridenstine's nomination.
"Together with the establishment of the National Space Council chaired by Vice President Pence, this step advances the framework for U.S. leadership in space," said Mary Lynne Dittmar, President and CEO of the Coalition for Deep Space Exploration. "Rep. Bridenstine has been an active and vocal advocate for space on Capitol Hill. We look forward to working with NASA's new leadership team to support NASA's development of a deep space infrastructure for human spaceflight, beginning with the Space Launch System, Orion crew vehicle and Exploration Ground Systems."
The Commercial Spaceflight Federation, formed by a group of private sector companies, also expressed support.
"NASA needs dedicated and inspired leadership, and Representative Bridenstine is an outstanding choice to provide precisely that," said Alan Stern, board chair of the Commercial Spaceflight Federation. "The Commercial Spaceflight Federation applauds this strong choice for NASA administrator and a bright American future in space."
"I have had the privilege of working with Mr. Bridenstine since his first year in Congress and have been very impressed with his deep knowledge of space technology issues and his record of strong leadership in promoting positive change," said Eric Stallmer, CSF's president. "His wide range of experience will provide a welcomed perspective for all space stakeholders."
But Florida's two senators have expressed concerns about the nominee, according to a report in Politico.
"The head of NASA ought to be a space professional, not a politician," Sen. Bill Nelson, D-Florida, told Politico.
According to Politico, Sen. Marco Rubio, R-Florida, said he worried Bridenstine's "political baggage" would hurt his chances to be confirmed in the Senate.
"It's the one federal mission which has largely been free of politics and it's at a critical juncture in its history," Rubio said in Politico. "I would hate to see an administrator held up — on [grounds of] partisanship, political arguments, past votes, or statements made in the past — because the agency can't afford it and it can't afford the controversy."
Bridenstine has questioned the validity of scientific data on climate change.
Rubio said NASA should have an administrator who has the "respect of the people who work there from a leadership and even a scientific perspective," Politico reported.
Email the author.
Follow Stephen Clark on Twitter: @StephenClark1.