STORY WRITTEN FOR CBS NEWS & USED WITH PERMISSION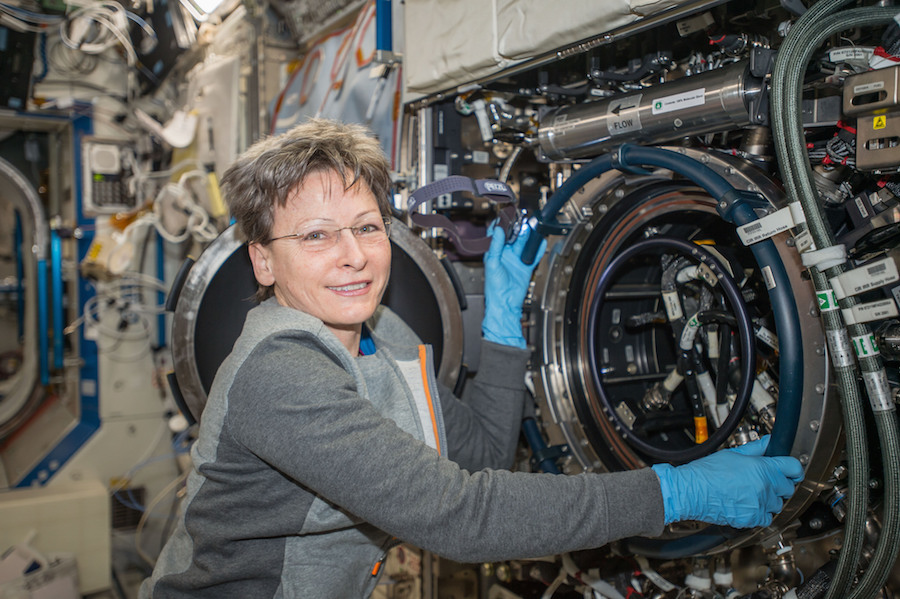 Peggy Whitson, America's most experienced astronaut with nearly two years in orbit over three missions, returns to Earth Saturday after an extended 288-day stay aboard the International Space Station, landing on the steppe of Kazakhstan with Soyuz MS-04 commander Fyodor Yurchikhin and NASA flight engineer Jack Fischer.
Bidding station commander Randy Bresnik, Italian astronaut Paolo Nespoli and cosmonaut Sergey Ryazanskiy farewell, Whitson and her two crewmates plan to undock from the Russian Poisk module at 5:58 p.m. EDT (GMT-4) Saturday.
After moving a safe distance away, Yurchikhin and Fischer will monitor a planned four-minute 38-second rocket firing to slow the craft by about 286 mph, just enough to drop the far side of the orbit deep into the atmosphere for a dawn landing near the town of Dzezkazgan, Kazakhstan, a few seconds shy of 9:22 p.m. (7:22 a.m. Sunday local time).
Russian recovery crews and NASA flight surgeons and support personnel will be standing by to help the returning crew members out of the cramped Soyuz descent module, carrying them to nearby recliners for initial medical checks and satellite phone calls to family and friends as they begin re-adjusting to the unfamiliar tug of gravity.
From the landing site, all three crew members will be flown by helicopter to Karaganda where Yurchikhin will board a Russian space agency plane for the trip home to Star City near Moscow. Because of disruptions caused by Hurricane Harvey, NASA's plans for returning Whitson and Fischer to the Johnson Space Center in Houston were not immediately known.
Yurchikhin and Fischer were launched April 20 from the Baikonur Cosmodrome in Kazakhstan and will be wrapping up a 136-day stay in space. Soyuz spacecraft normally carry a crew of three, but the Russians recently decided to save money by reducing the station's cosmonaut crew from three to two, leaving an empty seat aboard the Soyuz MS-04 spacecraft.
Whitson was launched last Nov. 17 and originally planned to come home with her Soyuz MS-03 crewmates on June 2. But with an empty seat aboard the MS-04 spacecraft, U.S. and Russian space managers agreed to extend Whitson's mission by three months, allowing the U.S. crew to conduct additional research.
And so, being in the right place at the right time, Whitson became America's most experienced astronaut, passing previous record holder Jeff Williams' mark of 534 days aloft over five missions on April 24.
With landing Saturday, Whitson's total time aloft over three missions will stand at 665 days, moving her up to eighth in the world with 131 more days in space than Williams and 145 days more than Scott Kelly, who logged nearly a year in space on one flight.
Yurchikhin's total will stand at 673 days in space over five flights, moving him to seventh in the world, just ahead of Whitson.
During their four-and-a-half-month mission, Yurchikhin and Fischer welcomed two SpaceX Dragon cargo ships, a Russian Progress freighter and a Soyuz carrying three fresh crew members — Ryazanskiy, Bresnik and Nespoli. They also oversaw the departure of three visiting vehicles and participated in three spacewalks — two for Fischer and one for Yurchikhin.
Whitson helped with the arrival of four earlier visiting vehicles and carried out four spacewalks, two with Shane Kimbrough, one of her original Soyuz crewmates, and two with Fischer.
Whitson, who holds a doctorate in biochemistry, served two stints as commander of the space station and is the world's most experienced female spacewalker with 60 hours and 21 minutes of EVA time over 10 excursions. She now ranks third in the world in spacewalk time, just behind cosmonaut Anatoly Solovyev and NASA astronaut Mike Lopez-Alegria.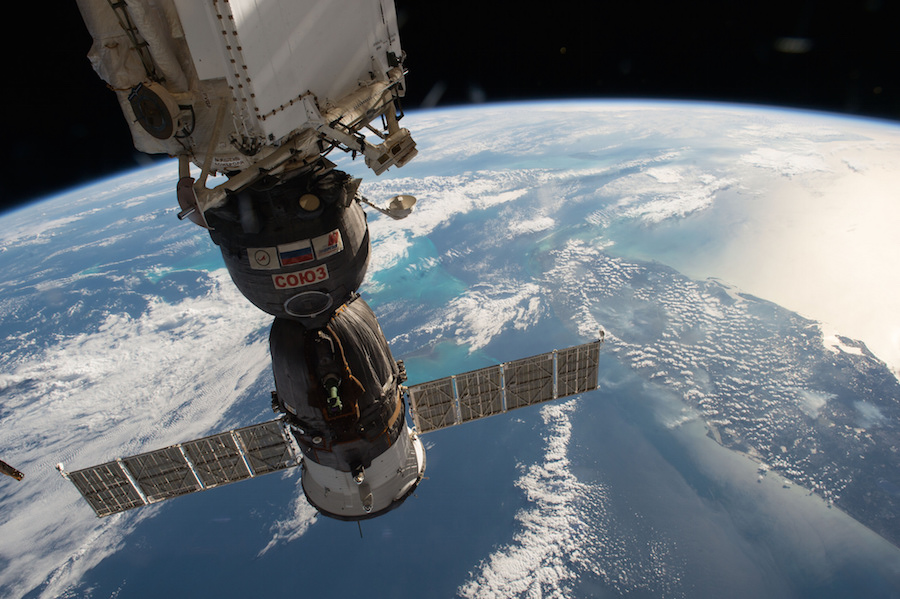 NASA planned to hold a news conference with Whitson on Aug. 30 to discuss her flight and return to Earth, but the agency closed the Johnson Space Center in the wake of Hurricane Harvey and the briefing was canceled, along with coverage of a ceremony Friday when station command transferred from Yurchikhin to Bresnik.
By any yardstick, Whitson's career at NASA is unlikely to be matched until astronauts fly back to the moon or on to Mars.
Her first space flight came in 2002 when she blasted off aboard the shuttle Atlantis for a long-duration stint aboard the space station, logging 184 days 22 hours and 14 minutes off planet. She served as the station's first "science officer" and logged her first spacewalk, wearing a Russian Orlan spacesuit, before landing aboard the shuttle Endeavour on Dec. 7, 2002.
She took off again as a flight engineer aboard the Soyuz TMA-11 spacecraft, which launched from the Baikonur Cosmodrome on Oct. 10, 2007. During a 191-day 19-hour seven-minute flight, she served as commander of Expedition 16 and performed five more spacewalks before returning to Earth on April 19, 2008.
After serving as NASA's chief astronaut from October 2009 to July 2012, Whitson was assigned a third station flight, taking off Nov. 17, 2016, aboard the Soyuz MS-03 spacecraft along with vehicle commander Oleg Novitskiy and French flight engineer Thomas Pesquet, a European Space Agency astronaut.
She served a second stint as space station commander during her current mission.
"The part that has been the most satisfying on a day to day basis, hour to hour, minute to minute, has been working on board the space station," she said when asked why she wanted to fly a third time. "It doesn't matter if I'm cleaning the filters, I feel like I'm helping personally push forward exploration. So I have that satisfaction. That's why I want to go again."
The space station's crew normally is evenly split between the Russians and the U.S. segment, which includes astronauts representing NASA, ESA, Japan and Canada. But the Russian decision to downsize its crews in the near term gave NASA the opportunity to fill those seats with U.S. Operating Segment — USOS — crew members.
"This is great news," Whitson said in a NASA statement when her mission extension was announced. "I love being up here. Living and working aboard the space station is where I feel like I make the greatest contribution, so I am constantly trying to squeeze every drop out of my time here. Having three more months to squeeze is just what I would wish for."
Novitskiy and Pesquet returned to Earth as planned on June 2 with one empty seat, leaving Whitson behind aboard the station with Yurchikhin and Fischer. They had the station to themselves until July 28 when Ryazanskiy, Bresnik and Nespoli arrived. During the interim, thanks to Whitson's extended mission, U.S. research that otherwise would have been sharply curtailed was able to continue.
As it now stands, the station's six-member crew features two cosmonauts — Yurchikhin and Ryazanskiy — and four USOS crew members: Whitson, Fischer, Bresnik and Nespoli.
Following the Soyuz MS-04 departure Saturday, the Expedition 53 crew — Bresnik, Nespoli and Ryazanskiy — will have the station to themselves until Sept. 12 when three fresh crew members are scheduled to arrive: Soyuz MS-06 commander Alexander Misurkin, NASA flight engineer Mark Vande Hei and Joseph Acaba.
The reconstituted six-member crew will once again feature four USOS crew members and two Russian cosmonauts. That staffing will continue with the next crew rotation flight in mid December when one cosmonaut and two USOS crew members, one from the United States and one from Japan, arrive aboard the Soyuz MS-07 spacecraft.
"The big thing is we're going to have four USOS crew members, and with over 330 possible experiments, of which 85 are new to the space station, there's a ton of science for us to do," Bresnik said before his July 28 launch.
"And with that extra crew member, we're going to have a lot more opportunity to not only do the science, we're also going to have the opportunity to do repairs on the station. So we think the productivity of this huge laboratory … will really go up quite a bit having a fourth crew member."
Ryazanskiy, Bresnik and Nespoli plan to return to Earth Dec. 14. Between now and then, the overlapping station crews will carry out multiple spacewalks, help with the departure of one Soyuz, the arrival of another and unload four cargo ships: one Russian Progress, two SpaceX Dragons and one Orbital ATK Cygnus.
And throughout it all, the station crew will carry out a full slate of scientific research.
"I think the legacy (of the space station) is going to be the international partnership," Whitson said. "We have built something in low-Earth orbit, traveling at 17,500 mph, it was not technically an easy thing to do, but we did it internationally, pieces of hardware from all over the world were constructed in low-Earth orbit and to me, it's actually miraculous we didn't have a lot more problems than we did in that whole process."