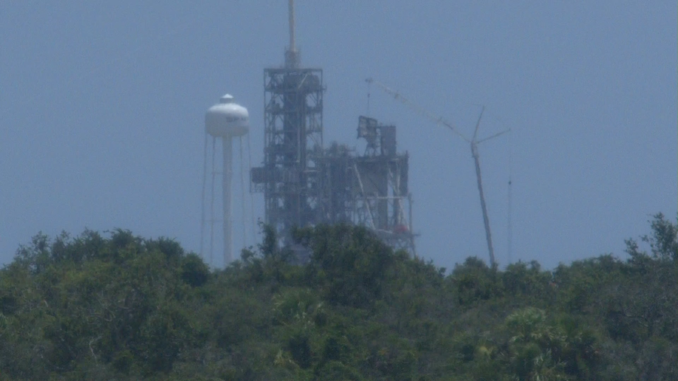 A heavy-duty crane towering over launch pad 39A at NASA's Kennedy Space Center in recent weeks has removed several large sections of a disused structure once needed to install satellites and space station modules into space shuttle cargo bays.
A demolition crew hired by SpaceX, the launch pad's current tenant, has plucked pieces of the rotating service structure and lowered them to the ground since the facility hosted its most recent launch July 5. Officials took advantage of a quiet period in SpaceX's launch schedule to make progress on disassembling the structure, which is not required for Falcon rocket flights.
SpaceX said the rotating service structure is on track to be completely gone by the end of the year. NASA retains ownership of the historic launch complex, and will sell scrap metal from the demolition work, which started in minor form last year and has accelerated in recent weeks.
NASA added the moveable gantry at pad 39A in the late 1970s before the first space shuttle mission blasted off from the site in 1981. After a space shuttle rolled out to the pad from the space center's Vehicle Assembly Building, the rotating structure would wheel into position to cocoon the orbiter, giving workers the ability to load cargo into the shuttle's bus-sized payload bay and pump maneuvering fuel into the ship's propellant tanks.
The gantry would then rotate around 120 degrees on a vertical hinge into liftoff position in the final 24 hours before a shuttle launch.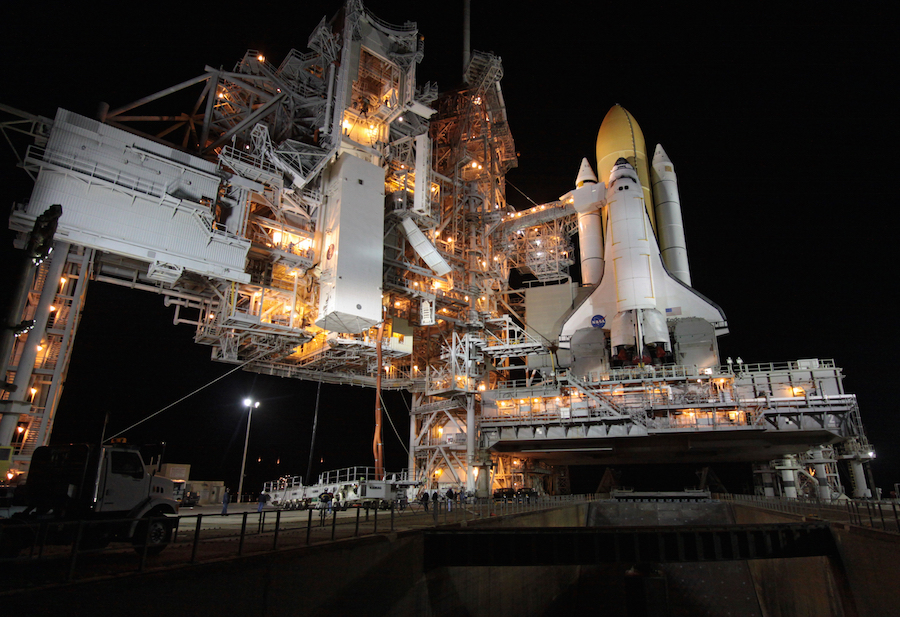 The rotating service structure stood at a maximum height of 189 feet (57 meters) above the surface at pad 39A before the demolition started. The structure itself, which looms over the pad deck, extended 130 feet (39 meters) tall.
Originally built in the 1960s for the Apollo moon program, pad 39A hosted 12 Saturn 5 rocket flights — including Apollo 11 — and 82 shuttle missions departed from the seaside launch complex.
NASA decided it no longer needed pad 39A after the shuttle's retirement. Nearby launch pad 39B, also built for Apollo and shuttle flights, will be home to NASA's Space Launch System, a government-owned heavy-lift rocket that will launch astronaut crews on deep space expeditions.
The shuttle-era structures at pad 39B were dismantled in 2010 and 2011.
SpaceX signed a 20-year lease agreement with NASA in 2014 to take over pad 39A, which re-entered service in February with a Falcon 9 launch to resupply the International Space Station. Eight SpaceX missions have lifted off from pad 39A so far this year.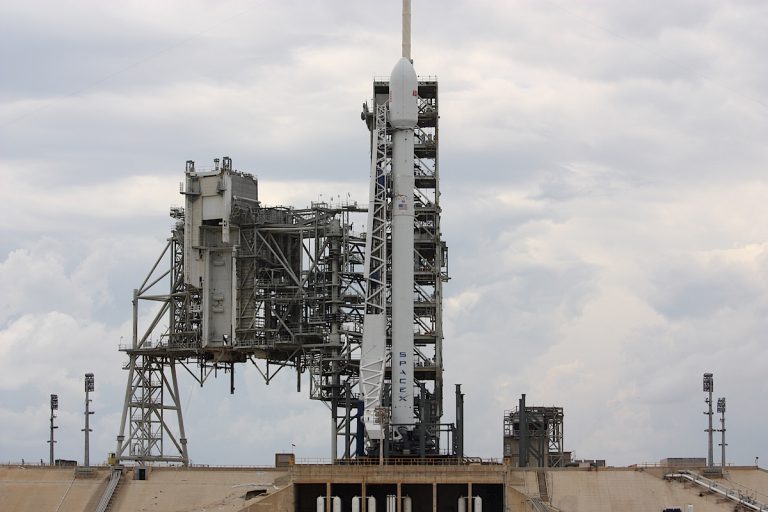 The next Falcon 9 rocket launch is scheduled for Aug. 13, again from pad 39A, on another station cargo run.
SpaceX says Falcon 9 flights from Florida will move to nearby pad 40 later this year, once repairs of that facility are completed after a rocket explosion last year. That will free up pad 39A for more extensive renovations and upgrades for the inaugural flight of SpaceX's Falcon Heavy rocket, a triple-body booster designed to heave massive payloads into space.
Elon Musk, SpaceX's founder and CEO, said last month that the first Falcon Heavy test flight is scheduled for November.
The taller fixed service structure will remain in place at pad 39A. It is not needed for Falcon flights with satellites and robotic payloads, but SpaceX will connect an access arm and white room to the tower to allow astronauts to board human-rated Dragon capsules.
Along with Boeing, SpaceX has a crew transportation contract with NASA to ferry astronauts to and from the space station and end U.S. reliance on Russian Soyuz spacecraft for the job. The latest schedule calls for the first two astronauts to fly on a Crew Dragon spaceship no earlier than June 2018, and officials said the crew access arm should be added to the fixed tower at pad 39A in late fall.
Email the author.
Follow Stephen Clark on Twitter: @StephenClark1.