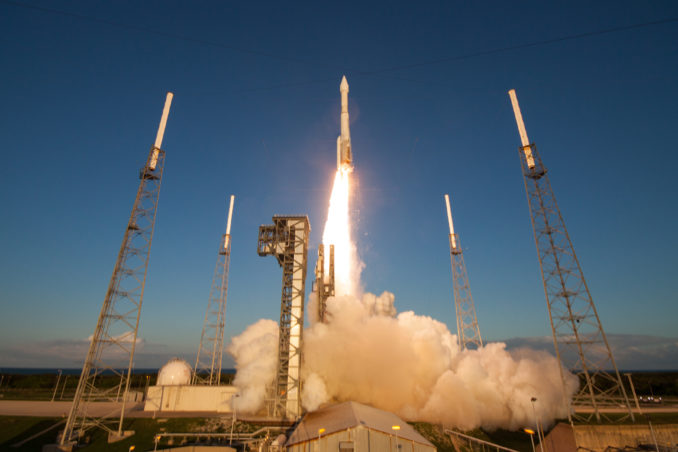 CAPE CANAVERAL — Two U.S. military satellite launches planned for this fall from Cape Canaveral are being delayed to 2018 due to separate factors, the Air Force says.
The fourth Advanced Extremely High Frequency protected communications spacecraft and fourth Space Based Infrared Systems-Geosynchronous missile tracking observatory had been slated for liftoff on Oct. 11 and Nov. 9, respectively, atop United Launch Alliance Atlas 5 rockets.
But both will slide to the next calendar year, according to the Pentagon.
The exact amount of schedule impact and a new target launch date for AEHF 4 "is still under evaluation" while technicians modify a power regulator unit aboard the satellite, the Air Force said in response to Spaceflight Now questions.
"The Air Force proactively conducts rigorous reviews of our systems to ensure the satellites will perform on orbit. An issue was discovered with a power regulator unit, and the issue requires a modification to ensure the system meets requirements. The modification will ensure our warfighters have the continuous effects they need to have an asymmetric advantage over our adversaries."
Separately and unrelated to AEHF, the SBIRS GEO Flight 4 launch is being delayed due to a "SBIRS program prioritization decision."
It is tentatively rescheduled for launch on Jan. 18, 2018.
"The impact of the power regulator issue is limited to the AEHF system," according to the Pentagon.
"The SBIRS GEO Flight 4 launch was deliberately rescheduled due to an updated prioritization of resources across multiple SBIRS mission-enhancement efforts. There are no issues with the space vehicle, and it remains on track to begin integration and test for a January 2018 launch."
These delays, coupled with other payload-related slips that occurred previously, leave the Atlas 5 with just three more launches this year, including NASA's TDRS-M data relay satellite later this month and a pair of classified missions for the National Reconnaissance Office in September.
SBIRS will fly atop an Atlas 5 in the 411 configuration with a single strap-on booster, an addition made to enable a controlled deorbiting of the upper stage at the mission's conclusion. AEHF will be deployed by a 531-configured rocket with three solid boosters.
Both satellites were built by Lockheed Martin for the Air Force.
The spacecraft will be operated in geosynchronous orbit 22,300 miles above Earth, with SBIRS using infrared telescopes to detect adversarial missile launches and alerting U.S. and allied forces of the impending threat. AEHF is part of an international constellation of satellites to provide a survivable line of communications in a nuclear war.
Our Atlas archive.