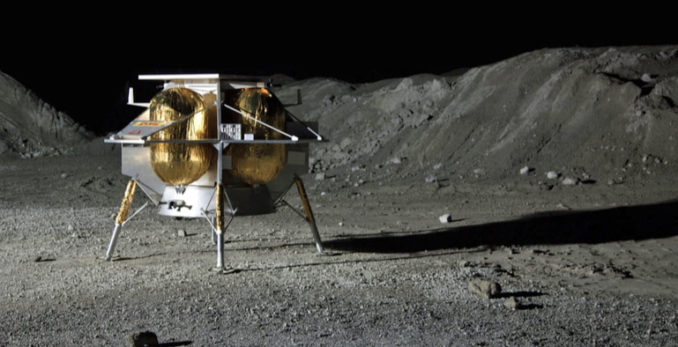 CAPE CANAVERAL — In a commercial push to return to the Moon while celebrating the 50th anniversary of Apollo 11, Astrobotic Technology Inc. has contracted with United Launch Alliance to use an Atlas 5 rocket to send the Peregrine lander to the lunar surface in 2019.
"Astrobotic is thrilled to select a ULA launch vehicle as the means to get Peregrine to the Moon," said John Thornton, CEO of Astrobotic. "By launching with ULA, Astrobotic can rest assured our payload customers will ride on a proven launch vehicle with a solid track record of success. Together, our two organizations will honor the past and trail blaze the lunar future."
This initial Peregrine lunar lander will fly 77 pounds (35 kilograms) of customer payloads from six nations either above or below the spacecraft's deck, depending on specific needs.
The autonomous landing will use cameras, guidance computing and five Aerojet Rocketdyne-made hypergolic engines to set the lander down on four shock-absorbing legs.
It will stand 6 feet tall (1.8 meters) and have a diameter of 8 feet (2.5 meters).
Subsequent missions envision scaling up to payload masses of 585 pounds (265 kilograms). Markets range from scientific instruments to placing mementos on the Moon.
"Technical credibility and signed deals remain key differentiators for Astrobotic as a lunar delivery company. Our customers and partners know that our 10 years of lunar lander development work has made us the world leader in this market," said Thornton.
The Pittsburgh-based Astrobotic aims to deliver payloads to the Moon for companies, governments, universities, non-profits and individuals.
"We are thrilled that Astrobotic has selected ULA to launch the Peregrine Lander to the Moon," said ULA president and CEO, Tory Bruno. "The Moon is the next great frontier, but in a different way than when Neil Armstrong landed there. Enabling technologies like those from Astrobotic will allow people to live and work in the space between here and the Moon and take advantage of all those resources in a way that is sustainable."
The Atlas 5 now has added six high-profile launches to its backlog in the past four months — three commercial, two Air Force and one for NASA.