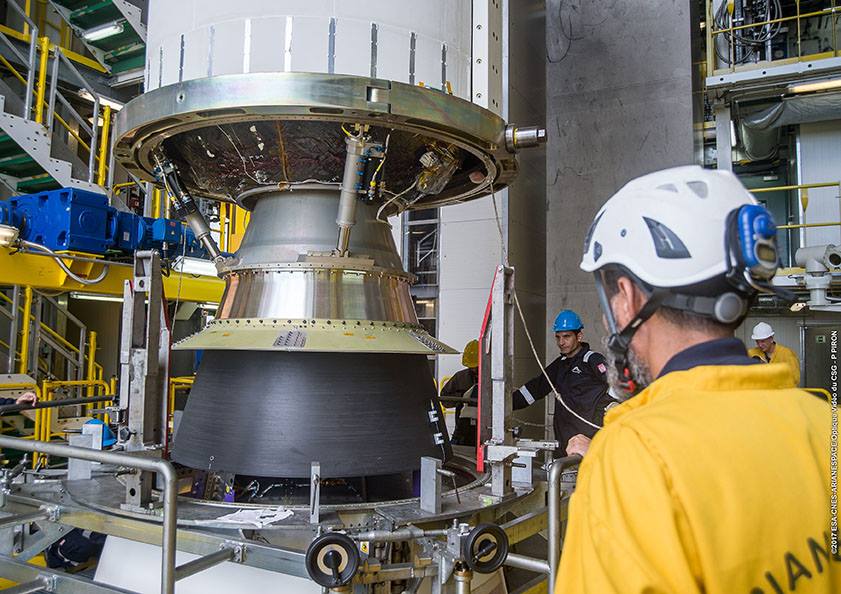 A solid-fueled Vega rocket has been stacked on a launch pad in French Guiana for liftoff Aug. 1 with two Israeli-built satellites — one developed in partnership with the French space agency for environmental research, and another to gather intelligence for the Italian military.
The late-night blastoff Aug. 1 will be the 10th flight of a Vega rocket, an Italian-led project crafted to haul small satellites into orbits several hundred miles above Earth.
Built by a European industrial consortium led by Avio, an Italian aerospace contractor, the Vega booster has found a niche carrying lightweight Earth-viewing satellites into orbit, particularly spacecraft with a European connection.
All nine Vega flights to date have been successful, lofting payloads into space for the European Space Agency, the European Commission's Copernicus environmental network, the governments of Vietnam, Kazakhstan, Peru and Turkey, and Terra Bella, a U.S.-based Earth-imaging company backed by Google that was since acquired by Planet.
The satellite passengers slated to ride the 10th Vega rocket into orbit are Venµs, a 582-pound (264-kilogram) spacecraft designed to monitor plant growth, and Optsat 3000, a sharp-eyed 811-pound (368-kilogram) reconnaissance satellite fitted with an optical telescope looking down on Earth.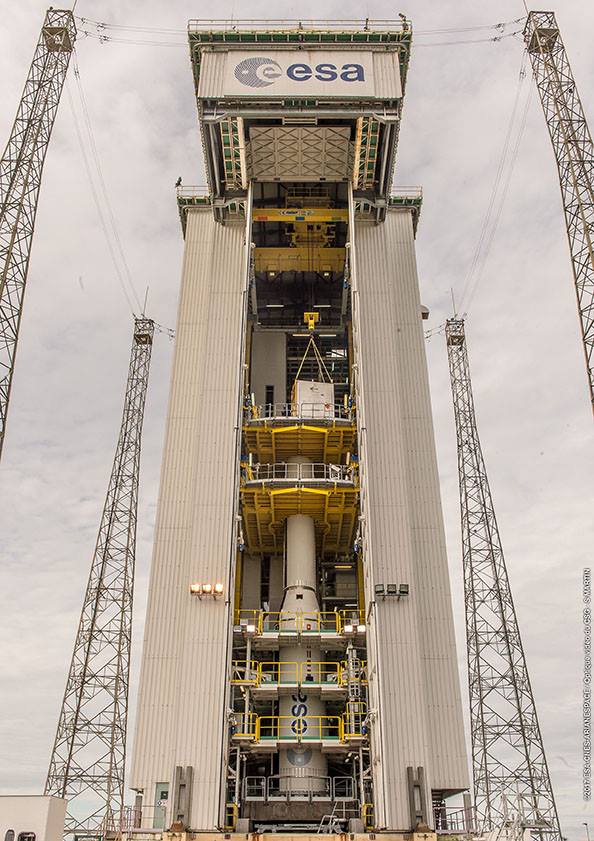 Optsat 3000 will ride in the upper position inside the Vega's Swiss-made payload fairing, and Venµs will launch in the rocket's lower payload berth. Both satellites were manufactured by Israel Aerospace Industries.
Liftoff is set for 10:58:33 p.m. French Guiana time Aug. 1 (9:58:33 p.m. EDT; 0158:33 GMT on Aug. 2). After a boost into space by the Vega's three lower Italian-made solid motors, a liquid-fueled upper stage engine sourced from Ukraine will steer the Optsat 3000 and Venµs satellites into sun-synchronous polar orbits several hundred miles above Earth.
Optsat 3000, the bigger of the mission's two passengers, will separate from the launcher first around 42 minutes after liftoff. The Venµs spacecraft will deploy from the Vega rocket's upper stage around T+plus 1 hour, 37 minutes.
Italy's first optical surveillance satellite, joining a fleet of Italian radar imaging craft already in orbit. The $182 million satellite, designed for a lifetime of at least six years, carries a Jupiter remote sensing camera provided by Israel-based Elbit Systems Ltd. capable of resolving objects on the ground smaller than a half-meter (20 inches).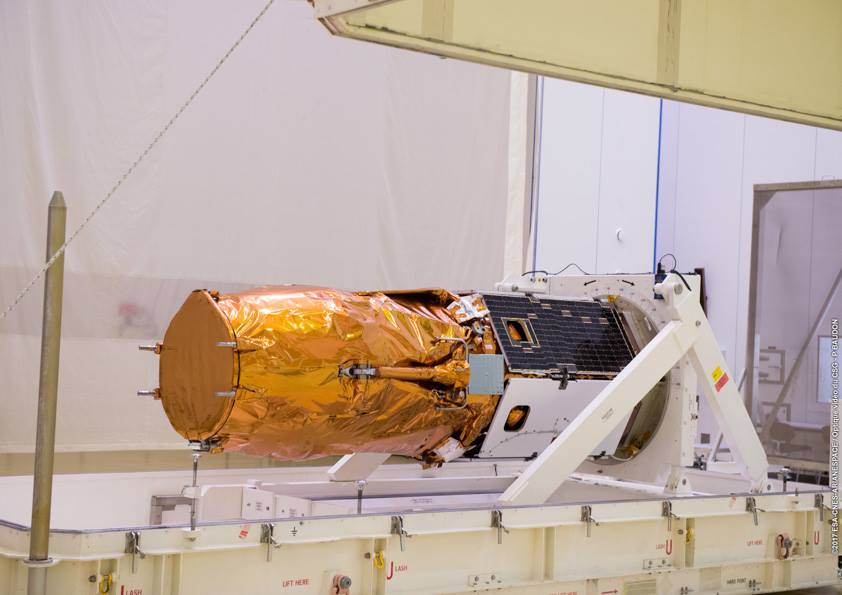 The Italian Ministry of Defense ordered the Optsat 3000 satellite from Israel Aerospace Industries as part of a reciprocal contract arrangement, in exchange for the Israeli military's purchase of Italian-made jet trainers.
Telespazio acts as prime contractor for the Optsat 3000 program, and OHB Italy reserved the satellite's launch on a Vega rocket with Arianespace.
The Venµs spacecraft is setting off on a dual scientific and technology demonstration mission.
Fitted with a French-supplied "super-spectral" color camera sensitive in 12 bands ranging from blue to near-infrared, Venµs will take pictures of vegetation, glaciers, coastlines and other features from a perch 447 miles (720 kilometers) above Earth.
Scientists will point Venµs's camera toward more than 100 pre-identified areas of interest in forests, croplands and nature reserves around the world, according to CNES, the French space agency. No other satellite currently in orbit can survey the same locations with the resolution and frequency of the Venµs mission, a benefit gained at the expense of global coverage, officials said.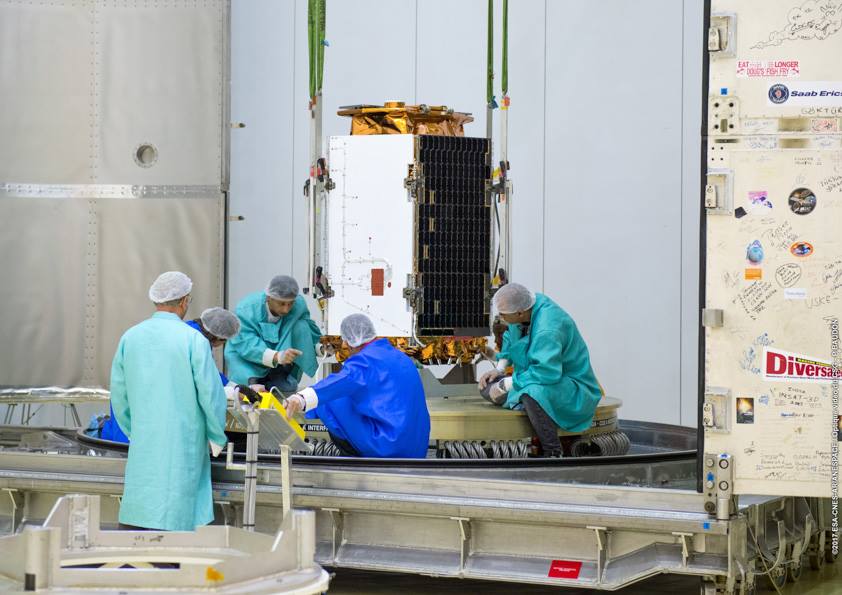 Researchers will track plant growth, snow cover, glacial movements, and sediments in coastal estuaries with the Venµs satellite. Scientists will analyze the mission's data output to study how environmental and human factors influence vegetation health.
The Venµs project is a partnership between CNES and the Israel Space Agency. Besides the satellite's primary camera, France is in charge of the mission's science data center and other ground systems. Israeli engineers built the satellite, the camera's telescope and a experimental plasma thruster to be tested in the second phase of the Venµs mission.
After a two-and-a-half-year Earth observation campaign, Venµs's altitude will be lowered to approximately 250 miles (410 kilometers) to test the low-power electric thruster's ability to counteract the effect of atmospheric drag and maintain the satellite's orbit.
Email the author.
Follow Stephen Clark on Twitter: @StephenClark1.