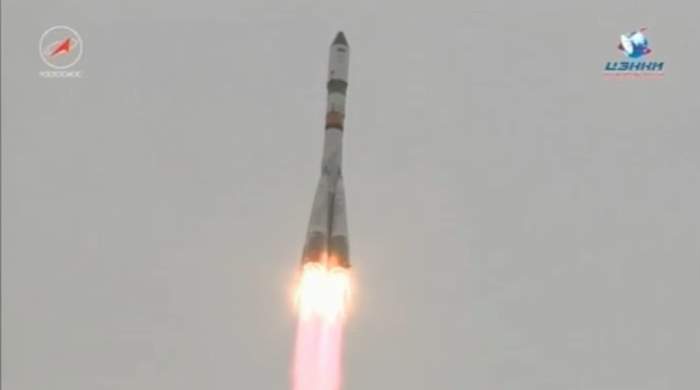 A Russian Progress supply ship packed with several tons of crew provisions and fuel lifted off Wednesday from the Baikonur Cosmodrome in Kazakhstan on a two-day trip to the International Space Station.
The Progress MS-06 cargo and refueling freighter launched at 0920:13 GMT (5:20:13 a.m. EDT), or 3:20 p.m. local time at the Baikonur Cosmodrome. The unpiloted cargo craft rode into orbit on a Soyuz-2.1a rocket, a modernized version of Russia's venerable booster.
The Soyuz blasted off from Launch Pad No. 31 at Baikonur on a nearly nine-minute journey into orbit, soaring through overcast skies before deploying the Progress MS-06 spacecraft from its third stage. Moments after separating from the rocket, the supply ship extended its power-generating solar panels and navigation antennas, setting up for a series of thruster firings to approach the space station Friday.
If the radar-guided automated rendezvous goes according to plan, the Progress MS-06 cargo freighter is scheduled to dock with the space station's Zvezda module at 1142 GMT (7:42 a.m. EDT) Friday.
The Soyuz-2.1a rocket features redesigned third stage propellant tanks and a digital flight control computer, upgrades introduced to Russia's workhorse launcher over the last decade.
Designated Progress 67P in the space station's sequence of crew and cargo vehicles, the Russian resupply mission will reach the research outpost nearly halfway through the visit of a SpaceX Dragon capsule that delivered nearly 6,000 pounds (2,700 kilograms) of experiments and equipment June 5.
The Progress MS-06 spaceship carries around 6,039 pounds (2.7 metric tons) of cargo and supplies to the International Space Station, according to NASA.
The supplies include 3,069 pounds (1,392 kilograms) of dry cargo inside the ship's pressurized compartment, 1,940 pounds (880 kilograms) of fuel to refill the station's propulsion system, 926 pounds (420 kilograms) of potable water, and 104 pounds (47 kilograms) of high-pressure oxygen and air to replenish the research lab's breathable atmosphere, a NASA spokesperson said.
Four small satellites launched inside the Progress MS-06 spacecraft's cabin for release by cosmonauts on a spacewalk later this year.
The Progress MS-06 supply ship will remain at the space station until December, when it will undock with a load of trash and re-enter the atmosphere for a destructive plunge over the South Pacific Ocean.
Email the author.
Follow Stephen Clark on Twitter: @StephenClark1.