The launch of a Russian Earth observation satellite aboard a Soyuz rocket has been rescheduled for Sunday after a countdown Saturday stopped less than 20 seconds before liftoff.
The Russian space agency — Roscosmos — said the launch was reset for 1856 GMT (2:56 p.m. EDT) Sunday from the Baikonur Cosmodrome in Kazakhstan with the Resurs P3 remote sensing satellite, the third in a series of civilian-operated high-resolution imaging spacecraft designed look down on Earth from orbit.
Russia's Tass news agency reported the abort occurred before ignition of the RD-107A and RD-108A engines on the Soyuz rocket's four strap-on boosters and core stage.
A live video of the Soyuz launch attempt showed two servicing masts pulling away from the rocket in the final minute of the countdown. Moments after the second mast retracted into launch position, a puff of vapor appeared at the base of the rocket, and the Soyuz resumed venting boil-off from its liquid oxygen tanks.
A brief statement issued by Roscosmos late Saturday said the last-minute abort will not affect other launches planned for March. The Baikonur Cosmodrome is in the midst of a busy week of launches, including Monday's liftoff of a Proton rocket with Europe's ExoMars orbiter and lander, followed by the March 18 launch of a Soyuz booster with a three-man crew for the International Space Station.
The Resurs P3 satellite is set to launch on the Soyuz-2.1b version of Russia's venerable rocket, featuring a modernized digital avionics and an upgraded RD-0124 third stage engine, replacing the decades-old analog control system and RD-0110 engine used on earlier generations of the Soyuz.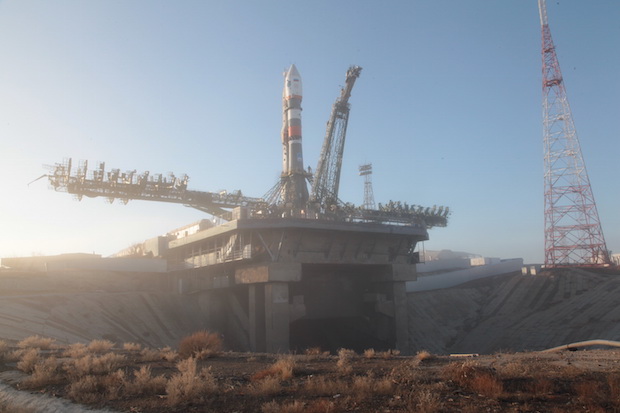 Built by TsSKB Progress of Samara, Russia, the 5,920-kilogram (13,051-pound) Resurs P3 spacecraft is set to begin a five-year mission in orbit 475 kilometers (295 miles) above Earth.
Russian government agencies responsible for agriculture, the environment, emergency situations, fisheries, meteorology and cartography will be consumers of data from Resurs P3, which will join two similar satellites — named Resurs P1 and Resurs P2 — launched in June 2013 and December 2014.
Data from the Resurs satellites aid in disaster response, help authorities update maps, track pollution, track ice in maritime shipping lanes, and detect fields of illegal drugs, according to TsSKB Progress.
Like its predecessors, Resurs P3 carries narrow and wide field of view cameras for close-up snapshots with a top resolution of about 1 meter, or 3.3 feet, and wide-angle images scanning a larger swath of Earth in one pass.
Roscosmos says hyperspectral imagery from Resurs P3 could help gauge the maturity of wheat fields, measure activity of micro-organisms in the water, and the salinity of soil.
Email the author.
Follow Stephen Clark on Twitter: @StephenClark1.