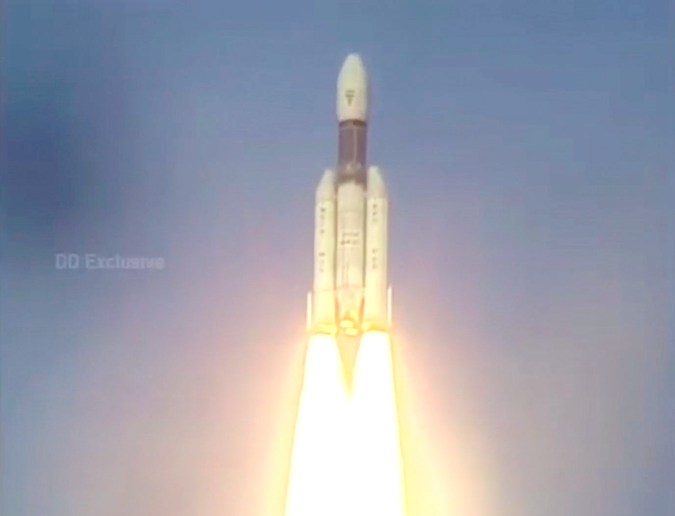 A powerful new launch vehicle climbed into space from India's east coast Monday, delivering a multi-beam communications satellite to orbit on its first full-up test flight, setting marks for the heaviest rocket and spacecraft ever launched from India.
The upgraded Geosynchronous Satellite Launch Vehicle, named GSLV MK.3, lifted off at 1158 GMT (7:58 a.m. EDT) Monday from the Satish Dhawan Space Center, a spaceport on India's east coast around 50 miles (80 kilometers) north of Chennai.
The 142-foot-tall (43-meter) rocket soared into mostly clear skies over Sriharikota, where launch occurred at 5:28 p.m. local time, on 2.2 million pounds of thrust from two side-mounted solid rocket boosters.
Turning on an easterly trajectory, the GSLV Mk.3 exceeded the speed of sound and ignited two liquid-fueled Vikas engines on its core stage just prior to the flight's two-minute point.
The GSLV Mk.3's twin strap-on boosters — the second-largest operational solid-fueled rocket motors in the world — burned out and jettisoned at T+plus 2 minutes, 20 seconds, followed around a minute later by the separation of the rocket's clamshell-like nose cone, which shielded the GSAT 19 communications satellite aboard the launcher during its flight through the lower atmosphere.
A cryogenic hydrogen-fueled upper stage engine took control of the mission at T+plus 5 minutes, 22 seconds, for a nearly 11-minute firing to finish the job of placing GSAT 19 into an arcing oval-shaped transfer orbit stretching more than 20,000 miles above Earth.
Indian engineers tested the new rocket's solid rocket boosters and twin-engine core stage on a suborbital demonstration flight in December 2014, but the scaled-down test launch carried a dummy upper stage.
Since the 2014 test flight, engineers finished development of the "high-thrust" CE-20 cryogenic engine, an extension of the hydrogen-burning powerplant on India's smaller GSLV Mk.2 rocket.
The engine performed flawlessly on Monday's flight, according to the Indian Space Research Organization, and placed the 6,913-pound (3,136-kilogram) GSAT 19 communications satellite into an on-target orbit.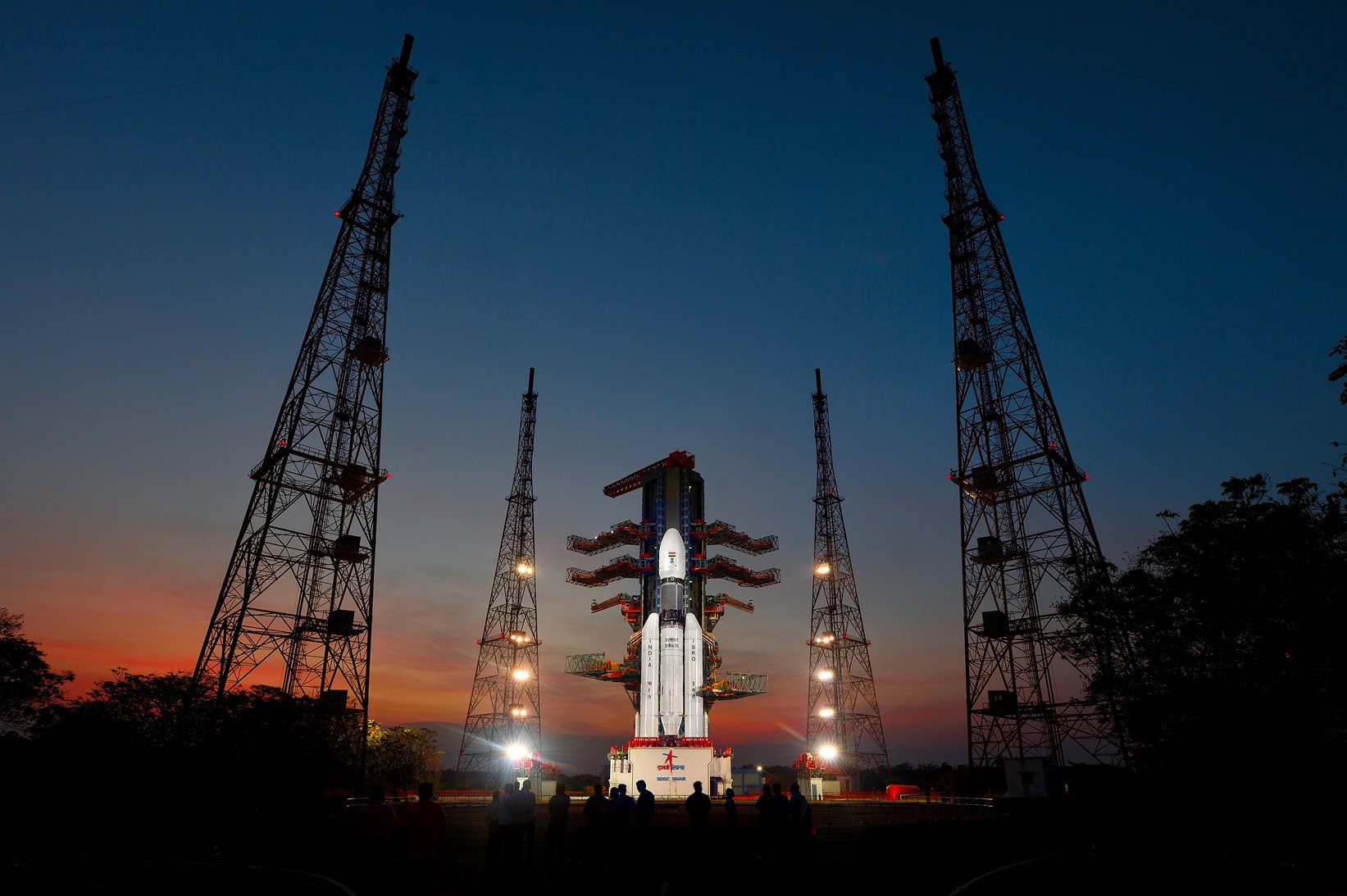 The GSLV Mk.3's guidance computer aimed to deliver GSAT 19 to an orbit stretching from a low point of 105 miles (170 kilometers) to a high point of 22,353 miles (35,975 kilometers), with an inclination of 21.5 degrees.
Officials declared the launch a success in remarks soon after the GSAT 19 satellite deployed from the GSLV Mk.3's upper stage. The separation occurred around 16 minutes after liftoff, an event captured in video from an on-board camera as the rocket sailed through space in orbital darkness.
"Today is a historic day," said A.S. Kiran Kumar, ISRO's chairman. "We have been able to successfully put the satellite into orbit, and I take this opportunity to congratulate the entire team, which has relentlessly worked many decades for this program from 2002."
The GSLV Mk.3 is designed to loft satellites as heavy as 8,800 pounds (4 metric tons) into geostationary transfer orbit, the drop-off point for most large communications and broadcasting satellites.
That is around twice the capability of the GSLV Mk.2, India's next-biggest rocket, vaulting the country's space program a step closer to self-reliance. Despite India's string of 38 straight successes with its smallest operational rocket, the Polar Satellite Launch Vehicle, and an improving track record for the GSLV Mk.2, the country's heaviest satellites must launch on foreign-made boosters, usually Arianespace's Ariane 5 launcher.
Kiran Kumar said Monday's flight was "a great success in the maiden attempt."
"Now, GSLV Mk.3 has successfully put GSAT 19 (into orbit), which is a next-generation satellite with multi-beams, and we'll be looking forward to operation of the satellite."
The GSLV Mk.3 can place nearly 18,000 pounds, or 8 metric tons, into a low-altitude orbit almost 400 miles, or 600 kilometers, above Earth, according to ISRO.
That is just shy of the lift capability of United Launch Alliance's basic Atlas 5 rocket configuration without strap-on boosters, but well short of the capacity of the Atlas 5's more powerful versions, the Ariane 5, and SpaceX's Falcon 9 rocket.
"I am proud to be Indian by having the opportunity to work in this marvelous development," said K. Sivan, director of the Vikram Sarabhai Space Center, headquarters for India's rocket programs.
Sivan said engineers spent the last two-and-a-half years since the GSLV Mk.3's suborbital test flight checking the readiness of the upper stage's CE-20 engine and its C25 cryogenic stage. Crews also fine-tuned the aerodynamic shape and flight characteristics of the launcher, he said.
"I have no words to express my joy to see GSLV Mk.3 in its maiden full-fledged flight successfully placing GSAT 19 in orbit, said S. Somanath, director of ISRO's Liquid Propulsion Systems Center.
"Today, on this mission, we have seen a flawless performance of the C25 stage, the fully indigenously-developed gas generator cycle cryogenic engine and stage, really a marvel of technological development," Somanath said.
He added that India has "mastered" cryogenic engine technology with the successful flight demonstration of the CE-20 engine, which generates 44,000 pounds of thrust in vacuum, twice the power of the U.S.-built Aerojet Rocketdyne RL10 cryogenic engine used on Atlas 5 and Delta 4 rockets.
ISRO officials said the GSLV Mk.3 will be operational in a "couple of years." They hope launches with the new rocket can be sold commercially and internationally, claiming it is significantly less expensive than similar-sized launchers currently on the market.
Meanwhile, ISRO engineers are looking at growing India's launch capacity to haul up to 13,000 pounds, or 6 metric tons, to geostationary transfer orbit, officials said after Monday's mission.
Construction and outfitting of a second vehicle assembly building at Sriharikota is nearing completion, officials said. It will be employed on the next GSLV Mk.3 flight, helping ISRO achieve a more rapid launch cadence.
The GSAT 19 satellite shot into space by the GSLV Mk.3 Monday is designed for a 10-year mission. Its own thruster will guide into a circular geostationary orbit more than 22,000 miles (nearly 36,000 kilometers) over the equator, where its Ku-band and Ka-band payload will support television broadcasts, data networks and other broadband services over India.
GSAT 19 also hosts a radiation spectrometer to monitor the environment in geostationary orbit.
India's next launch is set for June 23, when a Polar Satellite Launch Vehicle will carry India's Cartosat 2E Earth-imaging observatory and a package of more than 20 smaller satellites into orbit for universities and companies in the United States, Japan and several European nations.
Email the author.
Follow Stephen Clark on Twitter: @StephenClark1.