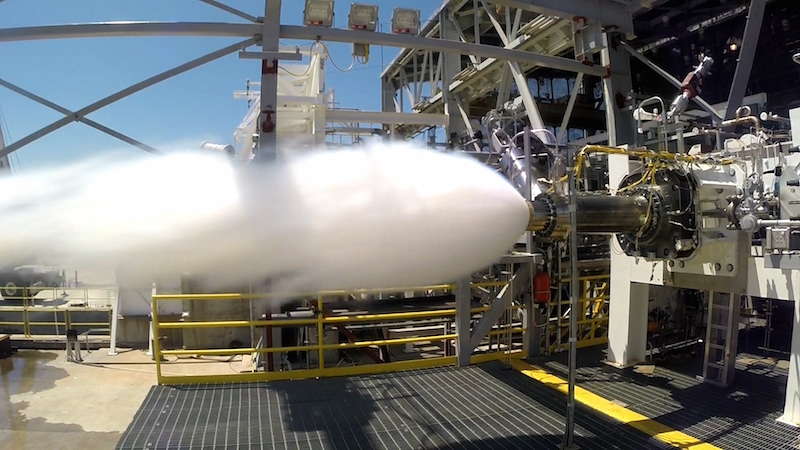 A rocket engine that could power United Launch Alliance's next-generation rocket has passed a major design review, clearing the way for full-scale hotfire testing starting next year and certification for test flights in 2019, according to Aerojet Rocketdyne, the powerplant's developer.
ULA says Aerojet Rocketdyne's AR1 engine is a backup to Blue Origin's BE-4 powerplant for the launch company's new Vulcan rocket. ULA managers plan to confirm the selection of the BE-4 engine for the Vulcan booster later this year, assuming the Blue Origin engine successfully completes a series of ground firings to verify its performance.
The AR1 engine's critical design review, completed May 5, was a "huge achievement" that occurred on the schedule Aerojet Rocketdyne set out when it kicked off development of the AR1 in 2014, said Jim Simpson, the company's vice president of business development and strategy.
"We're on track right now for certification planned in 2019 for the AR1," Simpson said in an interview with Spaceflight Now.
Aerojet Rocketdyne said the AR1 engine could be ready to power the U.S. government's valuable national security payloads into space as soon as 2020.
Now the engine needs a rocket.
ULA officials say the BE-4 engine, which burns methane and liquid oxygen propellants, is their top candidate to boost the Vulcan first stage, but they want to see the engine complete a campaign of full-scale test firings before confirming the selection.
Tory Bruno, ULA's president and CEO, said last month that engineers will look for start-up instability and other issues during the test series. The BE-4 engine is the first methane-fueled engine of its scale, a design decision that could aid reuse of the powerplant on multiple flights but also comes with uncertainties, Bruno said.
Blue Origin tweeted Sunday that it lost a set of powerpack hardware Saturday during a test mishap at the company's West Texas development facility. Two test stands are available for BE-4 firings at the test site near Van Horn, Texas.
The powerpack includes the turbopumps, valves and other components at the heart the engine.
Blue Origin shipped the first full-size BE-4 engine from its manufacturing plant in Kent, Washington, to West Texas earlier this year to begin the full-scale test series.
Smaller-scale BE-4 powerpack testing has been underway at Blue Origin since 2014.
ULA is moving on from its current Atlas and Delta rocket fleets in response to competition from the lower-cost SpaceX Falcon 9 rocket, and to end reliance on Russian propulsion on the Atlas 5 used to send U.S. military and spy satellites into space.
Funded in a cost-sharing arrangement between Aerojet Rocketdyne, ULA and the U.S. Air Force, the AR1 engine will generate 500,000 pounds of thrust at full power. It also burns the same kerosene/liquid oxygen mixture as the Russian RD-180 engine currently flying on the Atlas 5 rocket.
Simpson said engineers from ULA, the Air Force, NASA and the Aerospace Corp. reviewed the progress made on the AR1 engine program and agreed with Aerojet Rocketdyne's plan to start producing engine components for full-scale testing.
"We exceeded all of our requirements and had no liens on the critical design review, in other words, any follow-up actions that we need to complete," Simpson said in a May 8 interview with Spaceflight Now.
Simpson said officials conducted the critical design review on schedule.
"The most important part was that when we started this schedule about two years ago, we were planning on having a CDR in this timeframe, and we achieved that … So we're on track right now for the certification planned for 2019 for the AR1."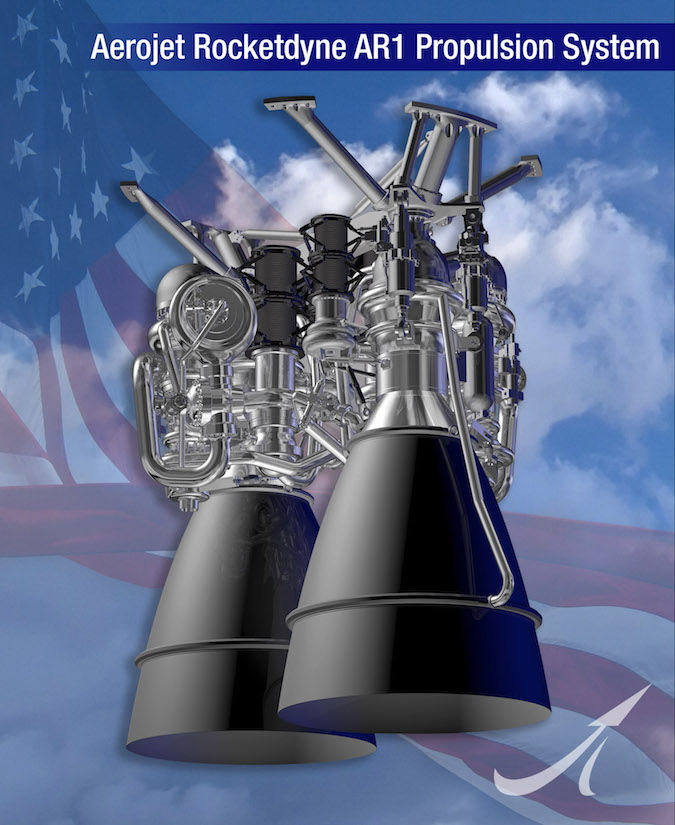 Blue Origin says the privately-funded BE-4 engine, financed primarily by Amazon.com founder Jeff Bezos, could be certified by the end of this year.
Despite the BE-4's head start — Blue Origin kicked off its development two years before the AR1 program launched — Aerojet Rocketdyne officials said the company's experience and the AR1's similarity to the Atlas 5's RD-180 engine are two major competitive advantages.
"Our company has been through a lot of engine development, so our approach right now, because of our experience base, is to really nail down the design before we move into major manufacturing," said Tom Martin, senior manager of business development for Aerojet Rocketdyne's defense and commercial launch programs. "That way we don't get into a whole lot of what we call test-fail-fix cycles because we've got that experience base."
The critical design review gave the green light for Aerojet Rocketdyne to start building full-size AR1 development engines, Martin said.
Final assembly of the AR1 engines will be based at NASA's Stennis Space Center in southern Mississippi, where Aerojet Rocketdyne currently headquarters its RS-68 and RS-25 engine programs for the Delta 4 rocket and NASA's Space Launch System.
AR1 engines will be test-fired on the A2 test stand at Stennis, a facility previously used for testing of the second stage of the Saturn 5 moon rocket, space shuttle main engines, and the J-2X engine.
"We'll get into testing in 2018, then we'll do a full year of development testing with multiple engines, and then we go through what's called qualification," Martin said. "We have our development engines, and we have qualification engines. Those qualification engines are for a very specific set of tests to ensure that we've met all of our requirements. At that point, we say that the design is qualified or certified for integration into the launch vehicle."
According to Simpson, Aerojet Rocketdyne is already wrapping up full-scale testing of an AR1 engine component called the preburner, which drives the engine's turbomachinery. Testing of the AR1 thrust chamber is also underway.
While ULA says a direct replacement for the RD-180 is unrealistic, Simpson said the AR1 is a better fit for ULA's existing rocket design, tooling and ground infrastructure.
"We designed the engine such that a two-engine set in a propsulion module could be inserted into the current Atlas to enable utilization of the Atlas without the RD-180," Simpson said. "It's able to achieve missions that the current Atlas achieves. If you are looking at how quickly you can do it, that is what we believe is the fastest approach."
Both the BE-4 and AR1 engines generate less thrust than the RD-180, so ULA will need to install two of the new powerplants on its next-generation booster to equal — and exceed — the Atlas 5's current capability.
Bruno said last month that either engine will require an overhaul of the current Atlas design, including the development of a new thrust structure to house the engines.
In the case of the BE-4, the Vulcan's first stage will measure nearly 18 feet (5.4 meters) in diameter, around 40 percent wider than the Atlas 5's core booster to accommodate the less dense methane fuel. A version of the Vulcan rocket with AR1 engines would have about the same width of the Atlas 5's 12.5-foot (3.8-meter) first stage, but with stretched propellant tanks to improve performance.
ULA intends to launch the Vulcan rocket from the current Atlas 5 pads at Cape Canaveral and Vandenberg Air Force Base in California.
"Obviously, you don't have to change some of the ground infrastructure for a new fuel," Simpson said. "The volume that's required for a methane system vs. a LOX/RP (liquid oxygen/kerosene) system makes it such that the structures are smaller, so by definition, they'll be less expensive. From an overall system standpoint, we believe it's quite competitive with the Blue Origin system."
"There will be changes," he added. "We just don't think they're as dramatic as it would be for change in the complete fuel system."
Simpson compared the proposed switch from an RD-180 engine to the AR1 to the upgrade of the Atlas rocket family, then managed by Lockheed Martin, from the Atlas 2 to the Atlas 3 in the late 1990s.
The transition from the Atlas 2's MA-5A propulsion system to the Atlas 3, which pioneered the use of Russian RD-180s in the Atlas family before the Atlas 5's debut, kept the same basic Atlas first stage design, but with longer propellant tanks to accommodate the oxidizer-hungry RD-180.
"Never has a methane-based launch vehicle been flown," Martin said. "So there's a whole lot of risk there on the vehicle side, as well as on the engine side, when you're talking methane as a new propellant, particularly moving from a room temperature propellant (RP-1 kerosene) that's very easy to handle, and very well known, to a cryogenic system, which adds a whole lot of complexity.
"That's part of the rationale we believe says that the total system cost will be less for an Atlas-based RP-1-based launch vehicle," Martin said.
But ULA also seeks to cut the cost of each launch and rely on less government funding. ULA is developing a new, more capable cryogenic second stage to replace the Atlas 5's current Centaur upper stage, and the company aims to begin recovering and reusing Vulcan main engines around 2024, using mid-air recovery of engine pods instead of landing the complete first stage booster as SpaceX does.
Rocket engineers say a methane-fueled engine like the BE-4 is easier to reuse, in theory, because it leaves fewer contaminants inside pipes and pumps than kerosene-fueled engines, such as the AR1 and SpaceX's Merlin powerplants.
Martin said the AR1 could be reused if selected by ULA.
"We have had discussions with ULA about reusability, and in the context of their concept, where it's (something) like five to 10 reuses, AR1 meets that requirement," Martin said. "For example, during development testing, we'll baseline testing these engines at least 20 times, and usually quite a bit more. They're inherently reusable to a certain amount, and then it's just a question of how reusable.
The Air Force awarded funding to ULA and Aerojet Rocketdyne last year for the BE-4 and AR1 engines. While the BE-4 development remains funded by Blue Origin, the Air Force money going to ULA will help integrate the engine into the Vulcan first stage.
The Air Force committed up to $536 million to the AR1 program through 2019, a total figure still subject to the engine's eventual selection by ULA over the BE-4. Aerojet Rocketdyne agreed to invest a combined $268 million of private capital into the AR1 engine development, assuming the Air Force ends up approving its full funding amount.
Bruno said last month ULA already has signed an engine delivery contract with Blue Origin for BE-4s, an agreement that includes firm price commitments per engine. He said ULA does not yet have a firm unit price for each AR1 engine.
And what if ULA ends up choosing the BE-4?
"Right now, I will say the focus is on the ULA system," Simpson said. "Because of the inherent design of the AR1, there could be potential uses in it for some planned reusable systems.
"We've looked at launch system configurations ourselves, but frankly, there's no real defined AR1 opportunities outside of ULA."
Email the author.
Follow Stephen Clark on Twitter: @StephenClark1.