STORY WRITTEN FOR CBS NEWS & USED WITH PERMISSION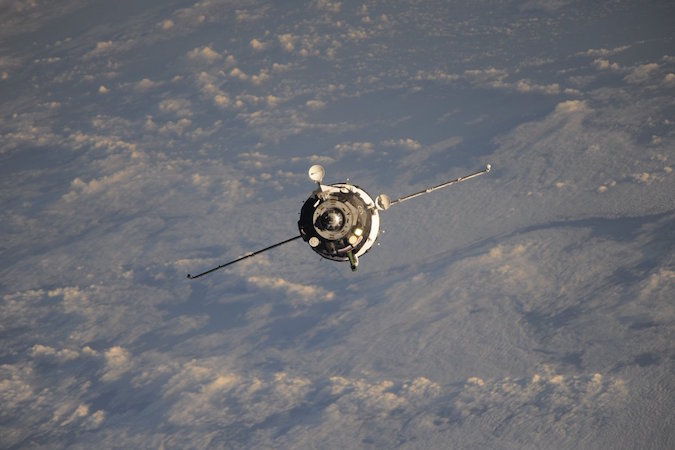 Veteran cosmonaut Fyodor Yurchikhin and rookie flight engineer Jack Fischer streaked into orbit aboard a Russian Soyuz ferry craft Thursday, chased down the International Space Station and glided to a smooth docking to complete a six-hour rendezvous.
About two hours later, after confirming an airtight seal, hatches were opened and the crew was welcomed aboard by Expedition 51 commander Peggy Whitson, European Space Agency astronaut Thomas Pesquet and Soyuz MS-03 commander Oleg Novitskiy.
In a traditional post-docking video chat with friends and family back at the Baikonur Cosmodrome in Kazakhstan, Fischer's wife, Elizabeth, wished her husband well and thanked him for a surprise pre-launch bouquet of flowers.
"Well, I learned from the master," he replied. "Fyodor told me I should be doing that, so I got some flowers." Then, with now-familiar enthusiasm, the former test pilot described the experience of launching into space for the first time as "a burrito of awesomeness smothered in awesome sauce, baby. It's so beautiful!"
One of Fischer's two teenage daughters, Sariah, told her dad "we're just so proud of you down here on little old Earth."
"I'm so proud of you, the dream that you had since you were six years old, the progress you've made since then," she said. "It's really an inspiration for (younger sister) Bethany and I and kids our age and generations to come. So thank you for that. Have a great (four-and-a-half) months, may it be the best experience of your entire life."
Added Bethany: "Hey, Dad. You're in the stars now, so you proved to everyone that if you dare to dream you can make your dream come true. Thank you. And I love you."
This was the first launch of a Soyuz spacecraft carrying just two passengers since 2003. The Russian spacecraft normally carries three crew members, but Roscosmos, the Russian federal space agency, recently opted to reduce its station crew by one in the near term to reduce costs.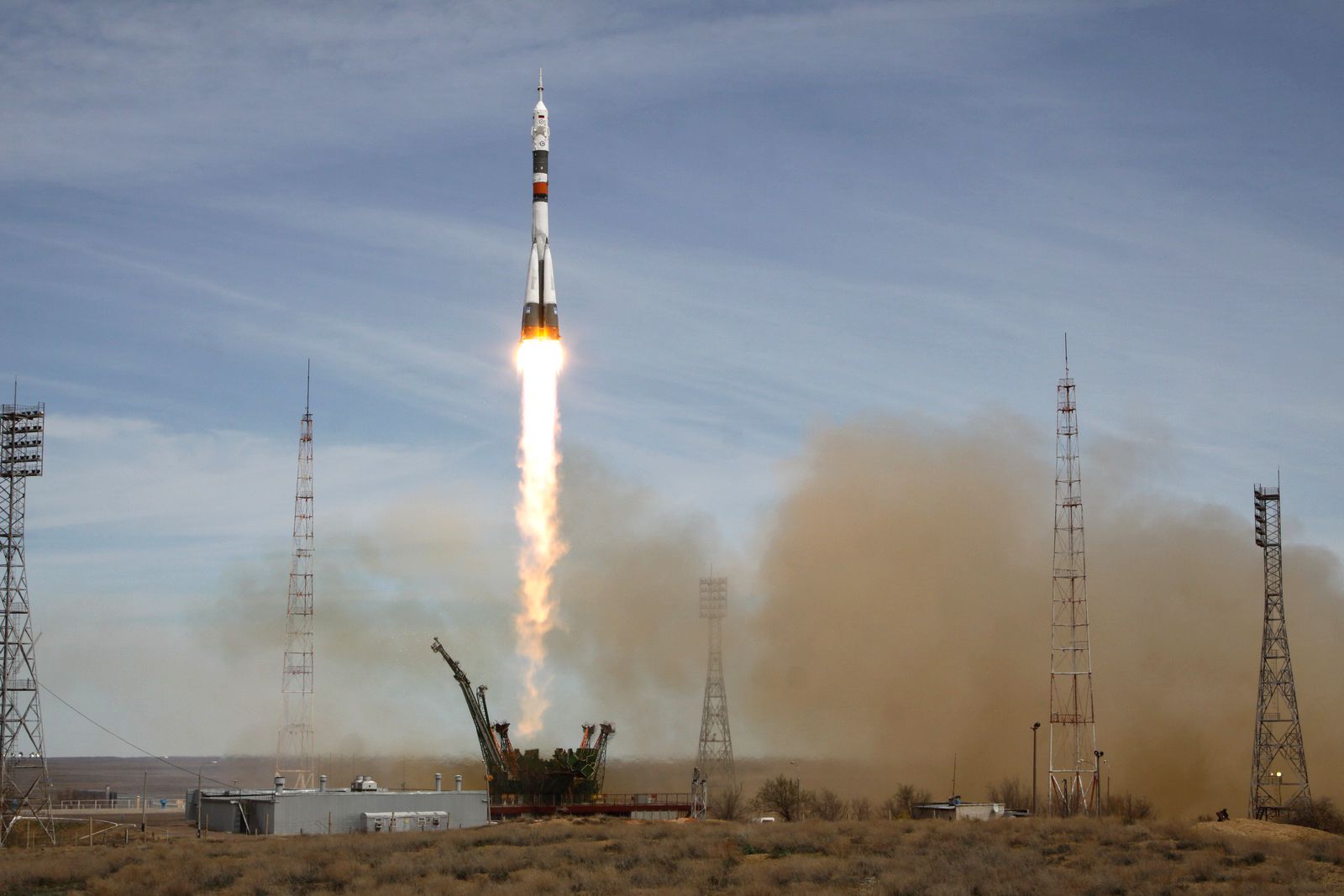 Taking off from the same launch pad that Yuri Gagarin used to become the first man in space, the Soyuz MS-04 spacecraft thundered to life at 3:13:44 a.m. EDT (GMT-4; 1:13 p.m. local time), roughly the moment Earth's rotation carried the rocket into the plane of the space station's orbit.
The workhorse booster quickly climbed away, arcing to the East as it set off on a tightly choreographed rendezvous to catch up with the space station, which passed 250 miles directly above the launch site three minutes before liftoff.
Live video from inside the Soyuz showed Yurchikhin, making his fifth space flight, and Fischer, making his first, calmly monitoring cockpit displays as the rocket accelerated toward orbit.
Eight minutes and 45 seconds after liftoff, the booster's third stage engine shut down and the Soyuz MS-04 spacecraft was released to fly on its own in an orbit measuring 123 by 159 miles. A few moments later, antennas and both two solar panels unfolded and locked in place.
Four orbits after launch, at 9:18 a.m., the spacecraft completed an automated sequence of rendezvous rocket firings and successfully docked at the station's upper Poisk module.
Yurchikhin and Fischer plan to remain in orbit for 135 days, returning to Earth Sept. 3. They will be joined by Whitson, whose mission recently was extended. Her two crewmates — Novitskiy and Pesquet — will return to Earth as planned June 2 to close out a 196-day stay in space.
Extending Whitson's mission ensures two U.S. astronauts will be aboard the station this summer when otherwise only one — Fischer — would have been available, keeping U.S. research on track. It also protects the option for a contingency spacewalk if problems crop up on the U.S. segment of the station.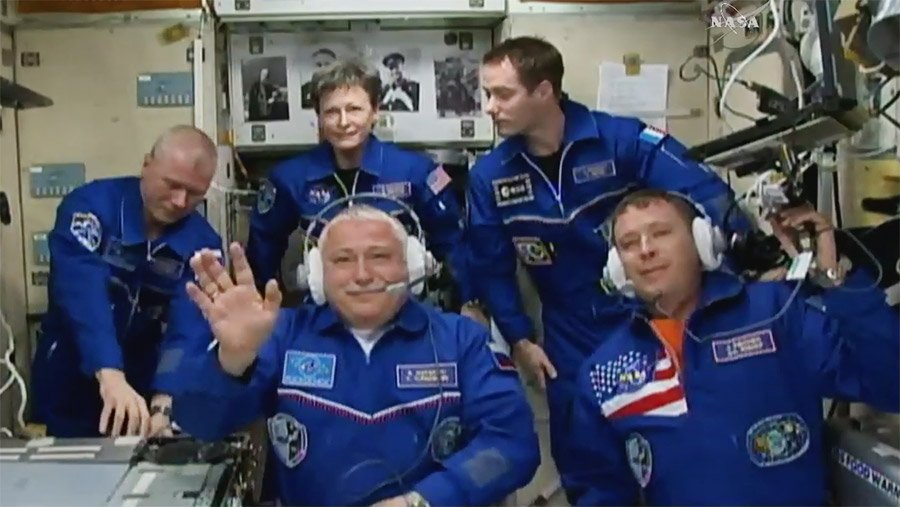 Yurchikhin is a 58-year-old father of two who holds a Ph.D. in economics. He is a former military pilot and veteran of four earlier space flights, one aboard a space shuttle and three long-duration stays aboard the station. With a combined 537 days in orbit, he is one of the world's most experienced space fliers.
Fischer, 43, is an Air Force colonel and former test pilot with a master's degree in aeronautics and astronautics from the Massachusetts Institute of Technology. A father of two teenage girls who frequently refers to his wife Elizabeth as "a smokin' hot blonde chick," Fischer flew F-15E fighters during two combat tours in Afghanistan and Iraq.
He later attended Air Force Test Pilot School at Edwards Air Force Base, Calif., and eventually helped put the F-22 Raptor through its paces. With more than 3,000 hours flying time, Fischer will serve as Yurchikhin's flight engineer during launch and landing, a daunting task given the need to be fluent in Russian.
"You have to spend a lot of time here in Star City (near Moscow) and because of the complexity of the vehicle, it makes the training very complex," he said. "You have to understand when those systems work, when they don't work, when you need to switch to the others. But all in all, it really is a fantastic little vehicle. A little tight on space, but she works pretty good."
Yurchikhin and Fischer face a busy stay in space. On Saturday, an Orbital ATK Cygnus cargo ship launched Tuesday will arrive for berthing at the central Unity module's Earth-facing port.
On Monday, President Trump and daughter Ivanka plan to call the station for a video conference with Whitson and Fischer to congratulate the station commander for setting a new space endurance record. Already the most experienced female spacewalker, Whitson will become NASA's most experienced astronaut around 1:27 a.m. Monday, passing the previous U.S. mark for cumulative time in space of 534 days two hours and 48 minutes.
When she returns to Earth with Yurchikhin and Fischer on Sept. 3, she will have logged 666 days in space during three missions, moving her up to eighth in the world, one spot behind Yurchikhin, who will have logged 672 days aloft over his five missions.
On May 12, Whitson and Fischer plan to carry out a spacewalk that originally was planned earlier this year. During a six-and-a-half hour excursion, they will replace an external computer, install a high-definition camera on the station's power truss, attach micrometeoroid shielding to a docking port and help engineers troubleshoot cooling issues with a high-energy physics experiment.
Novitskiy and Pesquet will return to Earth on June 2 and Yurchikhin will take over as commander of Expedition 52. A SpaceX Dragon cargo ship is scheduled to arrive the next day carrying another load of equipment and supplies and a Russian Progress cargo ship is scheduled for launch June 14.
Yurchikhin, Whitson and Fischer will have the station to themselves until July 28 when the Soyuz MS-05 spacecraft shows up carrying three spaceflight veterans: vehicle commander Sergey Ryazanskiy, Randy Bresnik and European Space Agency astronaut Paolo Nespoli.
Yurchikhin and Ryazanskiy plan to stage a Russian spacewalk in August before the Soyuz MS-04 crew returns to Earth Sept. 3.