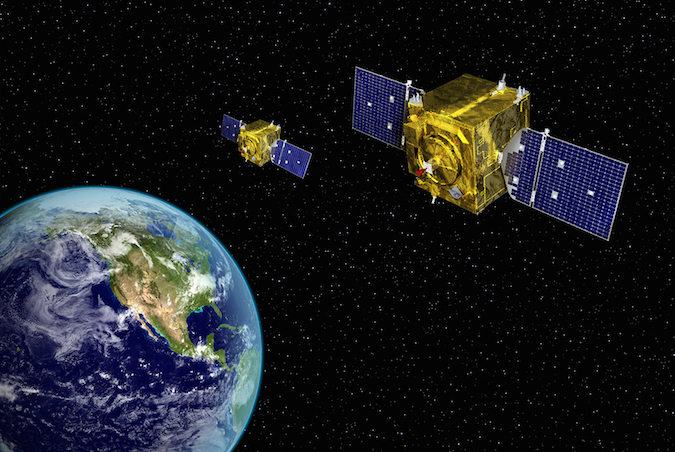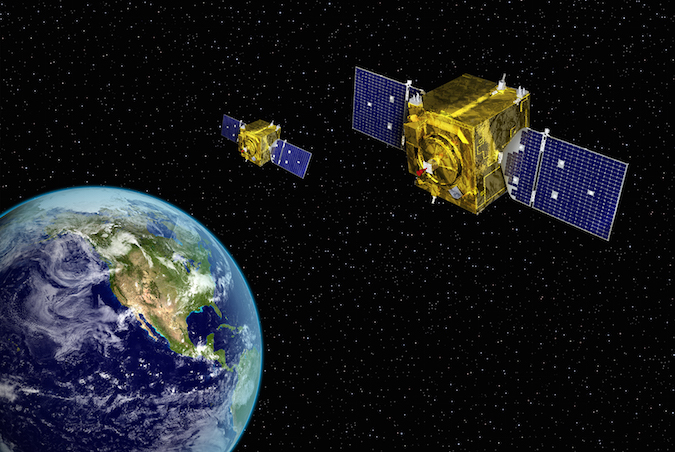 Orbital ATK started work on two more surveillance satellites for the U.S. Air Force's geosynchronous neighborhood watch program late last year as the military aims to expand its ability to track and investigate other objects in the heavily-trafficked belt more than 22,000 miles over the equator.
Orbital ATK disclosed it started working on the GSSAP 5 and 6 satellites in a quarterly earnings call with investment analysts March 8.
The target launch date for the fifth and sixth spacecraft in the Air Force's Geosynchronous Space Situational Awareness Program, or GSSAP, has not been released. The Air Force's Space and Missile Systems Center said April 5 that the value of the satellite contract with Orbital ATK was classified.
New satellites based on existing designs typically take two or three years to build and ready for launch.
Two United Launch Alliance Delta 4 rockets deployed the first four GSSAP spacecraft in July 2014 and August 2016, hurling the satellites directly into a circular geosynchronous orbit more than 22,000 miles (nearly 36,000 kilometers) over the equator on missions lasting more than six hours and requiring three burns of the Delta 4's upper stage RL10 engine.
Claire Leon, head of the Air Force's launch enterprise directorate, said last month that the rights to launch the next set of GSSAP satellites will be competed between ULA and SpaceX, but she did not offer a timetable for the flight.
The GSSAP satellites lurk near the ring of geosynchronous satellites that fly around Earth at the same speed of the planet's rotation, allowing craft to remain over a fixed geographic location. Commercial companies and defense agencies use the orbit for communications, missile warning and signals intelligence missions.
Not only can the surveillance platforms help the Air Force track objects in geosynchronous orbit — a capability needed to manage traffic and avoid collisions — the GSSAP spacecraft can adjust their orbits to approach and image other satellites using sharp-eyed optical cameras.
The GSSAP satellites' ability to maneuver around other spacecraft gives military officials data on the location, orbit and size of other objects in geosynchronous orbit, according to the Air Force, "enabling characterization for anomaly resolution and enhanced surveillance, while maintaining flight safety."
"Data from GSSAP uniquely contributes to timely and accurate orbital predictions, enhancing our knowledge of the geosynchronous orbit environment, and further enabling space flight safety to include satellite collision avoidance," officials wrote in the Air Force's official GSSAP fact sheet.
The Air Force sent one of the GSSAP satellites to the aid of a crippled U.S. Navy communications satellite last year. The Navy's fifth MUOS relay satellite ran into propulsion trouble after launch, forcing it to use backup thrusters to climb into its perch in geosynchronous orbit.
The GSSAP satellite changed course to capture imagery of the MUOS 5 spacecraft to give engineers insight into its status and condition, the Air Force said.
Gen. John "Jay" Raymond, head of Air Force Space Command, said April 4 that the GSSAP mission, which was classified until early 2014, helps ensure the U.S. military can continue operating its vital national security satellites in geosynchronous orbit, even in a potential war against an adversary with a sophisticated military space program.
"If you look at the way we do SSA (Space Situational Awareness) today, it was really built for a benign domain," Raymond said in a speech last week at the 33rd Space Symposium in Colorado Springs. "It's largely built around a catalog.
"Knowing where something is in space in a benign domain is good enough, but in a contested domain it is not good enough, and we've got to figure out how to shift the focus of SSA from cataloguing to warfighting," Raymond said.
For Orbital ATK, the contract to build two more GSSAP satellites helps offset a weak commercial market, keeping the company's engineers busy and satellite-related revenue steady as industry-wide demand has waned from the traditional major commercial geosynchronous satellite operators.
"The same engineering teams, the same manufacturing and technician experts, and the same facilities are used whether the mix is weighted towards commercial satellite as it was some years ago, or towards government satellites as it was last year and probably will continue to be," said David Thompson, Orbital ATK's president and CEO.
In addition to the new business in the GSSAP program, Orbital ATK won a contract last year from NASA to build the Landsat 9 land imaging satellite set for launch in December 2020, and the firm has a lucrative contract to resupply the International Space Station through 2024.
"Both sides of the government market (military and civilian) contributed quite strongly to new business last year and fortunately offset once again last year, as they had in 2015, the relative weakness in the commercial market," Thompson said. "We still believe in the commercial market, and we are still committed to it, but it may take another year or two before we see conditions there among the operators being such that we can project a return to the good old days of 20 or 25 orders per year across the industry."
Email the author.
Follow Stephen Clark on Twitter: @StephenClark1.