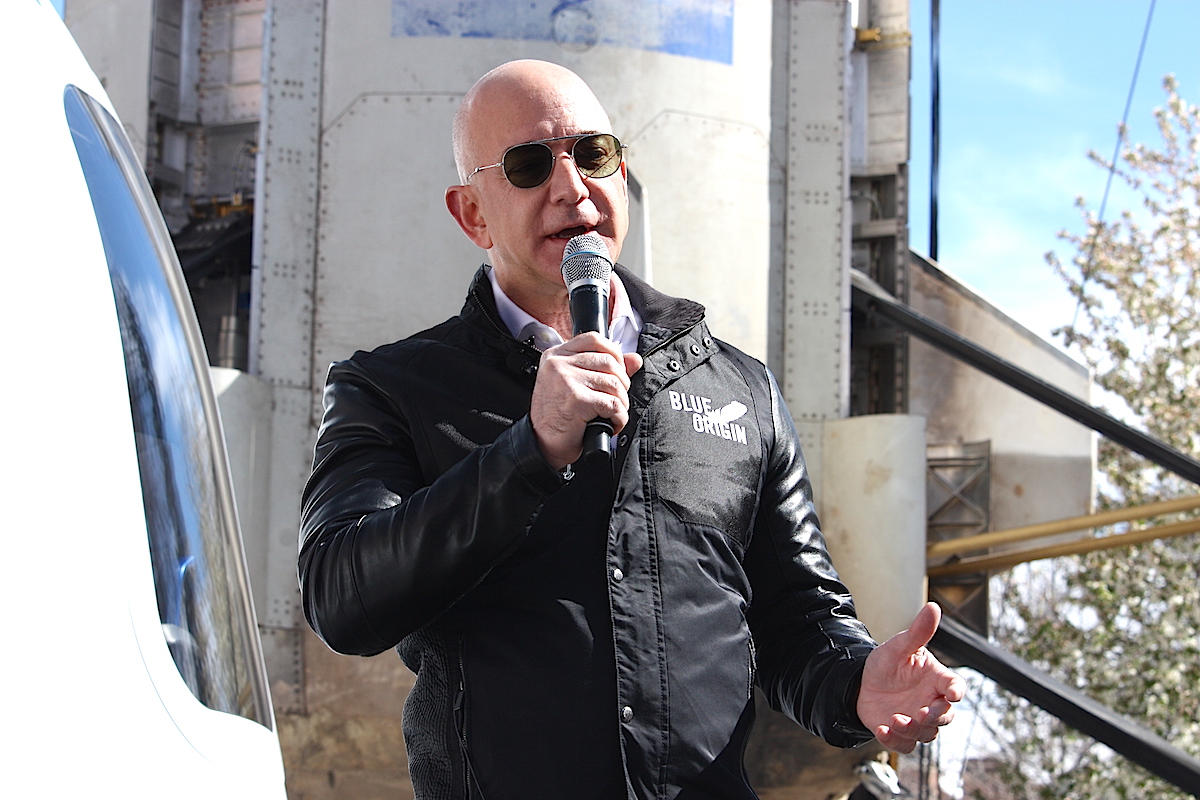 Amazon.com's Jeff Bezos, now the second-richest person in the world, is funding his space company's lofty ambitions $1 billion per year, driving Blue Origin closer to taking paying passengers to the edge of space and fielding a reusable satellite launcher that will usher in a golden age of space exploration, the billionaire tycoon said Wednesday.
Speaking in front of Blue Origin's five-times-flown New Shepard booster at a space industry convention in Colorado Springs, Bezos said his financial backing will keep Blue Origin on course help foster a new commercial space economy made possible by cutting space transport costs.
"My business model right now for Blue Origin is I sell about $1 billion per year of Amazon stock, and I use it to invest in Blue Origin," Bezos said. "So the business model for Blue Origin is very robust."
Blue Origin is on pace to hire several hundred employees this year — its total staff now totals more than 1,000 — as the company builds a fleet of new suborbital New Shepard rockets and capsules, tests a powerful methane-fueled engine, develops the New Glenn orbital-class booster, and refines concepts for a robotic moon lander.
In the long run, Bezos believes Blue Origin should be able to "stand on its own feet and be a profitable enterprise."
"That's how real progress gets made," Bezos said. "I do not want Blue Origin to be a not-for-profit. I want Blue Origin to be a thriving enterprise and to help open the gateway to this new generation of people who will have this dynamic entrepreneurial explosion in space. That's what we're going to do.
"That can only be done if it's sustaining," Bezos said. "It's a long road to get there, but I'm happy to invest in it."
---
Spaceflight Now members can read a transcript of Jeff Bezos's question-and-answer session with reporters at the 33rd Space Symposium.
---
Blue Origin's spaceflight record to date is limited to the New Shepard, a single-stage rocket that has flown six times. Five of those missions used the same vehicle after the first booster was lost during a landing attempt.
The first successful New Shepard landing came in November 2015, making it the first vehicle to return to Earth on rocket thrust after reaching space. A month later, SpaceX exceeded that feat by landing a larger Falcon 9 rocket booster at Cape Canaveral after sending a set of communications satellite toward orbit.
Taking off and landing vertically, the New Shepard is Blue Origin's answer to Virgin Galactic's suborbital space plane, which fires above the Karman line — the internationally-recognized boundary of space around 62 miles (100 kilometers) above Earth — after dropping from the belly of a purpose-built carrier jet.
Virgin Galactic's spaceship glides to a runway landing after its brief trip into space.
The New Shepard booster on display this week in Colorado Springs will soon be put in a museum after surviving its last flight, during which a prototype crew capsule on top of the rocket fired a solid-fueled abort motor just as it flew faster than the speed of sound, one of the most sensitive parts of any launch.
The test verified the performance of an abort motor that would rapidly whisk passengers away from an exploding rocket. The capsule was expected to survive, but the New Shepard launcher was not designed to keep flying after such a maneuver.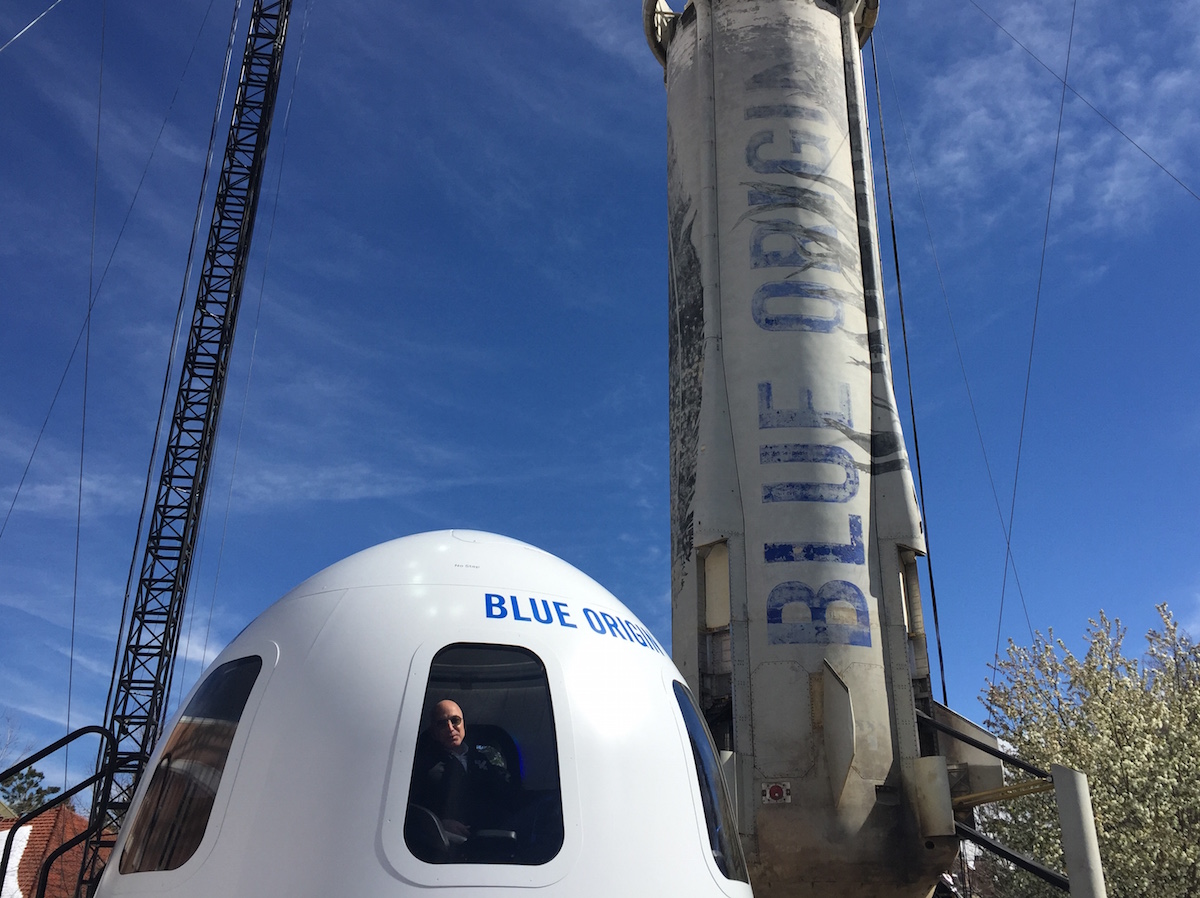 "You can see it's a little scarred," Bezos said. "We have tortured this vehicle, including on its last flight, where we did a very stressing escape test."
The rocket's BE-3 main engine continued firing, arcing on a suborbital trajectory before the booster deployed drag brakes, reignited the engine, and extended landing legs for touchdown at Bezos's ranch near Van Horn, Texas.
Blue Origin's engineers are building a second version of the New Shepard and a human-rated crew capsule, the first of what the company says will be a fleet of reusable suborbital vehicles designed to carry six passengers into space on each flight.
Late last year, Blue Origin officials hoped to put its employees on test flights of the next New Shepard booster and crew carrier by the end of 2017, followed by the launch of commercial service in 2018.
Bezos said Wednesday that while he is still optimistic that New Shepard will be ready to start flying customers to space next year, the first crewed test flights are unlikely to occur before the end of 2017.
"I always remind the team that we're not racing," Bezos said. "This vehicle is going to carry humans. We're going to make it as safe as we can make it. We're not going to take any shortcuts, so we'll put humans on this vehicle when we're ready, and not a second sooner."
Virgin Galactic founder Richard Branson told the British newspaper The Telegraph last week that he hopes his firm's SpaceShipTwo rocket plane is taking passengers to space by the end of 2018. Virgin's program was set back by a crash in late 2014 that killed a SpaceShipTwo co-pilot on a test flight.
A SpaceShipTwo ride will cost about $250,000.
Blue Origin has not started selling tickets, and officials have not disclosed a price tag for a New Shepard flight. Several university microgravity research experiments flew on New Shepard launches last year.
"The vehicle we're building is the human-rated vehicle," Bezos said. "We're going to go through the test program, and we'll put humans on it when we're happy. I don't think it's going to be 2017 at this point. It could be, but I still think we can do commercial paying passengers in 2018.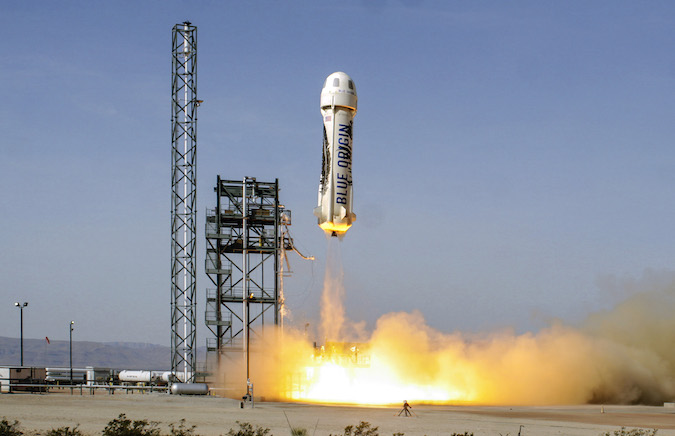 "The good news about our architecture is it's completely autonomous, so we can fly these vehicles with no humans, even though they're human-capable, and do that as many times as we want until we're confident and comfortable, and then we can put humans on-board," Bezos said. "If we had to have pilots, for example, we couldn't use that approach, but the fully autonomous nature of the vehicle makes it easy to do that."
Blue Origin engineers are upgrading the software and heat shield used on Version No. 2 of New Shepard, replacing spray-on insulation with a metallic thermal protection system near the ring attach point with the crew capsule and on the booster's fins, according to Rob Meyerson, president of Blue Origin.
The crew capsule will also feature windows — the largest to ever fly in space — that have been rated to launch and land 100 times.
"When you get in here, I think you'll have that same emotion many of us, certainly me, have lived with since we were little kids and we wanted to go to space," Bezos said from inside the capsule mock-up. "Everybody says that when you go to space it changes you. All the astronauts come back with stories like that."
Blue Origin hosted reporters inside the scale model of the crew capsule after Bezos took questions Wednesday.
"It's going to be a pretty comfortable ride, but an exciting ride," said Ariane Cornell, head of astronaut strategy and sales at Blue Origin.
The recumbent seats, modeled on helicopter seats, can fit short and tall would-be space fliers, keeping with Blue Origin's goal of accommodating up to 95 percent of potential passengers.
Customers would spend about a day or day-and-a-half training at Bezos's West Texas launch site before strapping into the New Shepard's crew capsule at about T-minus 30 minutes.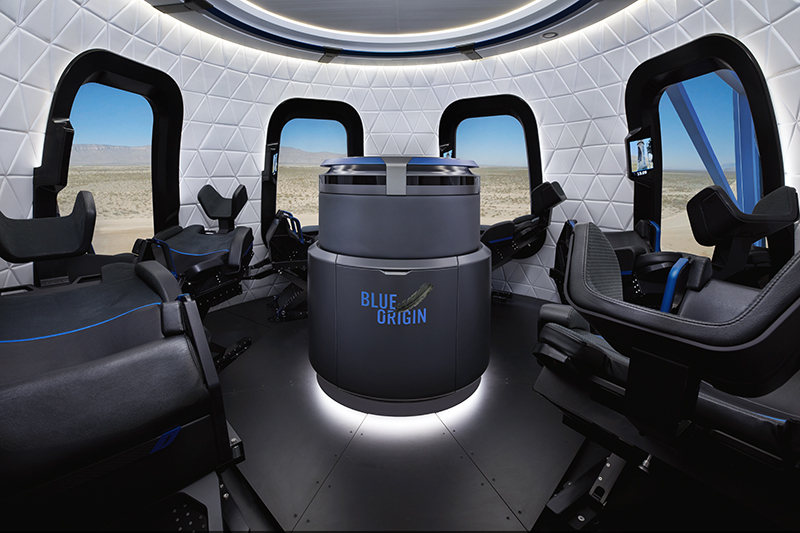 A tabletop-looking structure in the middle of the capsule covers the ship's abort motor, which would save passengers from a failing rocket. There are no controls — the spaceship flies on autopilot — but each seat has a tablet-sized video screen showing external views and real-time altitude and speed data.
The cabin is otherwise sparse, with padded walls and an open design.
"A lot of design thought was put into the interior of the capsule," said Cornell as she gave reporters a tour of the craft. "What we wanted to do is to really embrace and celebrate the engineering that's gone into this."
Once the New Shepard's BE-3 engine switches off, the capsule will separate and arc in weightlessness for about four minutes. During that time, the passengers will unstrap their seat belts and float around the cabin, using handrails to ease their movement.
On the way up, fliers will experience 3gs of acceleration. That will briefly spike to up to 5.5gs on descent, Cornell said.
The whole jaunt will take about 11 minutes.
Bezos said he is optimistic Blue Origin will get plenty of sign-ups once sales begin, but there are unknowns in the market.
"We can build as many of these vehicles as we need," Bezos said. "The real question is what will the customer demand be. You can do research and surveys and ask people if they want to go, but it's really hard to know. Really, you just have to do the experiment, so we're very close to finding out what the customer demand will be, but I think nobody knows that for sure yet."
The New Shepard is just a stepping stone to bigger ambitions.
Blue Origin's New Glenn rocket, to be built at a cavernous factory under construction near NASA's Kennedy Space Center in Florida, will be able to deliver up to 100,000 pounds — around 45 metric tons — of payload to an orbit several hundred miles above Earth.
Bezos said New Glenn's development is projected to cost about $2.5 billion. The company has not revealed a price for one flight of the rocket.
The towering booster, powered by seven BE-4 engines fed by a mix of methane and liquid oxygen, will blast off from Complex 36 at Cape Canaveral, a few miles from the manufacturing plant.
The first full-scale hotfire test of a BE-4 engine is expected within weeks in West Texas, a milestone that is being closely watched by United Launch Alliance, the 50-50 joint venture between Boeing and Lockheed Martin. If the testing goes well, ULA will likely use two of the BE-4 engines on the first stage of its next-generation Vulcan rocket, which will replace the Delta 4 and Atlas 5 rockets in its present-day fleet.
Using a landing scheme planned by Blue Origin for years — but pioneered in practice by SpaceX — the New Glenn's first stage will touch down on an offshore floating barge for reuse.
"This is all about reusability," Bezos said of the New Shepard and New Glenn. "Reusability is the key to getting millions of people living and working in space. It has to real operational reusability. It can't be just theoretical reusability."
SpaceX, led by billionaire Elon Musk, is ahead of Blue Origin in achieving that objective.
A Falcon 9 rocket booster that first flew in April 2016 launched again with a commercial communications satellite March 30 after extensive inspections and refurbishment. SpaceX aims to cut down on the turnaround tasks for future reused rockets.
"If you recover and spend a lot of time and money X-raying, revalidating everything and refurbishing everything, it's not actually going to lower costs," Bezos said. "You have to get much more like airliner operations. You have to be able to land, refuel, maybe do some minor inspections, and then off you go again, and that's where we going to get to."
Falling prices will lead to a growing space industry, Bezos said.
"Most of the things you want to do in space that are really interesting right now have a very high price of admission, and as a result, you can't unleash the creativity of thousands and thousands of start-up companies and kids in dorm rooms everywhere," Bezos said. "But if we can reduce the cost of launch by a factor of 10, and then by a factor of 100 — believe me, that's going to take time and a lot of hard work — but if we can do that you will be living in a completely new world.
"It will be a golden age of space exploration," he said.
Blue Origin is sure to play a part in the revolution, according to Bezos.
"It's going to be very difficult, I think, in advance to know what the cost curve is going to be — how low it's going to come down," Bezos said. "Here's what I can tell you though: I am determined to lower the cost of access to space, and we at Blue Origin only need three things to make that happen: talented people, money and patience. And we have all three."
Email the author.
Follow Stephen Clark on Twitter: @StephenClark1.
Comments will be monitored for language.