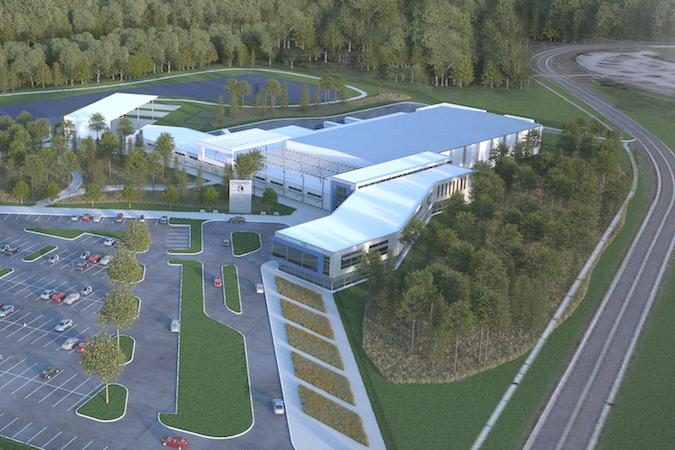 Days before breaking ground on a new spacecraft assembly line near Cape Canaveral, OneWeb and Intelsat announced a proposed merger Tuesday that would couple a planned fleet of 900 broadband Internet satellites with a high-power communications network in geostationary orbit.
The "share-to-share" merger, if finalized, will be followed by a $1.7 billion investment in the combined company by Japan's SoftBank. The merger and investment will reduce Intelsat's debt by up to $3.6 billion, officials said, revitalizing Intelsat as it struggles with falling prices for broadband capacity and reduced business from the U.S. government.
Meanwhile, OneWeb is about take another step toward deploying the largest satellite fleet in history with the start of construction of the company's factory in Exploration Park, Florida, just outside the gates of NASA's Kennedy Space Center.
A groundbreaking ceremony was set for Friday, but officials said the event was postponed due to scheduling conflicts. The first satellites should be completed at the facility next year.
The merger of Intelsat and OneWeb is contingent on bondholder and regulatory approvals, officials said.
"Assuming we can close this transaction, we think the Intelsat and OneWeb future advances the objectives of both companies," said Stephen Spengler, CEO of Intelsat, with headquarters in Luxembourg and McLean, Virginia. "First, we create a global leader with the ability to provide consistent highly reliable broadband anywhere in the world, from a crowded city to the middle of the rainforest."
Spengler added the OneWeb fleet, which will consist of 900 satellites in low Earth orbit at an altitude of 745 miles (1,200 kilometers), will operate as a "fully-integrated hybrid network" with Intelsat's 50-plus relay craft positioned in geostationary orbit more than 22,000 miles (36,000 kilometers) above the equator.
The OneWeb constellation will begin launching next year, building out a space network the company says will offer high-speed Internet with connection speeds comparable to ground-based service providers.
Greg Wyler, executive chairman and founding chairman of OneWeb, said the merger of large satellite fleets in low Earth orbit and geosynchronous orbit is a "unique combination" to support wide-scale broadband services.
OneWeb's fleet in low orbit is 30 times closer to the Earth than geostationary satellites, cutting the system's latency, or the time it takes signals to travel between each spacecraft and the ground.
"First of all, there's broadband with low-latency with a terrestrial quality, which is what we're getting out of the OneWeb system, and then (we're) adding a lot of other features that the GEO (geostationary satellites) offer for wide-scale video distribution, wide-scale upload of software," Wyler said Tuesday in a conference call announcing the merger. "So the combination of the two companies gives us a really nice set of features that we can offer our customers — not just stuff that people get today, but stuff that will be needed in the future."
Based in Arlington, Virginia, OneWeb aims to beam wifi and mobile data service to customers as soon as next year, reaching homes, businesses, hospitals, schools, oil rigs, ships, airplanes and trains. It works by broadcasting a signal to a hotspot that customers can install on their roofs.
Spengler said Intelsat and OneWeb envision developing fully interoperable ground terminals that can access both satellite fleets.
"We're still going to be serving mobile operators and helping them with small cell expansion into remote rural areas, but we'll also have the ability to go direct to schools and into government offices," Spengler said Tuesday.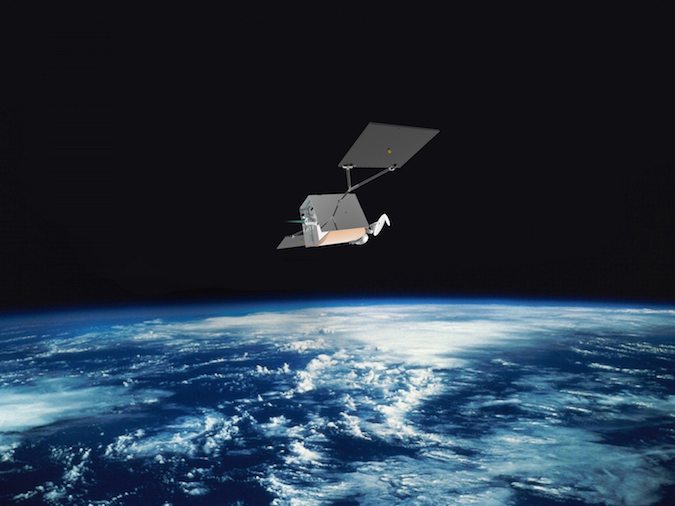 Intelsat was already an investor in OneWeb, planning to take charge of day-to-day operations for OneWeb's satellites in orbit.
OneWeb plans to launch 648 satellites in the first phase of the constellation. The rest of the spacecraft will be spares pre-positioned in orbit or on the ground.
Wyler said OneWeb has raised $1.7 billion to date to fund the first phase of the program, with $1.2 billion coming from SoftBank under a previous fundraising agreement announced in December.
Airbus, Qualcomm, New Delhi-based Bharti Enterprises, Hughes Network Systems — a subsidiary of EchoStar Corp. — Coca-Cola and Totalplay, a company owned by Mexican billionaire Ricardo Salinas Pliego, are also behind OneWeb.
The satellite fabrication plant on Florida's Space Coast will produce up to three 330-pound (150-kilogram) spacecraft per day in an assembly line fashion. Airbus Defense and Space is prime contractor for OneWeb's satellite constellation, applying mass production techniques — such as automation and robotics — used in the company's airplane business to spacecraft.
The OneWeb factory will cover more than 100,000 square feet (more than 9,000 square meters), officials said.
"This will be the world's first fully-automated high-volume satellite assembly plant," Wyler said.
Space Florida, a state agency charged with luring commercial aerospace business to the Sunshine State, helped arrange $20 million in government incentives to bring the OneWeb factory to the Space Coast.
The factory will create around 250 direct jobs at Exploration Park, officials said.
OneWeb's facility will be located across the street from Blue Origin's rocket factory. Blue Origin aims to launch its first "New Glenn" rocket from Cape Canaveral by the end of the decade.
The bulk of the initial OneWeb constellation — totaling up to 700 satellites — will be launched by Russian Soyuz rockets under a contract signed in 2015 between OneWeb and Arianespace.
OneWeb ordered 21 Soyuz launches from up to four spaceports — the Baikonur Cosmodrome in Kazakhstan, Vostochny and Plesetsk in Russia, and the European-run Guiana Space Center in South America — to send up between 32 and 36 satellites at a time.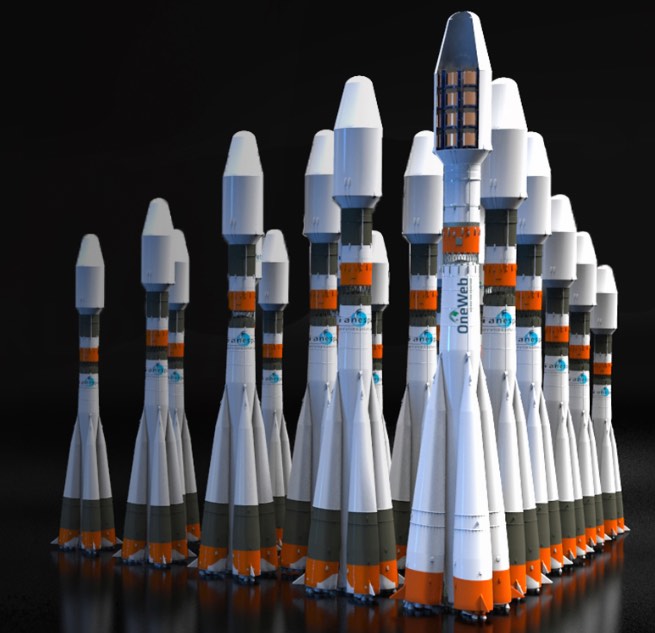 Airbus is building the first 10 OneWeb satellites at its facility in Toulouse, France. Those spacecraft will be launched to test their performance and functionality in early 2018, Wyler said.
"We're starting with our first launch at the end of March of 2018," Wyler said. "And then, several months after — maybe five months after — once we test out those satellites, we will be launching every 21 days, which sounds like a lot, but we're using multiple launch pads to do that.
"They are really a very high-volume launcher, even one time they launched twice in one day," Wyler said of the Soyuz. "So they really have their act together, and we feel very confident about their capabilities."
Arianespace also secured optional orders from OneWeb for five more Soyuz launches and three flights of the next-generation Ariane 6 rocket.
Virgin Galactic's air-launched LauncherOne vehicle, which is still in development and could fly by the end of 2017, was also awarded 39 launches by OneWeb to replenish the company's satellite fleet as old satellites stop working. LauncherOne will haul up one satellite at a time after dropping from a modified Boeing 747 carrier jet.
Wyler said OneWeb is set to start initial service by the end of 2019, with full global coverage available 12 to 18 months later.
As many as 2,000 more OneWeb satellites could be added to the network with sufficient demand, Wyler said.
Email the author.
Follow Stephen Clark on Twitter: @StephenClark1.