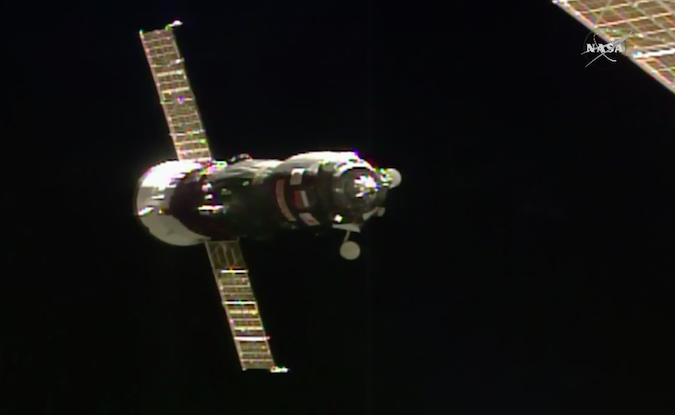 The International Space Station received its second cargo shipment in less than 24 hours Friday with the automated linkup of a Russian Progress refueling and resupply freighter.
The Progress MS-05 spaceship closed in to dock with the space station's Pirs module at 0830 GMT (3:30 a.m. EST) Friday, two days after blasting off from Kazakhstan on top of a Soyuz rocket. The docking occurred as the space station sailed 250 miles (400 kilometers) over the South Pacific Ocean east of New Zealand.
The Progress cargo craft's on-board computer, relying on data fed by a Kurs rendezvous radar, commanded the final phase of the approach.
Live video from cameras outside the space station showed the Progress supply ship firing maneuvering thrusters in the final minutes of the rendezvous, steering for its docking target on the Pirs module.
The Progress spaceship's docking probe retracted as planned shortly after docking, and hooks engaged to create a firm connection between the two vehicles.
Friday's docking came less than a day after a commercial SpaceX-owned Dragon supply ship arrived at the space station, pulling within range of the research lab's robotic arm for capture and berthing to the Harmony module on the U.S. section of the complex.
The Russian Progress spacecraft docked with the Earth-facing Pirs module on the Russian segment, where it is slated to remain until mid-June, when it will depart and burn up in Earth's atmosphere to dispose of the space station's trash, making way for the next logistics mission.
"At both ends of the International Space Station throughout the day on Friday, the crew members of Expedition 50 will be unloading cargo from two different vehicles that arrived just 24 hours apart to culminate one of the busiest weeks in the history of the International Space Station," said Rob Navias, NASA TV's commentator for Friday's Progress docking.
The Progress MS-05 mission, known as Progress 66P in the space station's visiting vehicle manifest, carried around 5,820 pounds, or 2,640 kilograms, of cargo and propellant to replenish stocks on the space station.
About 2,903 pounds (1,317 kilograms) of the material is dry cargo — spare parts, food, clothing and experiments — and another 1,940 pounds (880 kilograms) is propellant. The mission also delivered 926 pounds (420 kilograms) of fresh water and about 51 pounds (23 kilograms) of oxygen, according to NASA.
Email the author.
Follow Stephen Clark on Twitter: @StephenClark1.