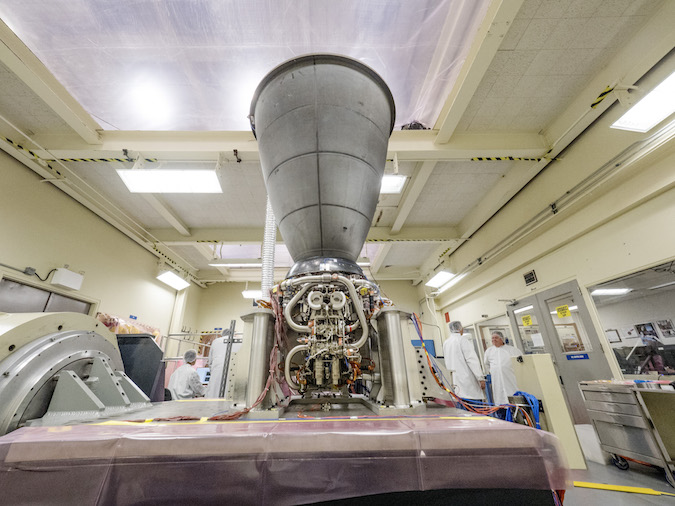 A former space shuttle orbital maneuvering system engine has been delivered to Germany for attachment to the European-built service module destined to steer NASA's next Orion spacecraft on a course around the moon on an uncrewed test flight in late 2018.
The engine was refurbished and reassembled at NASA's White Sands Test Facility in New Mexico, then shipped to Johnson Space Center in Houston for shake testing and returned to White Sands for leak tests, according to a European Space Agency blog post.
It flew from Dallas/Fort Worth International Airport to Frankfurt last month, and then continued its journey by truck to Airbus Defense and Space's spacecraft assembly facility in Bremen, Germany, ESA said.
ESA is providing the service modules for at least the next two Orion missions — an unpiloted shakedown cruise in lunar orbit scheduled to lift off in November 2018, and the first Orion flight with astronauts on-board in the early 2020s.
European governments agreed to pay for the service module for the 2018 flight, named Exploration Mission-1, at a meeting of government ministers in December 2012. ESA member states last month committed funding for a second service module for Exploration Mission-2, which will carry up to four astronauts farther than the moon's orbit as soon as 2021.
Airbus Defense and Space is in charge of building the service modules at its Bremen plant. Lockheed Martin is prime contractor for the Orion crew module, which will house the astronauts, their living quarters and the cockpit.
The service modules provide propulsion, propellants, electricity, water, oxygen, nitrogen and thermal control for the Orion spacecraft.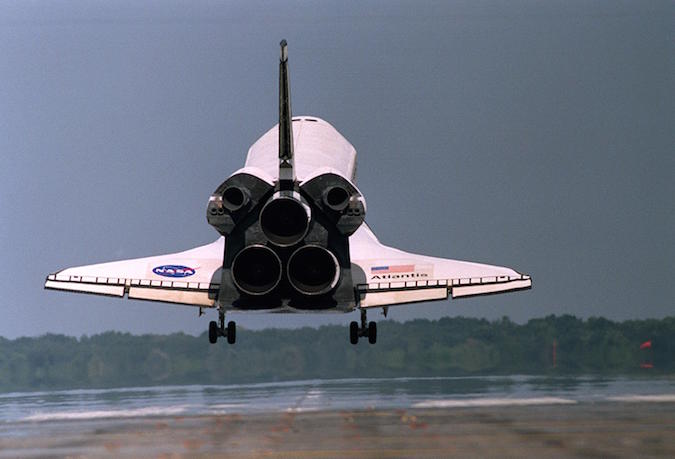 The service module has 33 engines and thrusters to control the Orion capsule's orientation and adjust its trajectory after launch. The main engine for EM-1 is a refurbished Orbital Maneuvering System engine that flew on 19 space shuttle missions.
The OMS engines were mounted on pods on each side of the shuttle's vertical tail, used to change the craft's orbit and begin the spaceship's trip back to Earth with a de-orbit burn.
The engines burn hydrazine and nitrogen tetroxide propellants, and were each designed for 100 missions and rated for multiple restarts on each flight.
Aerojet Rocketdyne built the OMS engines, which provide around 6,000 pounds of thrust in vacuum.
The OMS engine slated to launch on EM-1 flew on the shuttle Challenger, Discovery and Atlantis in its career. Its first launch was on the STS-41G mission in October 1984, and its last shuttle mission was STS-112 in October 2002, according to Rachel Kraft, a NASA spokesperson.
The EM-1 mission will last more than three weeks, sending the Orion spacecraft into a high-altitude retrograde orbit around the moon before heading back to Earth for a splashdown in the Pacific Ocean.
The European-built service module is in the "critical path" for EM-1 to remain on track for its launch readiness window, which runs from September through November of 2018. The service module is due for delivery to NASA's Kennedy Space Center in Florida in April — after engineers in Germany add the OMS engine and propellant tanks to the already-finished primary structure.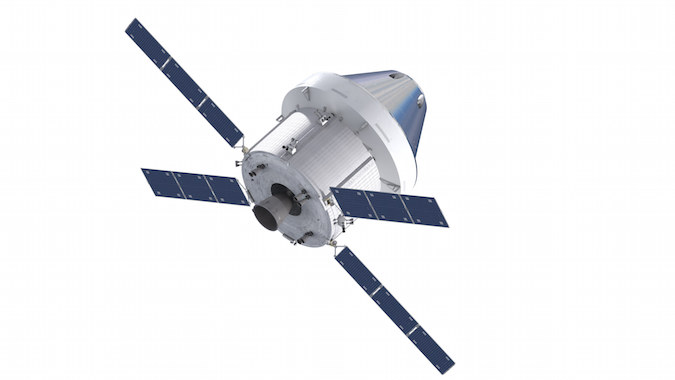 An on-time delivery of the service module is critical to maintain EM-1's target launch date, unless engineers find a way to make up time once the power and propulsion segment is in the United States.
At KSC, ground crews will connect the service module with the Orion crew module, then ship the spacecraft to NASA's Plum Brook Station in Ohio by the end of 2017 to subject it to the extreme temperatures and vacuum conditions it will encounter in space.
The craft will return to KSC in early 2018 for final assembly steps, including the spacecraft's fueling and the addition of the Orion launch abort system before the stack is mounted on top of NASA's Space Launch System inside the Vehicle Assembly Building for rollout to launch pad 39B.
The agreement last month for ESA to supply a second service module came after European governments extended their support of the International Space Station through 2024. ESA is providing the two service modules for EM-1 and EM-2 as part of a barter agreement to pay NASA for its share of the space station's operating costs.
"We are excited to be a part of this historic mission and appreciate NASA's trust in us to help extend humanity's exploration farther afield into our solar system," said David Parker, ESA's director of human spaceflight, after the ministerial meeting in Switzerland last month.
Email the author.
Follow Stephen Clark on Twitter: @StephenClark1.