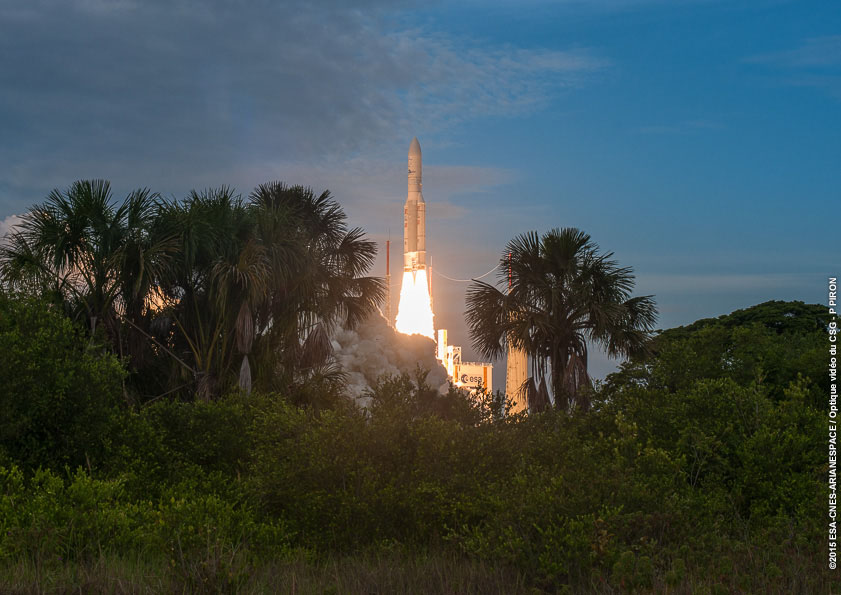 The launch next year of a commercial communications craft jointly managed by London-based Inmarsat and the Greek satellite operator Hellas-Sat has been switched from SpaceX's Falcon Heavy to Arianespace's Ariane 5 rocket, officials said Thursday.
Inmarsat said in a statement it decided with Hellas-Sat to move the satellite's launch to an Ariane 5 rocket following a delay in SpaceX's launch schedule.
The launch aboard an Ariane 5 from Kourou, French Guiana, is expected by the middle of 2017, officials said.
Officials ordered the multipurpose satellite from Thales Alenia Space for a planned launch by the end of 2016 on a Falcon Heavy rocket, SpaceX's huge new booster which is still awaiting its first demonstration flight.
With a launch mass of around 5.9 metric tons, or 13,000 pounds, the "condosat" spacecraft hosts two payloads for Inmarsat and Hellas-Sat.
Inmarsat's S-band telecommunications payload will serve the European Aviation Network, delivering high-capacity WiFi connectivity to airline passengers throughout Europe, with coverage in all 28 European Union member states, plus Norway and Switzerland.
The aeronautical communications network is developed in partnership between Inmarsat and Deutsche Telekom.
"We are delighted with flexibility that Arianespace has shown in being able to provide a launch slot that enables us to place our European Aviation Network S-band satellite in orbit by mid-2017," said Michele Franci, chief technology officer at Inmarsat. "This launch schedule supports the introduction of our ground-breaking integrated satellite and air-to-ground net-work, developed by Inmarsat and Deutsche Telekom, which will deliver a very high capacity broadband Wi-Fi experience for passengers flying throughout Europe."
Inmarsat was facing a deadline of the end of this year imposed by European regulators to have the S-band satellite launched. Even with the rocket swap, Inmarsat will miss that mark.
It is unclear whether the deadline will be extended.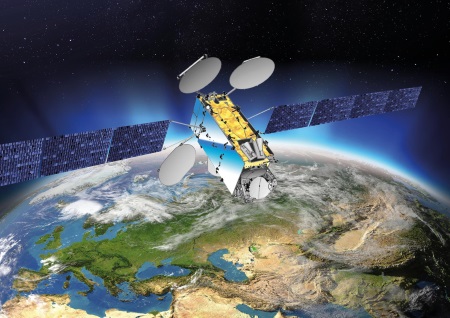 Hellas-Sat plans to use 44 Ku-band transponders and a single Ka-band transponder aboard the satellite, which it calls Hellas-Sat 3, to replace coverage currently offered by the aging Hellas-Sat 2 communications satellite launched in May 2003.
"Hellas-Sat 3 is further establishing our company's position in the DTH (direct-to-home) market in Europe and fully supports its plans for growing in Africa," said Christodoulos Protopappas, CEO of Hellas-Sat, a Greek subsidiary of Saudi Arabia's Arabsat. "We are glad that together with our strong partners, we are able to secure the launch timeframe and guarantee service continuity and growth opportunities for our existing and new customers."
An Ariane 5 rocket will propel the Inmarsat S-band/Hellas-Sat 3 spacecraft toward a perch in geostationary orbit nearly 22,300 miles (35,800 kilometers) over the equator at 39 degrees east longitude.
"With this new launch contract, we are very proud to continue our partnership with Inmarsat that goes back to 1981," said Stephane Israel, Arianespace's chairman and chief executive, in a company statement. "It is an honor as well to have been selected by Hellas-Sat for the second time in less than two years. The trust of our customers is a true recognition of the outstanding reliability and availability of our heavyweight launch system Ariane 5, which celebrated last month its 75th success in a row since 2003."
Inmarsat said its fourth Boeing-built Global Xpress satellite, Inmarsat 5 F4, remains booked to launch with SpaceX in the first half of 2017. But Inmarsat decided earlier this year to transfer the launch of the 6.7-ton (6,070-kilogram) satellite from a Falcon Heavy to the smaller Falcon 9 rocket, again due to delays in the development of the heavy-lift launcher.
Jonathan Sinnatt, an Inmarsat spokesperson, told Spaceflight Now that the company had the option of moving to a Falcon 9 rocket under its original Inmarsat 5 F4 launch contract with SpaceX.
He declined to say if Inmarsat terminated its Falcon Heavy contract for the Inmarsat S-band/Hellas-Sat 3 mission when it moved the launch to Arianespace, or if the company retains the agreement to fly a future satellite on a Falcon Heavy.
"Details of our contract with SpaceX are confidential, but we can confirm that SpaceX remains one of Inmarsat's roster of launch partners," Sinnatt wrote in an email to Spaceflight Now.
Inmarsat reserved a backup launch slot on an International Launch Services Proton rocket earlier this year, and the opportunity so far remains unfilled, at least publicly.
The company's first three Global Xpress satellites, designed to enable faster data links between airplanes, ships and other mobile users, launched successfully on Russian-made ILS Proton rockets.
Email the author.
Follow Stephen Clark on Twitter: @StephenClark1.