A commercial Cygnus supply ship left the International Space Station on Monday after delivering more than 5,000 pounds of cargo and experiments, ready to start a week of standalone operations to include a groundbreaking microgravity fire experiment and deployment of four commercial weather-monitoring CubeSats in orbit.
The Orbital ATK-owned spacecraft was released from the station's Canadian-built robotic arm at 8:22 a.m. EST (1322 GMT) Monday, completing a 29-day stay at the research lab.
Astronauts Shane Kimbrough and Thomas Pesquet managed the departure procedures from a robotics work station inside the cupola module.
Three minutes later, the Cygnus spaceship fired thrusters to expedite its departure from the space station's vicinity, and the cargo craft quickly faded from view of station-mounted cameras to become a dot backdropped by the blackness of space.
Astronauts replaced the supplies delivered inside the Cygnus spacecraft's pressurized module with more than 2,469 pounds (1,120 kilograms) of trash and other unneeded items, according to Orbital ATK.
Kimbrough radioed his thanks to NASA and Orbital ATK ground teams for the successful cargo delivery mission once Cygnus was safely away from the outpost.
"ISS received more than 5,000 pounds of equipment, supplies and payloads, which put the station in great shape," Kimbrough said. "It was an honor to work on this Cygnus flight, especially since it was dedicated to our colleague Alan Poindexter. From the Expedition 50 crew, thank you again to all the people who made this flight such a huge success."
Orbital ATK nicknamed the Cygnus spacecraft the S.S. Alan Poindexter after a former space shuttle pilot and commander who died in a water sports accident in 2012.
The Cygnus spacecraft launched Oct. 17 atop an Antares rocket from the Mid-Atlantic Regional Spaceport at Wallops Island, Virginia, and reached the station Oct. 23. The launch marked the first flight of Orbital ATK's upgraded Antares rocket, powered by new engines to replace the type blamed for a catastrophic launch failure moments after a liftoff in October 2014.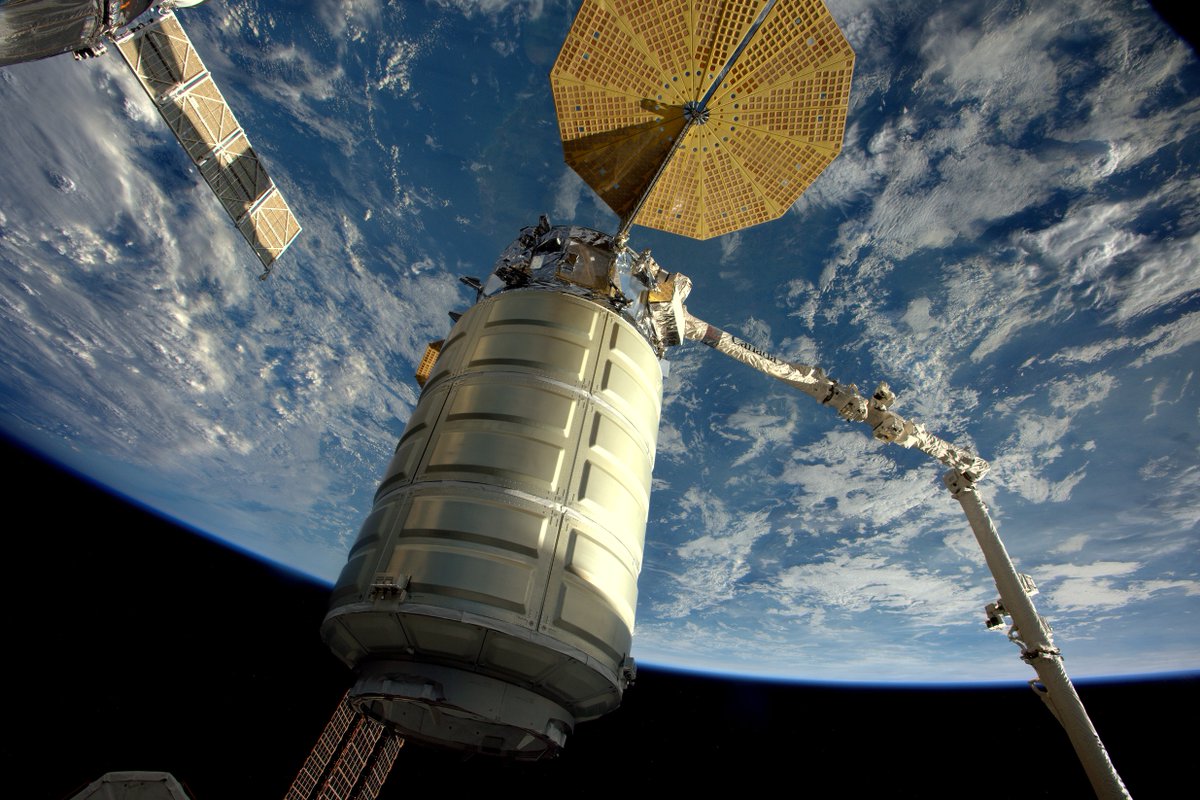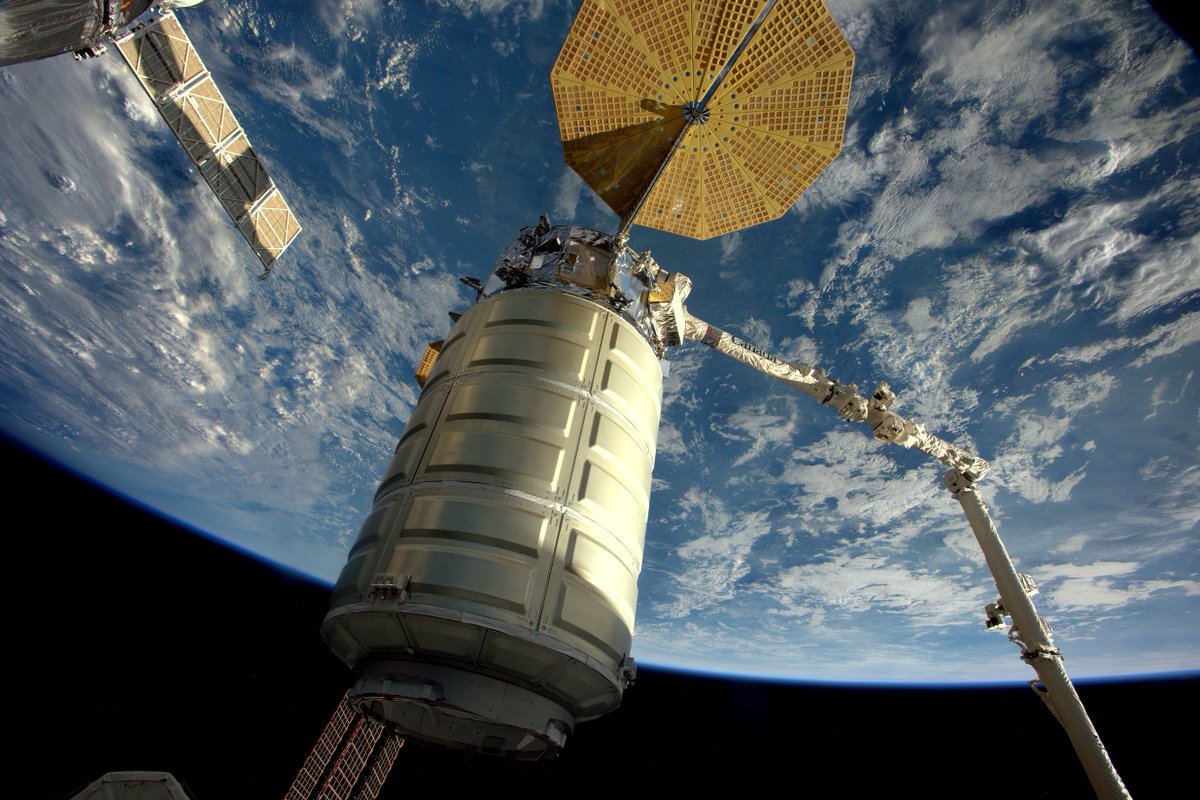 Orbital ATK has at least 17 operational Cygnus missions on the books under contract to NASA, and Monday's departure was the start of the final chapter of the sixth such flight.
Three more major tasks remain for the Cygnus spacecraft this week.
The supply ship was to begin raising its orbit later Monday to set up for the deployment of four commercial CubeSats later this week.
Soon after the first orbit-raising maneuver, around 1:30 p.m. EST (1830 GMT) Monday, an innovative combustion experiment inside the Cygnus's internal cabin will activate for an investigation into how flames grow and fuels burn in microgravity.
Ground controllers plan to switch on the Saffire 2 payload and ignite nine experimental samples inside a self-contained enclosure measuring 3 feet by 3 feet by 5 feet (0.9 meters by 0.9 meters by 1.5 meters).
"One of the least understood risks in space is how fire propagates (and) starts," said Jitendra Joshi, technology integration lead for NASA's advanced exploration systems division. "How do you control the fire? How do you detect the fire? All these things. You can't call 911 like on Earth to come help you."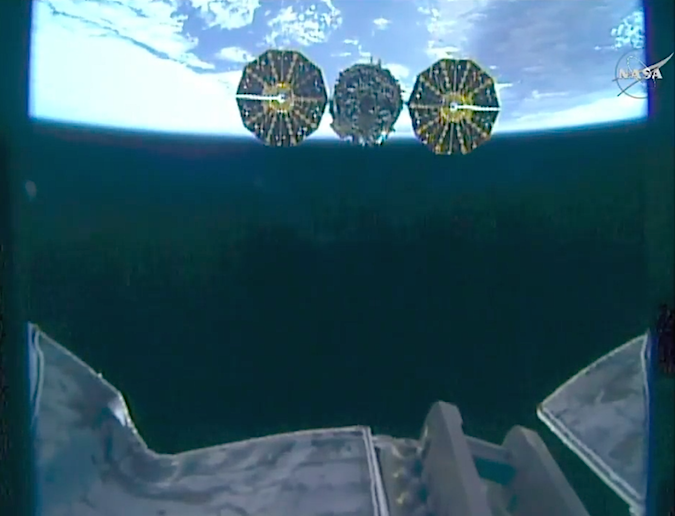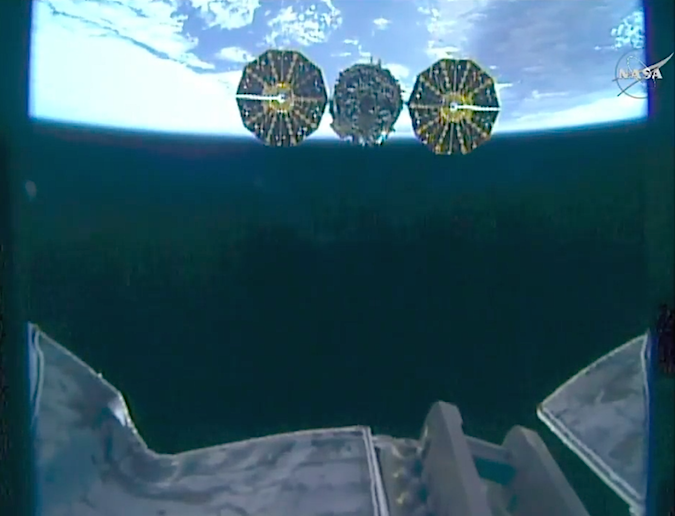 Saffire 2 — short for Spacecraft Fire Experiment 2 — carries nine specimens to be set on fire Monday. It is a follow-up to the Saffire 1 experiment conducted in June after the last Cygnus mission left the space station, when a single 16-inch by 37-inch (0.4-meter by 0.94-meter) cotton fiber cloth was ignited.
Once surprise from the Saffire 1 experience was that the cotton material burned slower than predicted, Joshi said.
Each of the nine samples on Saffire 2 measure 2 inches by 10 inches (5 centimeters by 25 centimeters), and scientists will use the specimens to assess the response of each material and oxygen flammability limits, according to NASA.
Four of the materials to be burned Monday are made of silicon, and each of the samples has a different thickness, Joshi said.
"Thickness affects how fire happens, how well a material burns," Joshi said. "This is one of the most prevalent materials used (on spacecraft) which is flammable."
Saffire 2 also carries a sample of Nomex, a commercial fire retardant, plus smaller specimens of the cotton fiber cloth burned on the first Saffire experiment in June, which was the first time scientists ever conducted such a large-scale flame investigation in space.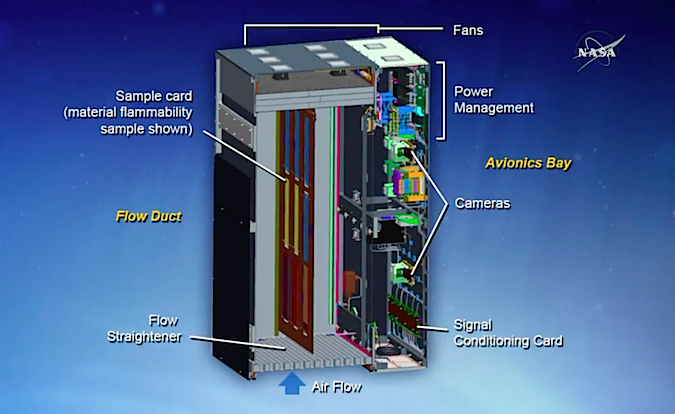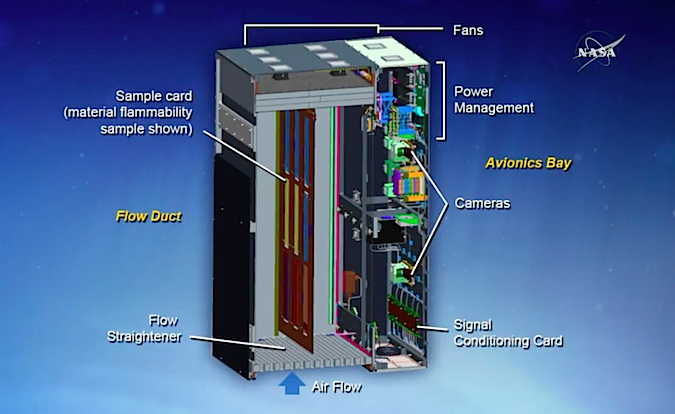 Previous fire experiments in space were limited to items no larger than an index card, and the uninhabited, but pressurized volume inside the Cygnus spacecraft offers a suitable host for more ambitious flammability investigations.
"Cygnus had a successful, month-long stay at the International Space Station, delivering critical cargo to the astronauts," said Frank Culbertson, president of Orbital ATK's space systems group. "Now, we get another opportunity to showcase this unique spacecraft's expanded capabilities beyond its core cargo delivery function. To use Cygnus yet again as a research platform demonstrates a versatility and flexibility that we are proud to offer to our customers."
A third Saffire experiment is planned on the next Cygnus flight set for launch in March, and Joshi said scientists are working on more Saffire payloads that could fly in the coming years.
Joshi said the results of the Saffire experiments, developed by a team based at NASA's Glenn Research Center in Ohio, will help engineers select safer materials for use inside future piloted spacecraft.
"All these things need qualification, so to build more reliable missions (and) to build more self-sustaining missions as we move farther from low Earth orbit, Saffire will go a long way," Joshi said.
Data collected by Saffire 2's sensors will be downlinked to the ground Tuesday and Wednesday.
By Friday, the Cygnus spaceship will be flying at an altitude of more than 300 miles, or around 500 kilometers. That is more than 60 miles (100 kilometers) higher than the space station's orbit.
Four Lemur 2 CubeSats owned by Spire Global will eject from a NanoRacks deployer mounted outside the Cygnus spacecraft in two pairs Friday at 4:05 p.m. EST (2105 GMT) and 7:10 p.m. EST (0010 GMT).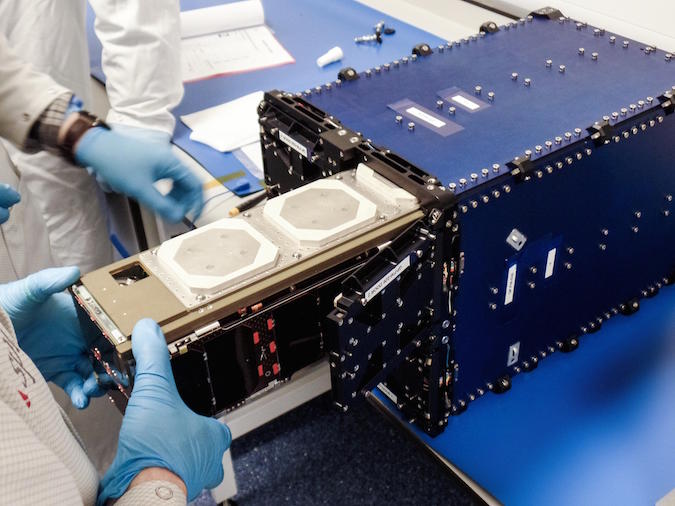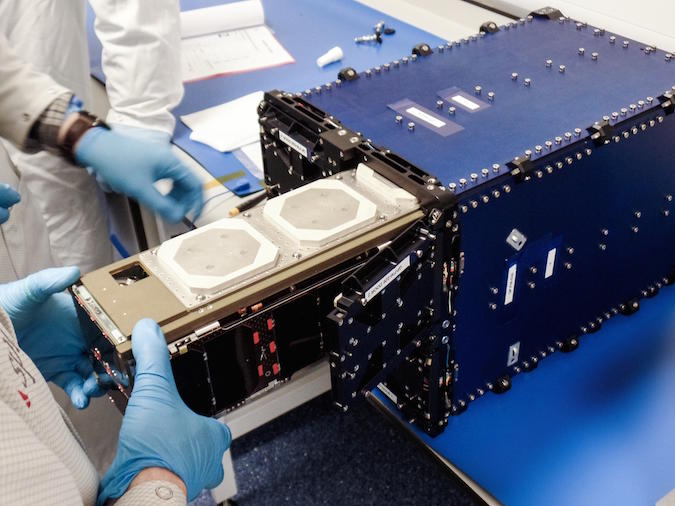 Spire's satellites are about the size of a shoebox and each weigh around 11 pounds, or 5 kilograms, according to information provided by the company to federal regulatory authorities.
The Lemur 2 CubeSats will deploy an antenna soon after deployment and begin dual missions tracking global maritime traffic and collecting weather data.
The San Francisco-based company already has about a dozen Lemur 2 satellites in orbit, with dozens more under construction and awaiting launch.
Spire won a $370,000 contract from NOAA in September to supply pilot data for the weather agency to determine the information's usefulness. If the pilot program proves fruitful, NOAA could place an order for more weather data from Spire and other commercial satellite startups to supplement measurements from government-owned satellites.
The Lemur 2 satellites carry GPS radio occultation antennas, using satellite navigation signals passed through Earth's atmosphere to derive temperature and humidity profiles that can be fed into numerical forecast models.
The Cygnus spacecraft is heading to a higher orbit for the CubeSat deployments to allow the Lemur 2 satellites to have longer lifetimes without being pulled down as quickly by atmospheric drag.
With its duties complete, the Cygnus supply ship is scheduled to conduct a deorbit burn Sunday to steer for a controlled destructive re-entry over the South Pacific Ocean.
Orbital ATK is readying its next Cygnus spacecraft for launch to the space station in March on top of a United Launch Alliance Atlas 5 rocket. The company announced earlier this month that its next cargo mission would launch from Cape Canaveral on an Atlas 5, rather than from Virginia on an Antares, as officials originally planned.
Frank DeMauro, vice president of Orbital ATK's human space systems division, said NASA approached the company in recent weeks seeking a way to carry more supplies and experiments to the space station next year.
The station's other U.S. cargo service — SpaceX's Dragon capsule — is grounded as engineers investigate a Falcon 9 rocket explosion on a launch pad in Florida in September. NASA officials do not expect Dragon deliveries to the research complex to resume until some time in early 2017.
Flying the Cygnus spacecraft on an Atlas 5 rocket should allow the mission to carry more than 660 pounds (300 kilograms) more cargo than if the supply ship launched on an Antares, DeMauro said.
The pressurized cargo module for the next flight, dubbed OA-7, should arrive at NASA's Kennedy Space Center from Thales Alenia Space in Italy in early December, DeMauro said. The Orbital ATK-made service and propulsion module will ship to Florida from Dulles, Virginia, in January.
The launch is scheduled for no earlier than mid-March.
Orbital ATK officials said the OA-7 launch in March will be the first of four Cygnus supply missions to the station in a 12-month period through early 2018. The subsequent three are slated to launch aboard Orbital ATK's own Antares rockets.
Email the author.
Follow Stephen Clark on Twitter: @StephenClark1.