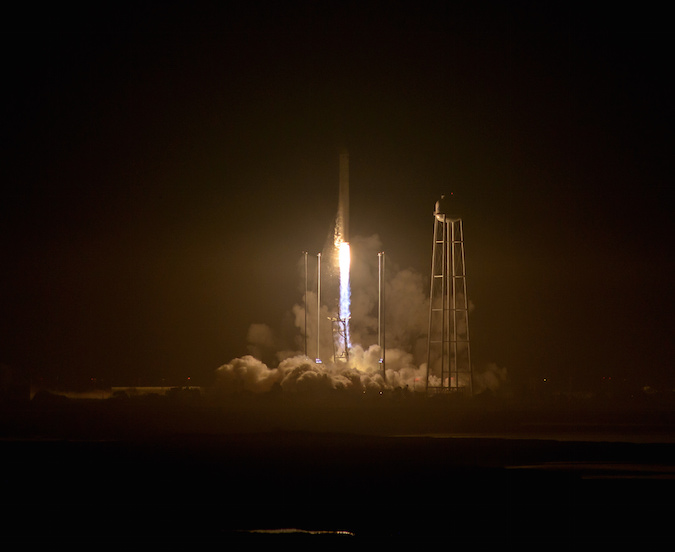 A commercial Antares cargo booster powered by new kerosene-fueled rocket engines streaked into orbit from a launch pad on the Virginia coastline Monday, returning to service to resupply the International Space Station after a two-year grounding stemming from a fiery crash in 2014.
Owned and operated by Orbital ATK, the Antares rocket lit up a starry autumn night sky along the U.S. East Coast as it soared into space on top of 864,000 pounds of thrust.
The early results indicate the rocket worked even better than expected, officials said.
The 13-story rocket ignited its two Russian-built RD-181 engines, flying on Antares for the first time, less than four seconds before liftoff, then cleared a computer-controlled health check before hold-down bolts released the launcher at 7:45 p.m. EDT (2345 GMT) Monday.
The launch team paused the countdown for around five minutes to make sure all systems were ready for liftoff.
Trailing a bright orange exhaust plume, the Antares climbed away from the Mid-Atlantic Regional Spaceport, a complex at NASA's Wallops Flight Facility managed by the state of Virginia, and arced southeast over the Atlantic Ocean in pursuit of the space station.
The orbiting research outpost passed over the Virginia launch site about an hour before liftoff, which was timed to allow the Cygnus supply ship mounted atop the rocket to intercept the station.
The RD-181 engines, a derivative of flight-proven engines flying on United Launch Alliance's Atlas 5 and Russia's Angara launcher, apparently performed flawlessly, gently throttling up and down as Antares accelerated past the speed of sound and soared into the stratosphere.
The first stage booster, designed and manufactured in Ukraine by Yuzhnoye and Yuzhmash, separated around three-and-a-half minutes into the flight, then the Antares rocket jettisoned its clamshell-like nose cone before a U.S.-built Castor 30XL upper stage motor lit to push the Cygnus cargo ship into orbit.
Consuming pre-packed solid propellant mix, the Castor 30XL was also firing for the first time on an Antares rocket, burning for nearly three minutes to accelerate to a speed of approximately 17,000 mph (nearly 8 kilometers per second).
Two minutes after the upper stage motor burned out, the Cygnus cargo freighter deployed from the rocket to start its mission. Within two hours, the spaceship unfurled its two solar arrays, and officials reported all systems were healthy on the Cygnus, which is christened the "S.S. Alan Poindexter" in honor of a former space shuttle astronaut who died in an accident in 2012.
The Cygnus spacecraft has 5,163 pounds (2,342 kilograms) of cargo inside its pressurized module, including about 1,098 pounds (498 kilograms) if research hardware, 1,290 pounds (585 kilograms) of crew provisions, and 2,255 pounds (1,023 kilograms) of equipment to maintain and upgrade the space station's systems.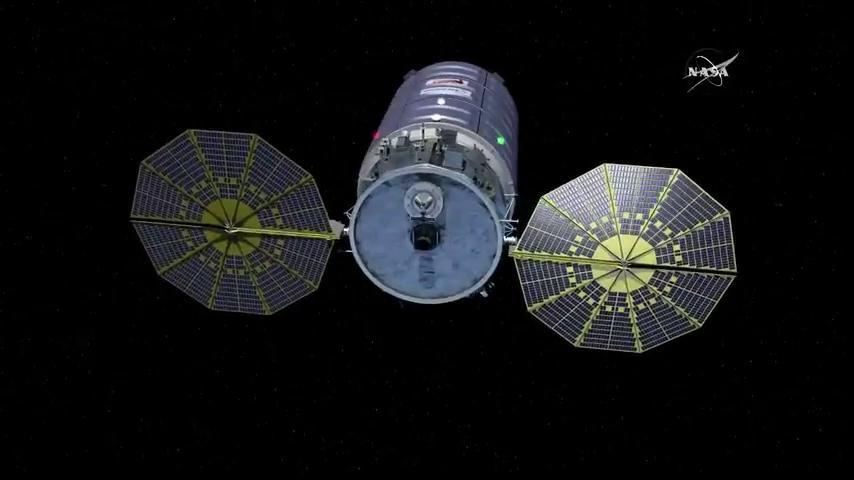 The mission should rendezvous with the orbiting laboratory Sunday, two days after three new residents arrive at the outpost aboard a Russian Soyuz crew ferry craft set for launch Wednesday with two Russian cosmonauts and a U.S. astronaut. Flight controllers will command Cygnus to loiter in orbit until the Soyuz safely docks Friday before pressing on with the cargo ship's final approach Sunday.
Astronauts Kate Rubins and Takuya Onishi will take control of the space station's 58-foot-long (17-meter) robotic arm to grapple Cygnus and place it on a berthing port on the research lab's Unity module, where it will stay for about a month, then depart with a load of trash destined for destruction during re-entry over the Pacific Ocean.
The smooth launch of the Cygnus cargo mission, known as OA-5, is welcome news to space station managers. NASA's other cargo delivery contractor, SpaceX, is grounded as engineers investigate a Falcon 9 rocket explosion on its launch pad in Cape Canaveral.
NASA and Orbital ATK officials were buoyant after Monday's launch from Virginia's Eastern Shore.
"It is great to be back," said Frank Culbertson, president of Orbital ATK's space systems group and a former space shuttle and space station commander. "It took a little longer than we thought it would. These things are always harder than we expect it to be in many ways, but it was done right and that was the most important thing."
Orbital ATK has a multibillion-dollar NASA contract to resupply the space station, and the company developed the Antares rocket and Cygnus spaceship for the purpose, investing more than $500 million of the company's own money in the public-private partnership.
After racking up four successful launches in a row, the Antares rocket's fifth flight on Oct. 28, 2014, ended in a dramatic failure when one of the first stage's AJ26 engines sputtered 15 seconds after liftoff, bringing the fully-fueled booster down in an explosive crash next to the launch pad.
A Cygnus spacecraft packed with space station supplies was destroyed in the failure, and facilities at pad 0A sustained about $15 million in damage.
With a failure investigation and extensive repairs on the horizon, Orbital ATK — with its own money — purchased two Atlas 5 rocket flights from United Launch Alliance to keep the Cygnus cargo missions going while the Antares rocket was grounded.
NASA Administrator Charlie Bolden, alongside Orbital ATK chief executive David Thompson, recounted the aftermath of the 2014 failure in a speech to the Antares launch team soon after Monday night's flight.
"Two years ago, it was not a happy night here, and as the rest of us were moping and moaning, David (Thompson) was on the phone, and he was calling, I think, every launch provider that he could think of," Bolden said. "What he was saying is that I've got a contract with NASA to get supplies to the International Space Station, that's what we've got to do."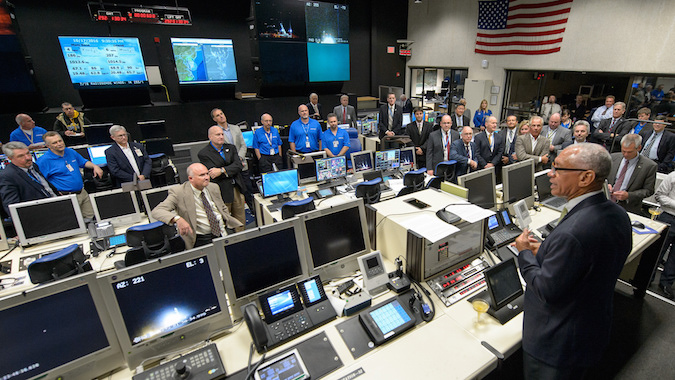 Orbital ATK also accelerated an already-existing plan to move off the AJ26 engines, which were built in Russia in the 1970s for the ill-fated Soviet-era N1 moon rocket program. Aerojet Rocketdyne imported the engines — called NK-33s in Russia — to the United States in the 1990s for modifications to fly on U.S. rockets.
Orbital ATK's Antares rocket ended up being the only user for the engines, but the decades-old powerplants proved troublesome, failing in ground tests before the accident on launch in 2014.
Within a few months, Orbital ATK announced the purchase of newly-built RD-181 engines from NPO Energomash, a Russian propulsion provider with a storied history. The RD-181 engine is a single-nozzle derivative of larger engines like the RD-171 and RD-180, which fly on Zenit and Atlas 5 rockets.
It is an export version of the RD-191 engine used on Russia's new-generation Angara rocket family, and burns a combination of RP-1 kerosene and liquid oxygen, the same propellants as the AJ26.
But the RD-181 generates more thrust and burns its propellants more efficiently — with a higher specific impulse — than the AJ26, giving the rocket a better than 20 percent improvement in performance to the space station's orbit.
Engineers worked on the existing Antares rocket boosters to allow the vehicles to work with new engines, adding a new structural thrust frame and avionics controllers.
The ground team at Wallops also repaired the damage at pad 0A, and NASA, Orbital ATK and the state of Virginia each contributed $5 million for the project.
"We all know that this was a culmination of a lot of work on the part of all of you," Bolden told the Antares launch team. "It's been a very difficult two years, and I can't imagine what those of you in the Orbital team went through. I can't imagine how long you were holding your breath tonight, but I can guarantee that most of you were probably holding your breath for a little while."
The Cygnus spaceship launched Monday weighed nearly 13,700 pounds (about 6,200 kilograms), the heaviest payload ever launched into orbit from Wallops. Future flights could drive heavier cargo loads into orbit, perhaps as soon as the next Antares flight from Virginia in early 2017.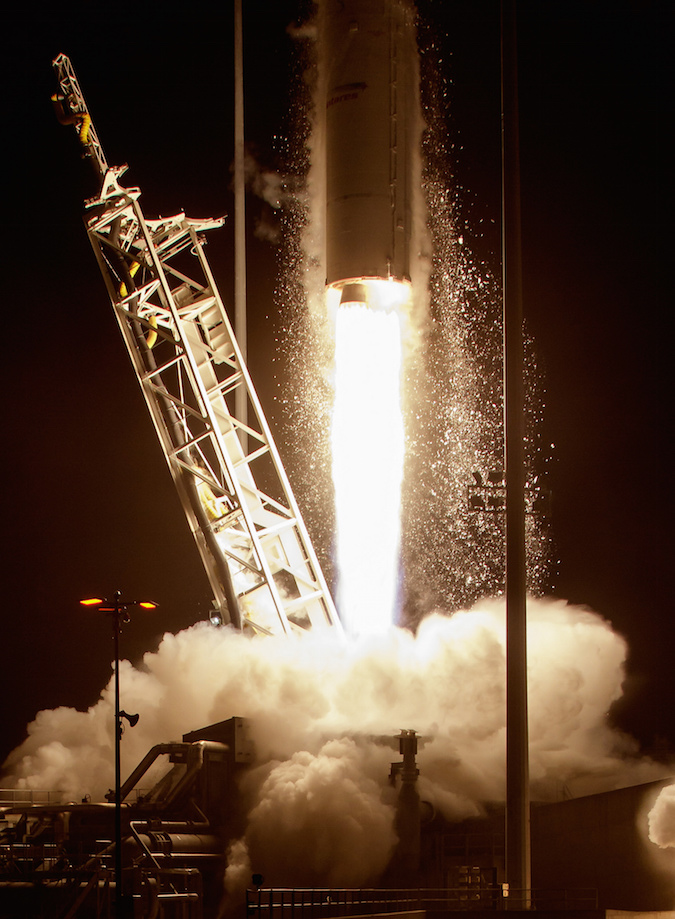 The Castor 30XL upper stage, developed and manufactured in-house by Orbital ATK, got less attention going into Monday's launch. The second stage motor is a bigger version of the Castor 30 stage that flew on earlier Antares missions, and its first launch was the doomed flight from Wallops in October 2014.
The rocket never made it far enough on that mission for the Castor 30XL to ignite, so Monday's launch was the first time the upper stage motor ignited on a real mission.
Culbertson told reporters that engineers set conservative estimates for the capability of the new Antares configuration, known as the Antares 230, with upgraded propulsion. The rocket exceeded expectations, he said.
"The performance of the rocket was even better than we had expected," Culbertson said. "Since it was the first flight of this configuration, we had fairly conservative estimates of what the results would be. The first stage was a little bit above what we expected, but I wasn't too surprised by that. We didn't have the heaviest possible load, and the engines did perform very well.
"The second stage was actually the first time flying the Castor 30XL … So we had fairly conservative estimates of how it would perform," Culbertson said. "As a solid rocket, it's a little bit different … We can't throttle it. It's going to be what it is, and it did do a good job and put us at a little bit higher altitude than we had expected. That's a really good thing, so we'll take advantage of that."
The rocket was aiming to place the Cygnus spacecraft in an orbit between 130 miles (209 kilometers) and 179 miles (288 kilometers) in altitude, according to data released by Orbital ATK before the launch.
Culbertson said the Cygnus was actually in an orbit ranging between 132 miles (213 kilometers) and 228 miles (368 kilometers) in altitude.
"People don't remember so much when you launch as whether you launch, and whether you get to your destination, and that's what we did tonight," Culbertson said. "We got to orbit and now we're on our way to fulfill the mission of delivering more cargo to the crew on the station and continuing the very important research that's going on on the station."
Email the author.
Follow Stephen Clark on Twitter: @StephenClark1.