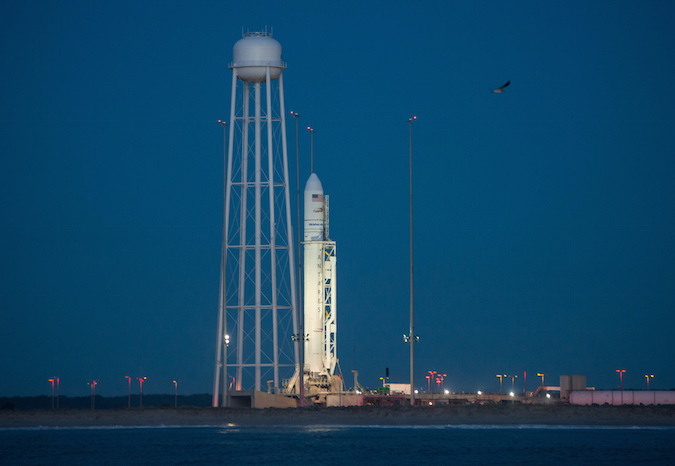 Orbital ATK launch managers have pushed back liftoff of an Antares rocket until Monday to replace a faulty cable on the booster's launch pad in Virginia.
The delay means the International Space Station crew will not receive the Cygnus supply ship mounted atop the Antares rocket until Sunday, after three new residents dock with the orbiting laboratory Friday aboard the Soyuz MS-02 spaceship.
Orbital ATK announced the one-day delay Sunday just before the Antares launch team was scheduled to formally start the six-hour countdown.
"Today's launch of Orbital ATK's Antares rocket is postponed 24 hours due to a ground support equipment (GSE) cable that did not perform as expected during the pre-launch check out," Orbital ATK said in a statement. "We have spares on hand and rework procedures are in process."
The problem is located on the launch pad's hold-down system.
Liftoff is now reset for 7:40:33 p.m. EDT (2340:33 GMT) Monday, roughly the moment the space station's orbital plane passes over launch pad 0A at the Mid-Atlantic Regional Spaceport on Wallops Island, Virginia.
There is a 95 percent chance of favorable weather Monday evening, officials said.
With the launch delay to Monday, the Cygnus spacecraft — named the S.S. Alan Poindexter after a late space shuttle astronaut — will have to loiter in orbit to wait for the space station to be ready for its arrival.
A three-man crew is set for launch from the Baikonur Cosmodrome in Kazakhstan on Wednesday, beginning a two-day pursuit of the space station, with docking of their Soyuz capsule expected Friday.
Officials said Saturday that if the Antares launch was delayed past Sunday, the Cygnus supply ship would wait for the Soyuz docking before approaching the space station.
The launch will be the first flight of an upgraded Antares rocket with new RD-181 engines replacing the troubled AJ26 engines blamed for an explosive launch failure in October 2014.
The launch was previously delayed from last week as Hurricane Nicole blew over Bermuda, where a downrange NASA ground station is positioned to track the Antares rocket as it flies overhead. Officials reported only minor damage to the tracking site.
The Cygnus supply ship enclosed in the Antares rocket's nose cone is packed with more than 5,100 pounds of provisions and experiments for the space station crew. The flight will mark Orbital ATK's sixth resupply launch to the complex under a multibillion-dollar contract with NASA.
The last two Cygnus missions flew on United Launch Alliance Atlas 5 rockets while engineers outfitted existing Antares boosters with new RD-181 engines.
Email the author.
Follow Stephen Clark on Twitter: @StephenClark1.