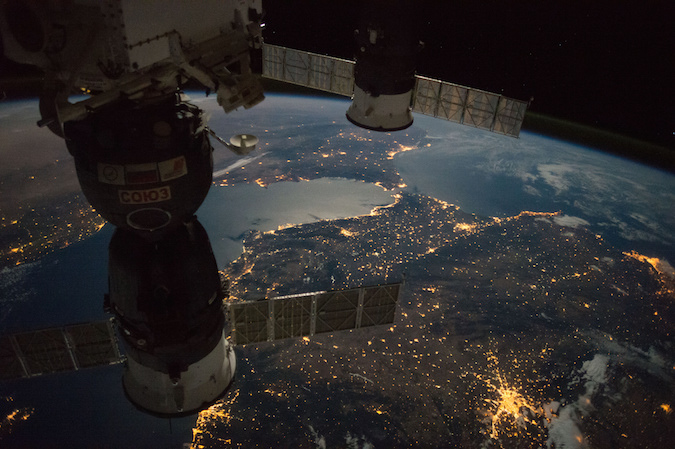 Russia's space agency has decided to cut the size of its crew complement on the International Space Station beginning in March 2017 to reduce operating costs until a new Russian science lab is activated on the complex in early 2018, officials confirmed this week.
Only two cosmonauts will occupy the Russian segment of the research lab at one time, down from three residents typically there today.
The decision comes as Russian officials await the launch of a large bus-sized research segment named the Multipurpose Laboratory Module, or Nauka, which means "science" in Russian.
"We have delays of some modules that (are coming) to ISS, and we checked and understood that we could complete all our programs with two cosmonauts, and we decided to optimize our crew for next year," said Igor Komarov, head of Roscosmos, the Russian space agency.
The launch of MLM aboard a Proton rocket has been delayed several times, most recently from 2013 when engineers at RSC Energia, the prime contractor for Russia's human spaceflight program, found flaws in the module's propulsion system.
Russian officials returned the MLM to Khrunichev, its builder, to resolve the problems, and the module is now expected to launch in late 2017 or early 2018. The MLM's launch will be preceded by the jettison of the space station's Pirs airlock, which currently occupies the connection port on the Zvezda service module where MLM will dock.
Russia plans to follow MLM's launch with the attachment of a node module and a solar array power platform to the space station. Managers at Roscosmos and Energia are considering detaching the newest Russian modules from the International Space Station after 2024, the research lab's current retirement date, to form the core of a new Russian-led orbiting complex.
The space station's crew normally consists of six people — three Russian cosmonauts, two U.S. astronauts and an astronaut from one of the program's other partners: Japan, Europe and Canada.
With only two cosmonauts on the space station at a time, Russia can reduce the number of Progress resupply missions flying to the outpost from four to three.
Komarov said Roscosmos will make open seats aboard Russian Soyuz crew capsules available to NASA and other space station partners. Russia's decision on crew staffing will likely open up at least two Soyuz seats next year.
"If NASA or ESA willing to use (the seats), that's fine," said Sergei Krikalev, a former cosmonaut who is now the director of Russia's human spaceflight program at Roscosmos. "That's probably a point for negotiation."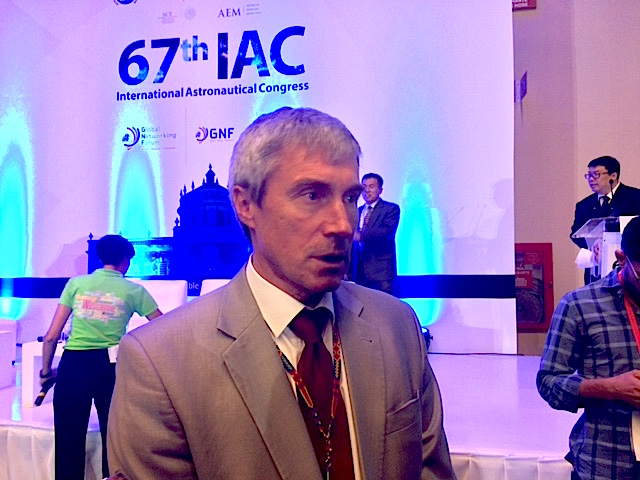 After the MLM's launching, Russia will increase its space station crew size back to three, Krikalev said.
"We are planning to reduce the crew size on the Russian side only for a couple of missions," Krikalev told reporters Monday at the International Astronautical Congress in Guadalajara, Mexico.
"Two people is enough to do maintenance and science," Krikalev said. "Of course we will need more people when we have more science."
According to Krikalev, Roscosmos decided to reduce the number of Progress flights from four to three per year in 2015, and Russia's decision on the crew complement followed.
Bill Gerstenmaier, NASA's associate administrator for human exploration and operations, said the U.S. space agency has had no discussions with Roscosmos about filling the empty Soyuz seats with NASA astronauts next year.
He agreed with Roscosmos officials that two cosmonauts can safely operate the Russian segment of the space station, and expects only minor impacts to the orbiting laboratory's total research output.
"Our research is basically our research, so that can continue on," Gerstenmaier said in an interview with Spaceflight Now in Guadalajara. "We were going to get some more cosmonaut time to help with our research, so there may be a small impact there, but I think it will be tolerable for the period of time they talked about."
Once U.S.-built commercial capsules begin launching astronauts to the space station in 2018, NASA intends to expand crews living and working in the U.S. segment to four people per expedition.
When Russia resumes sending three cosmonauts to the space station at a time, seven people will fly aboard the complex on each mission.
Email the author.
Follow Stephen Clark on Twitter: @StephenClark1.