STORY WRITTEN FOR CBS NEWS & USED WITH PERMISSION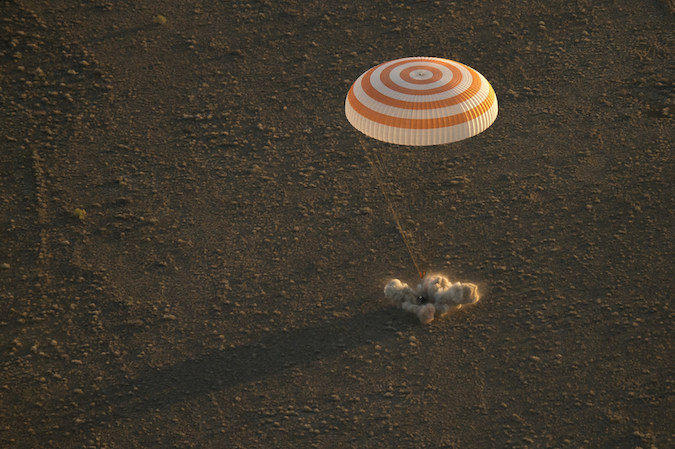 Less than a week after winding up a successful spacewalk, outgoing space station commander Jeff Williams, America's most experienced astronaut, joined two Russian cosmonauts for a fiery return to Earth Tuesday, closing out a 172-day mission with an on-target landing in Kazakhstan.
Descending under a billowing orange-and-white parachute, the charred Soyuz crew module completed a jolting rocket-assisted touchdown at 9:13 p.m. EDT (GMT-4; 7:13 a.m. Wednesday local time).
As sometimes happens, the capsule tipped over on its side after landing, but Russian recovery crews stationed nearby were on the scene in minutes to tilt the spacecraft upright and to help the station fliers, getting their first taste of gravity in five-and-a-half months, out of the cramped compartment.
Williams, Soyuz commander Alexey Ovchinin and flight engineer Oleg Skripochka appeared healthy and in good spirits as they were carried out of the descent module and set down in recliners for satellite phone calls home while flight surgeons carried out quick medical checks.
All three were scheduled to fly by helicopter to Karaganda later in the day. From there, Williams was to board a NASA jet for the long flight back home to Houston while Ovchinin and Skripochka planned to head for Star City near Moscow for debriefing and reunions with family members.
"I will certainly miss this view!" Williams tweeted from the station early Tuesday, sending down a photo of Earth's limb in brilliant sunlight. "Vast gratitude toward my crewmates, ground teams, supporting friends, and family."
"We've enjoyed a great stay up here over the last five-and-a-half months," he said earlier. "This is a very significant time, in my opinion, in the life of the space station, going into the full utilization mode, being the orbiting laboratory we've always said it was going to be."
Williams, Ovchinin and Skripochka undocked from the lab's upper Poisk module at 5:51 p.m., slowly backing away as the two spacecraft passed more than 250 miles above the western Pacific Ocean.
Looking on from inside the station were Expedition 49 commander Anatoly Ivanishin, Japanese astronaut Takuya Onishi and NASA astronaut Kate Rubins. Launched to the station July 6 aboard the Soyuz MS-01 spacecraft, Ivanishin and his crewmates will have the space lab to themselves until Sept. 25 when three fresh crew members arrive.
"We'll be missing you here," Ivanishin said Monday during a change-of-command ceremony. "Have fun riding though the atmosphere, enjoy seeing plasma in the windows and have a very safe, and exceptionally soft, landing. All the best."
After making sure the Soyuz TMA-20M spacecraft was ready for its descent, Ovchinin, flanked on the left by Skripochka and on the right by Williams, monitored a computer controlled de-orbit rocket firing starting at 8:21 p.m.
The four-minute 41-second burn slowed the ship by 286 mph, just enough to drop the far side of the orbit deep into Earth's atmosphere. After a 25-minute free fall to just above the top of the discernible atmosphere, the three modules making up the Soyuz TMA-20M spacecraft separated.
A few moments after that, the central crew cabin, the only module protected by a heat shield, slammed into the atmosphere at an altitude of 62 miles and a velocity of some 17,000 mph.
Rubins managed to capture a photograph of re-entry from her vantage point aboard the station, showing the central crew module descending as a point of light while the discarded upper and lower compartments burned up in in the atmosphere as planned, leaving long streaks of flaming debris in their wake.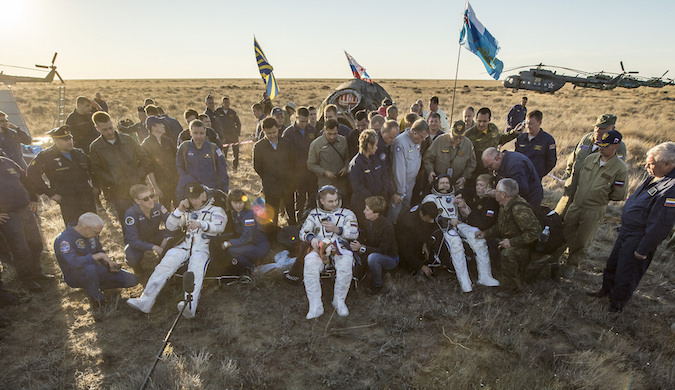 The crew module dropped out of the plasma heating zone in good shape and its main parachute deployed at an altitude of a little less than seven miles. The spacecraft then slowly settled to the steppe of Kazakhstan.
Asked what he was looking forward to the most, Williams said "obviously, family is the first thing, my wife, she's the real hero in all this putting up with me being up here that many days."
"I look forward to quiet, just relaxing someplace, enjoying the views, enjoying the smells of Earth, all those things that we normally take for granted," he told CBS News last month. "You miss that when you're up here. We have continuous noise up here from fans and pumps, it's not loud, but it's continuous."
All in all, he said, "just the simple things in life. Good food, anything my wife wants to cook, I look forward to that, those kinds of things, friends."
Williams and his two crewmates were launched from the Baikonur Cosmodrome in Kazakhstan on March 18 and landing closes out a busy increment highlighted by two spacewalks, the arrival of two Russian Progress cargo ships, a pair of SpaceX Dragon freighters, an Orbital ATK Cygnus supply craft and the Soyuz MS-01 crew.
During a spacewalk Aug. 19, Williams and Rubins attached a new docking mechanism to the front of the station that will allow new commercial crew ferry ships being built by Boeing and SpaceX to dock at the lab complex, ending NASA's sole reliance on Russia's Soyuz for transportation.
During a second spacewalk last Thursday, Rubins and Williams, making his fifth EVA overall, retracted a cooling radiator, installed two high-definition cameras and performed other routine maintenance. The two astronauts logged 12 hours and 46 minutes during the two excursions, pushing Williams' overall total through five EVAs to 31 hours and 55 minutes.
Those spacewalks cover much of the history of the International Space Station with his first excursion coming during a shuttle maintenance mission in May 2000. He then ventured outside a second time with a Russian cosmonaut in June 2006 to perform maintenance on the Russian segment of the station. Two months after that, he went back outside with a European Space Agency astronaut to work on the station's cooling system.
Williams served as commander of Expedition 22 during his second long-duration stay aboard the lab and again as commander of Expedition 48 during this most recent mission.
With touchdown, Ovchinin, completing his first space flight, logged 172 days in space while flight engineer Skripochka's record over two flights now stands at 331 days.
For Williams, the end of the mission marked a personal milestone. On Aug. 20, he surpassed the U.S. record for most cumulative time in space — 520 days — that was set earlier this year by astronaut Scott Kelly at the end of his nearly yearlong mission.
With landing Tuesday, Williams' mark now stands at 534 days aloft over four missions, moving him up to 14th on the list of most experienced spacemen. The overall record is held by Gennady Padalka, who has logged 878 days in space over five missions.
"I appreciate, Jeff, your efforts as space station commander," Ivanishin said during the change-of-command ceremony. "I'll take care of the crew and the station. And I promise you, when you return to celebrate your first 1,000 days in space, the station will be in better shape!"
Williams, Ovchinin and Skripochka will be replaced aboard the station by the Soyuz MS-02 crew, scheduled for launch from Baikonur on Sept. 23. After a two-day rendezvous, vehicle commander Andrey Borisenko, flight engineer Sergey Ryzhikov and NASA astronaut Shane Kimbrough will dock at the Poisk module to boost the lab's crew back to six.
Ivanishin, Onishi and Rubins are scheduled to return to Earth Oct. 30.