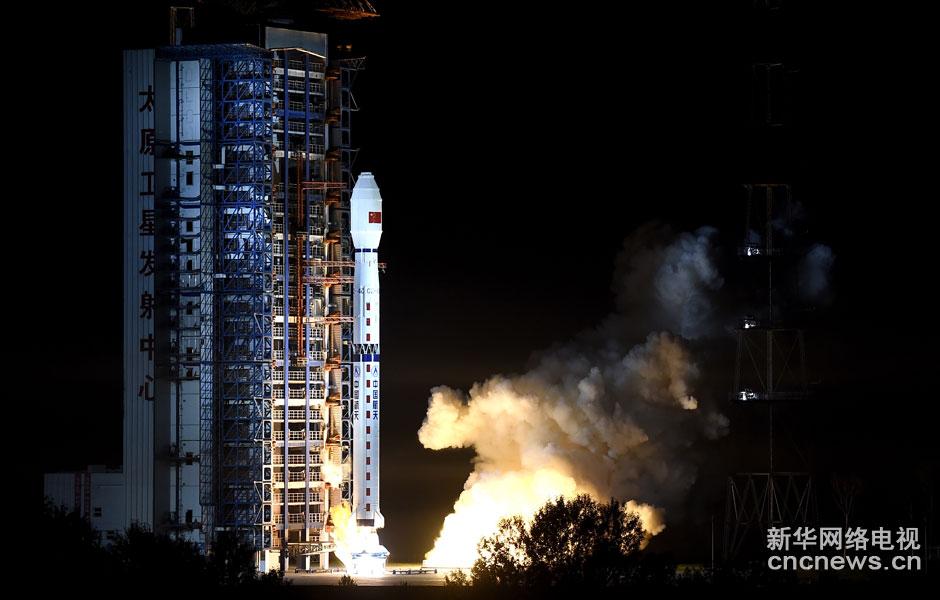 A U.S. Air Force spokesperson said Friday that the military has not detected any objects deployed in orbit by a Chinese Long March rocket launch Wednesday, but China's official media outlets still have not acknowledged the apparent failure.
The Long March 4C rocket, standing 15 stories tall, was carrying the Gaofen 10 Earth imaging payload. The booster took off some time around 1855 GMT (2:55 p.m. EDT) Wednesday from the Taiyuan launch base in the Shanxi province of northern China.
Liftoff occurred in the wee hours of Thursday morning local time at Taiyuan, an arid launch site about 270 miles (435 kilometers) west of Beijing.
The China Xinhua News Network Corp., the television arm of the nation's government-run Xinhua news agency, released photos of the liftoff, but Chinese media never issued an update on the flight.  Official news agencies typically announce the success of Chinese rocket launches within hours.
Warnings issued to pilots by Chinese authorities indicated the Long March 4C rocket would fly to the south, dropping its first stage stage and payload fairing over central China. Reports from Chinese social media showed parts of the launcher's first stage and nose cone that fell to the ground in their predicted drop zones.
But the flight apparently never reached orbit.
The U.S. military publishes orbit data for foreign space launches online, but no entries appeared after Wednesday's liftoff.
The military's Space Surveillance Network has not detected any objects attributed to Wednesday's launch from China, according to Air Force Capt. Nicholas Mercurio, a spokesperson for the Joint Functional Component Command for Space at Vandenberg Air Force Base in California.
Western experts suggest something went wrong with the Long March 4C's upper stage, and the Gaofen 10 satellite did not attain enough speed to enter orbit.
As of Friday, China's state-owned media have not reported on the failed launch, and there are scant details on what happened.
Wednesday's mishap was the first failure of a Chinese satellite launcher since December 2013, when a joint Chinese-Brazilian satellite was destroyed. In nearly three years since that failure, China logged 43 consecutive successful orbital launches in a row.
China has several crucial launches scheduled before the end of the year, and the impact of this week's failure on those plans remains unclear. Many of China's Long March rocket variants use the same types of engines, but the country's space engineers resumed Long March flights within weeks after crashes in 2011 and 2013.
Chinese media disclosed those failures soon after they occurred.
Ground crews are readying a Long March 2F rocket for launch at the Jiuquan space center in northwest China's Gobi desert next month with Tiangong 2, the country's next orbiting space laboratory. Two Chinese astronauts will blast off on another Long March 2F booster later this year for a 30-day visit to the Tiangong 2 space lab.
The heavy-lift Long March 5 rocket, powered by a new generation of engines, is also set for its debut mission before the end of the year.
Email the author.
Follow Stephen Clark on Twitter: @StephenClark1.