STORY WRITTEN FOR CBS NEWS & USED WITH PERMISSION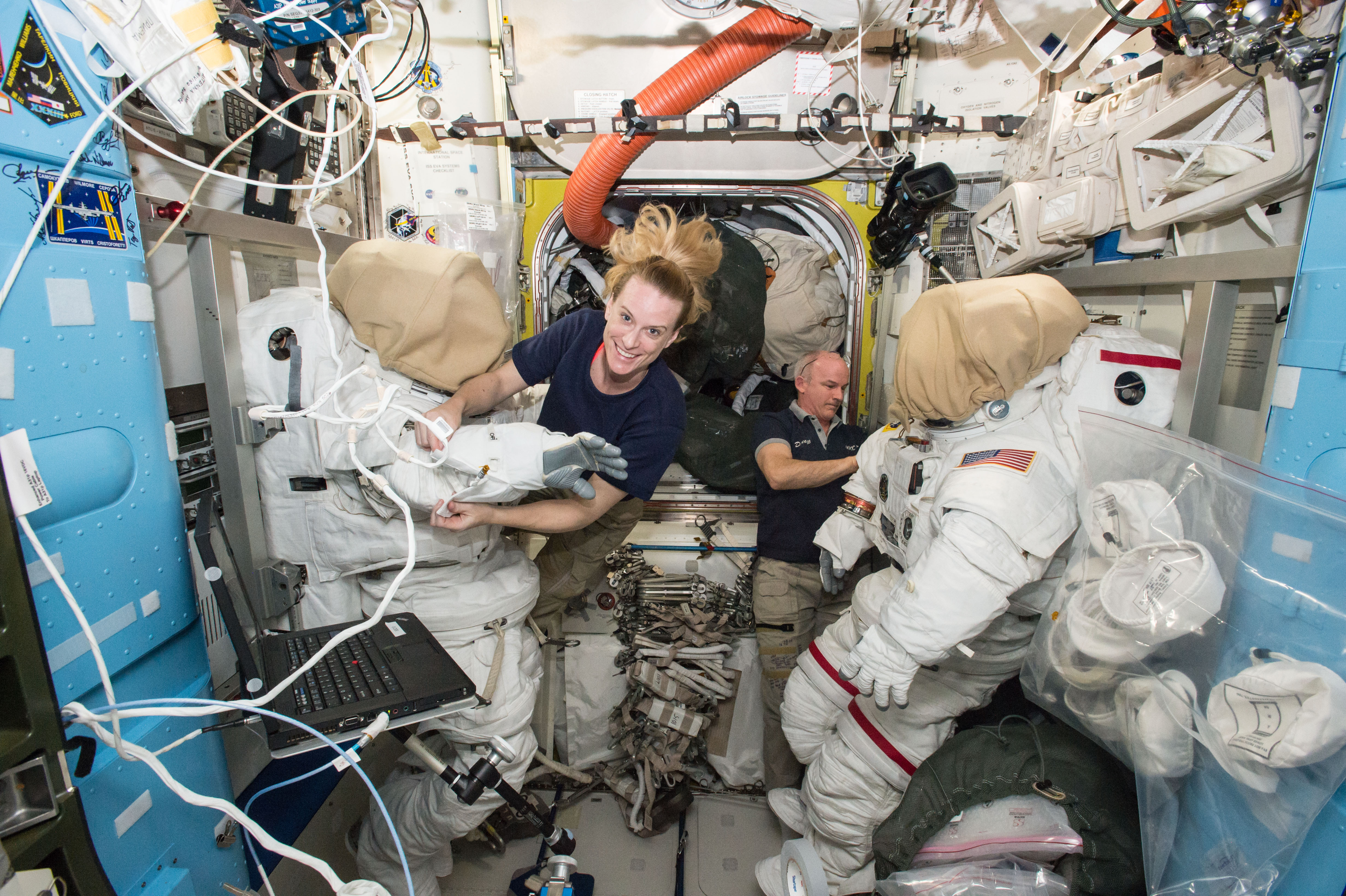 Astronauts Jeff Williams and Kate Rubins plan to venture outside the lab complex Friday for a long-awaited spacewalk to attach a new docking mechanism, the first of two that will be used by U.S. crew ferry ships being built by Boeing and SpaceX to carry astronauts to and from the outpost, ending NASA's sole reliance on Russian Soyuz spacecraft.
The Boeing-built International Docking Adapter, or IDA, was delivered to the station in July aboard a SpaceX Dragon cargo ship. Williams and Rubins plan to help lock it to the station's former shuttle docking port at the front of the Harmony module, connecting power and data cables put in place during earlier spacewalks.
They also plan to route cables to Harmony's upper port where a second IDA will be attached in 2018. Until then, Boeing's CST-100 "Starliner" spacecraft and SpaceX's piloted Dragon will both use the forward IDA, starting with unpiloted and piloted SpaceX test fights in 2017 followed by similar test flights by Boeing late next year and early 2018.
Once the CST-100 and crewed Dragon begin operational flights, routinely carrying crews to and from the station, NASA will have independent access to the orbiting laboratory for the first time since the space shuttle's last flight in 2011.
"Having this capability is really going to help us in general," said Kenny Todd, NASA space station operations manager at the Johnson Space Center in Houston. "It gives us redundancy in our launch services, being able to get crews to the space station, and certainly that's a win for everybody in this partnership.
"So we're very excited to get that milestone checked and get to the point where we can have crews launch from different places around the Earth and servicing the station."
Along with giving NASA and partner astronauts independent access to the space station, the new commercial ferry ships will carry four crew members to the station per flight compared to the three-seat Soyuz. That will allow NASA to boost the station's crew from six to seven, greatly expanding the time available for research.
"If you look today at the way the increments play out, a lot of times we'll be running a little short on crew time," Todd said. "That tends to be our pinch point sometimes relative to some of the research we're doing. So having an extra … crew member is going to be very important for us."
While the Boeing and SpaceX crew ferry ships will end NASA's sole reliance on the Soyuz for crew transportation, at least one NASA-sponsored astronaut will continue to ride aloft aboard each station-bound Soyuz while a cosmonaut is expected to be on board when each U.S. spacecraft takes off.
That strategy will ensure at least one astronaut or cosmonaut can remain aboard the station to operate critical systems in the event of a problem that might force one of the other ferry ships, and its crew, to depart.
NASA managers initially hoped to get the first IDA attached last year. But the initial unit, which was to be attached to Harmony's forward port, was lost in June 2015 when a SpaceX Falcon 9 rocket suffered a catastrophic launch failure, destroying a station-bound Dragon cargo ship.
Boeing is in the process of building a third IDA to replace the lost unit and if all goes well, IDA-3 will be launched and attached to the station in 2018. While a single IDA can handle the expected traffic in the near term, two ports are needed to fully support eventual crew rotations and additional cargo ships.
Floating in the station's Quest airlock module, Williams, commander of Expedition 48, and Rubins, a molecular biologist, plan to switch their spacesuits to battery power around 8:05 a.m. EDT (GMT-4) Friday to officially kick off a planned six-and-a-half-hour excursion. It will be the fourth spacewalk for Williams and the first for Rubins.
They will be assisted by Japanese astronaut Takua Onishi, working inside the space station, and astronaut Tom Marshburn, a veteran spacewalker in mission control who will handle communications between the station and flight controllers in Houston.
For identification, Williams, call sign EV-1, will be wearing a suit with red stripes and using helmet camera No. 17. Rubins, EV-2, will be using an unmarked suit with helmetcam No. 20.
This will be the 194th spacewalk devoted to station assembly and maintenance since construction began in 1998, the third so far this year and the second staged by NASA.
During a NASA spacewalk in January, a small amount of water made its way into astronaut Tim Kopra's helmet, prompting an early end to the excursion. It was the first significant water-related issue with a NASA spacesuit since a much more serious leak flooded Italian astronaut Luca Parmitano's helmet in 2013.
That leak was caused by contamination that clogged an internal filter in the suit's cooling system. Kopra's suit was returned to Earth for a detailed examination and while it operated normally in Earth's gravity, engineers suspect the minor leakage seen in January may have been caused by subtle issues with the suit's sublimator, which controls the processing of condensation.
For Friday's spacewalk, Todd said, Williams and Rubins will use different temperature settings to minimize condensate production early in the outing and engineers are confident the suits will work properly.
After exiting the Quest airlock and collecting necessary tools and two foot restraints, Williams and Rubins will make their way to the front end of the station where the old shuttle port, pressurized mating adapter No. 2, or PMA-2, is attached to the Harmony module's forward hatch.
The station's robot arm pulled the IDA from the Dragon cargo ship's unpressurized trunk section overnight Wednesday and moved it to within about two feet of PMA-2 to await the astronauts. Power and data cables needed by the IDA were routed out to the docking port during three spacewalks dating back to February 2015.
Once in position, firmly anchored in foot restraints, Williams and Rubins will attach tethers to the IDA and connect cables providing power to internal heaters, sensors and the latching mechanism that will lock it to PMA-2. The spacewalkers then will help guide the IDA into place so Onishi, using a control panel inside the station, can command the latches to engage, locking the docking mechanism to the end of the PMA.
The spacewalkers then will complete work with various jumpers and cables, cover up reflectors once used by approaching shuttle crews to help determine distance and relative velocity and install others designed for use by CST-100 and crew Dragon spacecraft.
With the IDA in place, Williams will route ethernet cables needed by a future Russian module while Rubins routes a final set of cables to the top of Harmony where IDA-3 will eventually be attached. She then will assist Williams.
If time is available, the spacewalkers will tie down the brake handle on an equipment cart attached to rails on the forward side of the station's solar power truss and carry out a photo survey of a physics instrument known as the Alpha Magnetic Spectrometer.
Assuming no major problems develop, the astronauts will venture back outside on Sept. 1 to retract an unneeded solar array cooling radiator that was extended in 2012 as part of troubleshooting to locate a coolant leak. They also plan to install an HD television camera on the station's truss, replace a light and inspect struts associated with a large mechanism that allows outboard solar arrays to rotate.
At least two more spacewalks had been planned before the end of the year to install a replacement set of solar array batteries. But launch of the batteries aboard a Japanese HTV cargo ship, originally planned for Sept. 30, is on indefinite hold pending work to fix a leak in the vehicle's propulsion system.
Onishi and astronaut Shane Kimbrough, who is scheduled for launch to the station Sept. 23, originally planned to carry out the battery swap out in October. But that EVA almost certainly will be delayed past Oct. 30 when Onishi, Rubins and Soyuz commander Anatoly Ivanishin are scheduled to return to Earth.
As of this writing, it's not known when the HTV might be ready for launch or when the battery spacewalk might be carried out.