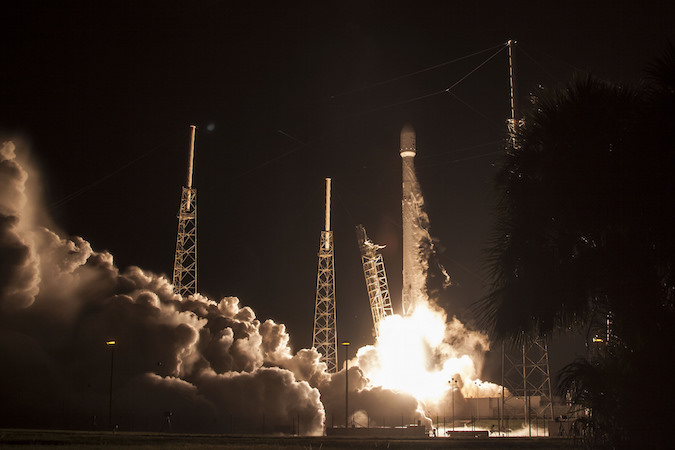 Vaulting into a starry sky over Florida's Space Coast, a SpaceX Falcon 9 rocket successfully took off early Sunday with a Japanese video and data relay satellite, then stuck a landing on a barge stationed nearly 400 miles east of Cape Canaveral.
The two-stage rocket, towering 229 feet (70 meters) tall, lit its nine Merlin 1D main engines and climbed away from Cape Canaveral's Complex 40 launch pad at 1:26 a.m. EDT (0526 GMT) Sunday, then pitched east to fly over the Atlantic Ocean on the way to orbit.
The nine first stage engines, arranged into an "octaweb" pattern at the base of the rocket, consumed a mixture of super-chilled RP-1 kerosene and liquid oxygen to generate a combined 1.7 million pounds of thrust in the early stages of launch.
Once its job was complete, the Falcon 9's first stage booster detached from the upper stage, flipped around and started steering toward a point in the Atlantic where SpaceX's rocket recovery platform awaited its arrival.
Three of the Merlin main engines re-ignited for a re-entry burn, and four grid fins affixed in an X-wing configuration to the top of the 15-story booster stage helped guide it toward the GPS coordinates of the landing platform.
The Falcon 9's center engine fired again just before touchdown, slowing the rocket's descent as it settled to an upright landing on four deployable legs about nine minutes after liftoff.
"We're channeling our inner Simone Biles," said Kate Tice, a SpaceX engineer who co-hosted the company's launch webcast, referring to the 19-year-old Olympic gold medalist in gymnastics.
Live video from the landing vessel, dubbed "Of Course I Still Love You" after planet-sized starships featured in Iain Banks' sci-fi novels, showed the booster settled on the barge on a stylized bullseye emblazoned on the ship's deck.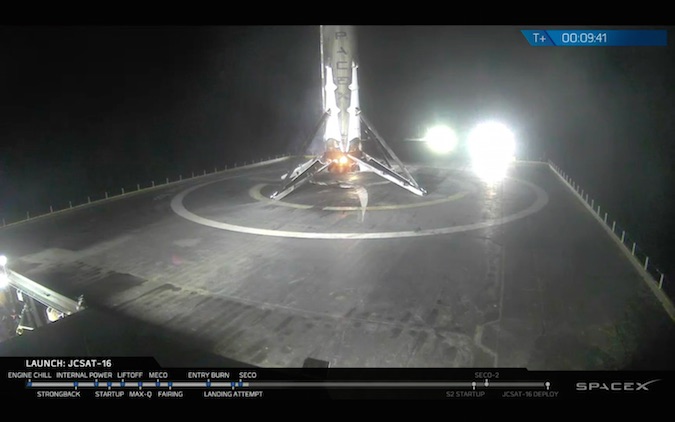 At the same time, a Merlin engine bolted to the back of the Falcon 9's upper stage shut down after reaching a preliminary orbit a few hundred miles above Earth. The rocket raced across the Atlantic Ocean, flying over Cape Verde and crossing the equator before firing the Merlin engine again above the Gulf of Guinea off the west coast of Africa.
The crucial engine burn was programmed to last 62 seconds, just long enough to give the JCSAT 16 communications satellite enough speed to reach a looping, egg-shaped orbit stretching more than 22,000 miles (about 36,000 kilometers) high at its farthest point.
A few minutes later, at 1:58 a.m. EDT (0558 GMT), the Japanese-owned spacecraft sprung away from the Falcon 9's upper stage. Spectacular video from an upward-facing camera on the rocket showed JCSAT 16 receding into the inky blackness of space.
Officials quickly confirmed the new satellite was healthy after its ride into orbit, when ground controllers received the first radio signals from JCSAT 16.
Built by Space Systems/Loral, a satellite manufacturer based in Palo Alto, California, JCSAT 16 embarked on a 15-year mission to connect people and businesses across Japan and the Asia-Pacific with video and data services.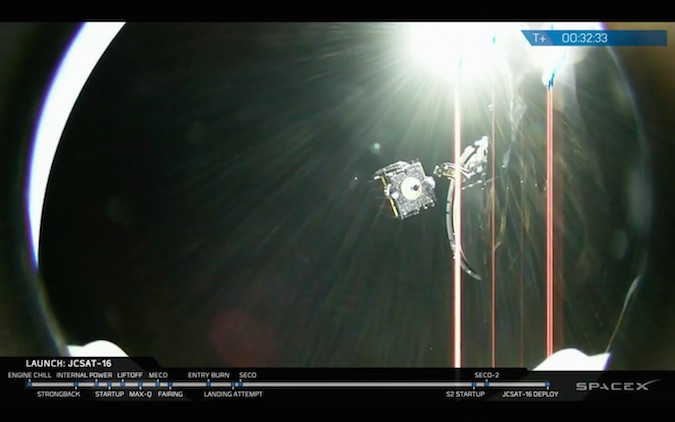 In the coming weeks, the satellite's on-board orbit-raising thruster will maneuver JCSAT 16 into a circular orbit nearly 22,300 miles (about 35,700 kilometers) above the equator. At that altitude, the satellite's orbital velocity will exactly match the rate of Earth's rotation, giving JCSAT 16 a continuous view of the same swath of Asia and the Pacific Ocean.
Controllers plan to park JCSAT 16 at a position along the equator at 162 degrees east longitude, where it will pick up services currently provided by the aging Superbird B2 satellite.
Superbird B2 launched in 2000 and is operating past its designed lifetime. A replacement satellite named Superbird 8 was supposed to launch this year on an Ariane 5 rocket, but it sustained damage during air shipment from a Mitsubishi Electric factory in Japan to the Ariane launch base in French Guiana earlier this year.
Officials do not expect Superbird 8 to be ready for launch until next year.
SKY Perfect JSAT Corp. already had the JCSAT 16 satellite in its pipeline as a dedicated backup platform. Once Superbird 8 is operational, JCSAT 16 could be repurposed to another slot in geostationary orbit for another mission.
"JCSAT-16 will function as an in-orbit back-up satellite to the existing services in the Ku- and Ka-band, enabling the provision of more stable satellite services and further strengthening the foundations of SKY Perfect JSAT Corp.'s business," the company said in a statement announcing Sunday's successful launch.
JCSAT 16 is the second satellite owned by Tokyo-based SKY Perfect JSAT to launch on a Falcon 9 rocket this year. The JCSAT 14 spacecraft successfully launched May 6 on a Falcon 9, a mission that logged SpaceX's first rocket booster landing after a launch toward geostationary transfer orbit.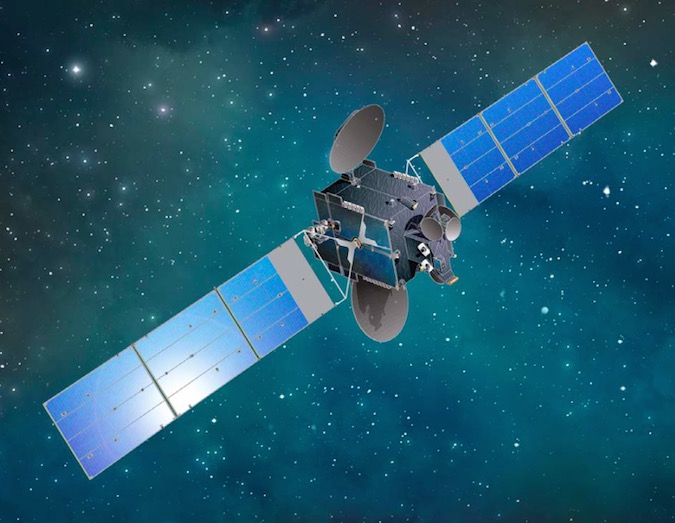 Such launches require additional speed from the Falcon 9's first stage, eliminating the chance to guide the rocket back to the launch base at Cape Canaveral. Instead, the slender, 12-foot-diameter (3.7-meter) stage arcs on a parabolic trajectory toward a football field-sized ship in the ocean.
Most of SpaceX's missions go into geostationary transfer orbit, so ocean landings are the norm. With Sunday's launch and landing, SpaceX has recovered six used Falcon 9 first stage boosters in 11 attempts.
Of those 11 attempts, nine have occurred on the landing barge, with four successes. SpaceX is 2-for-2 in rocket descents over Cape Canaveral after smooth landings in December and July.
Return-to-launch-site maneuvers require engineers to set aside more of the rocket's propellants for the descent, but vehicles coming back to Cape Canaveral see less extreme pressures and temperatures than on the high-speed geostationary-type missions.
SpaceX placed the first stage saved from the JCSAT 14 mission in May on a test stand at the company's Central Texas rocket development facility last month for a series of ground firings to check the condition of the vehicle.
"Since it was exposed to such extreme conditions upon re-entry from the JCSAT 14 mission, it's now being utilized as our flown benchmark vehicle," Tice said in Sunday's launch webcast. "This means we will perform numerous static fires on the vehicle to evaluate what kind of wear and tear the stage and its components experienced from each round of testing."
So far, SpaceX has fired the recovered rocket booster three times, each for the two-and-a-half minutes the stage would need to function during a real launch.
"Gaining a better understanding of this is an important next step to our path to reusable rockets," Tice said.
SpaceX has identified what vehicle it intends to fly again for the first time, but officials have not announced what payload will fly with it.
The booster scheduled to be the first to launch on a second satellite delivery mission landed on SpaceX's recovery vessel, or drone ship, April 8 after launching from Florida with a Dragon cargo craft heading to the International Space Station. That rocket encountered relatively benign conditions during descent compared to the crushing forces seen on later barge landings.
SES of Luxembourg, one of the world's leading commercial satellite operators, has publicly said it could be the first customer to put a payload on a second launch of a previously-flown booster. SES has two communications satellites, SES 10 and SES 11, scheduled to launch on Falcon 9 missions later this year.
SES 10 is the first of the two on the Falcon 9 manifest, with a launch window scheduled top open in mid-October. SES 11 will follow a month or two later.
Another candidate mission for SpaceX's first reusable rocket launch might be a flight this autumn from Vandenberg Air Force Base in California with Taiwan's Formosat 5 Earth observation satellite and a commercial space tug named Sherpa from Seattle-based Spaceflight Industries.
The Sherpa vehicle is a carrier module that will release nearly 90 small satellites — mostly CubeSats — from the U.S. government, commercial companies and international institutions.
Jason Andrews, Spaceflight Industries founder and CEO, told Spaceflight Now last month he has no problem signing up to be the first customer on a reused Falcon 9 rocket launch. But such an agreement would require the assent of Taiwan's National Space Organization — the Taiwanese space agency — which is in charge of the Formosat 5 Earth imaging satellite program.
Taiwanese space officials are not on record on the matter.
Sunday's launch set a new annual launch record for SpaceX with eight successful missions so far this year. It also marked the 28th launch of a Falcon 9 rocket since the privately-developed launcher debuted in 2010.
The next Falcon 9 launch from Cape Canaveral is scheduled for the first week of September with the Israeli Amos 6 communications satellite. Another Falcon 9 mission will come about two weeks later from California, with the Sept. 19 launch of the first 10 next-generation satellites to modernize Iridium's mobile telephone and data network.
Email the author.
Follow Stephen Clark on Twitter: @StephenClark1.