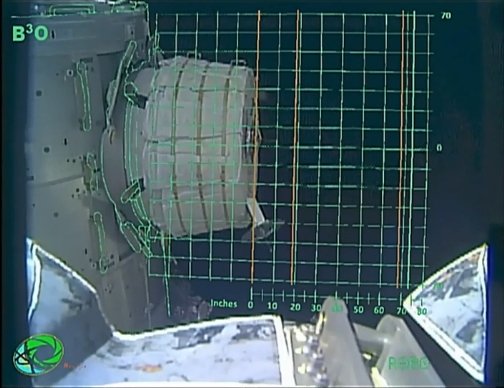 Mission control halted the expansion of Bigelow Aerospace's experimental space station module Thursday after the structure did not grow as predicted when air began flowing into it.
Working in the International Space Station's Tranquility module, astronaut Jeff Williams opened a valve to allow the lab's air to gradually flow into the Bigelow Expandable Activity Module, or BEAM.
Responding to step-by-step commands from engineers in Houston, Williams cycled the valve several times for a few seconds, and a pressure monitor showed air was beginning to fill the Bigelow habitat.
But cameras mounted outside the space station showed BEAM was not growing as quickly as anticipated, based on the amount of air vented inside.
"Unfortunately, we are going to have to stand down with the BEAM operations today," radioed Astronaut Jessica Meir from mission control around 9 a.m. EDT (1300 GMT). "We've been assessing all the parameters here from the ground, and due to our set of 'no go' conditions and not seeing any noticeable movement, we are going to have to reassess further from here."
Meir said mission control hopes to try again to expand BEAM as soon as Friday, but will send an update to the station crew later Thursday.
"Thanks for all your patience today, and we'll hope for better luck tomorrow," Meir said.
"These are the kinds of things the team is up to the challenge for," Williams said. "It's the space business, so thank you all for your patience."
NASA said the module grew axially by about 5 inches, a fraction of the 68 inches it needed to expand.
Earlier in the morning, a vent valve on BEAM was closed to allow for the start of inflation. Pyrotechnics also fired to release launch straps on the module, allowing its growth.
"NASA and Bigelow Aerospace are working closely to understand why the module did not fully expand today as planned," the space agency said in a statement.
"Engineers are meeting at the Johnson Space Center in Houston to discuss a path forward for the Bigelow Expandable Activity Module (BEAM)," the NASA statement said Thursday. "They are evaluating data from the expansion that has occurred thus far. If the data supports a resumption of operations, another attempt to complete the module's expansion could come as early as tomorrow."
Planners designed BEAM to inflate methodically by first introducing bits of air from the space station's atmosphere through a vent port at the habitat's attach point on the lab's Tranquility module. Once BEAM's structural bulkheads opened to a prescribed length, Williams was to send a command for pressurized air tanks inside the module to complete the inflation procedure.
Packed into a depressurized configuration less than 8 feet (2.4 meters) in diameter and 5.7 feet (1.7 meters) long, BEAM will grow like a tent to a width of 10.5 feet (3.2 meters) and a length of 12 feet (3.7 meters) during expansion, the first time such a technique has ever been tested with astronauts in the loop.
The module will have the internal volume of a family-size tent once BEAM is fully pressurized. Astronauts will enter the module to install lighting and sensors to monitor its response to impacts from micrometeoroids and space debris, radiation and temperature extremes in orbit.
Bigelow Aerospace hopes to launch a standalone habitat 20 times larger than BEAM around 2020, serving as a commercial destination for researchers, professional astronauts and space tourists.
Email the author.
Follow Stephen Clark on Twitter: @StephenClark1.