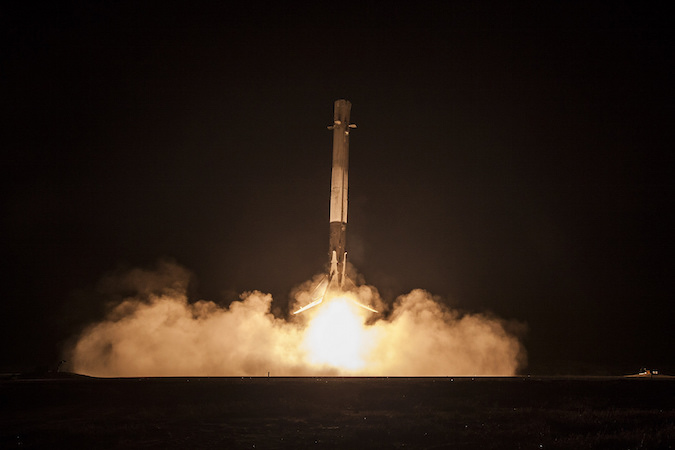 The next chance for SpaceX to return a Falcon 9 booster to landing at Cape Canaveral will come in mid-July, when the company plans to launch a Dragon supply ship to the International Space Station, a company official said Tuesday.
Falcon 9 flights before then will deploy communications satellites into high-altitude geostationary transfer orbits, a destination too high and requiring too much speed for the first stage to reverse course and head back to landing on shore.
NASA announced Monday that SpaceX's next cargo run to the space station will launch no earlier than July 16. The position of the space station's orbit that day puts the launch time around 1:32 a.m. EDT (0532 GMT).
The touchdown attempt at SpaceX's Landing Zone 1 at Cape Canaveral will come about 10 minutes after liftoff.
The landings are purely experimental, but they are a major part of SpaceX's strategy to field a partially reusable rocket in a bid to slash launch costs.
SpaceX has returned one Falcon 9 booster to the launch site. A 15-story first stage flew back to Cape Canaveral in December after launching 11 small communications satellites for Orbcomm.
Like the space station, Orbcomm's satellites orbit a few hundred miles above Earth, requiring less fuel than large telecom stations destined for geostationary orbit, a perch more about 22,300 miles (35,700 kilometers) over the equator.
After switching off its nine Merlin 1D engines about two-and-a-half minutes into the Dec. 21 Orbcomm flight, the first stage dropped away from the Falcon 9's upper stage and flipped around, flying tail first for a sequence of three return maneuvers to steer back toward Florida's Space Coast.
The rocket ignited three of its engines for a "boostback" and a "re-entry" burn, consuming leftover kerosene and liquid oxygen propellants not needed to put the Orbcomm satellites into orbit.
A cracking double sonic boom rattled the Florida spaceport as the rocket plummeted toward Landing Zone 1, a former Atlas missile launch facility located just north of the eastern tip of Cape Canaveral.
The booster's center engine fired up in the final seconds before touchdown as the rocket rapidly descended, appearing as a brilliant orange ball playing out like a launch in reverse. Finally, the rocket's four carbon-aluminum landing legs extended just before it settled to a landing.
Spectators can expect a similar sky show after the July 16 launch.
In the meantime, SpaceX intends to aim its spent first stage boosters for landings at sea, where the company's mobile drone ship is positioned for missions with satellites heading for lofty geostationary transfer orbits, a type of trajectory stretching at least 22,300 miles (35,700 kilometers) above Earth.
SpaceX nailed its first landing at sea in April after launching its last resupply run to the space station.
The next Falcon 9 rocket launch May 6 carried a large Japanese communications satellite into geostationary transfer orbit, and the booster survived a scorching high speed re-entry to successfully land on the ocean-going platform again.
At least two more Falcon 9 flights are due before the July 16 cargo launch. Both are loaded with commercial communications satellites designed to operate in geostationary orbit, leaving insufficient residual fuel for a daring return-to-launch-site maneuver.
The first stage boosters on those missions will also target the landing platform in the Atlantic Ocean.
Next up on SpaceX's launch manifest is the Thaicom 8 television broadcasting satellite, which is set for launch Thursday. A dual-satellite mission with payloads for Eutelsat and Asia Broadcast Satellite will follow in mid-June.
Two Falcon 9 missions from Vandenberg Air Force Base in California are also on SpaceX's schedule in the coming months.
One will send a Taiwanese Earth observation satellite and a package of up to 87 microsatellites and CubeSats arranged by Seattle-based Spaceflight Industries. Satellite owners with payloads assigned to that mission expect it to lift off no sooner than July.
The first 10 satellites in Iridium's next-generation mobile communications network are scheduled for launch on a Falcon 9 from Vandenberg in late July, according to Iridium.
Those flights will target relatively low orbits, but SpaceX is still awaiting final environmental clearance for rocket landings at Vandenberg, a facility nestled in the hills of California's Central Coast.
Email the author.
Follow Stephen Clark on Twitter: @StephenClark1.