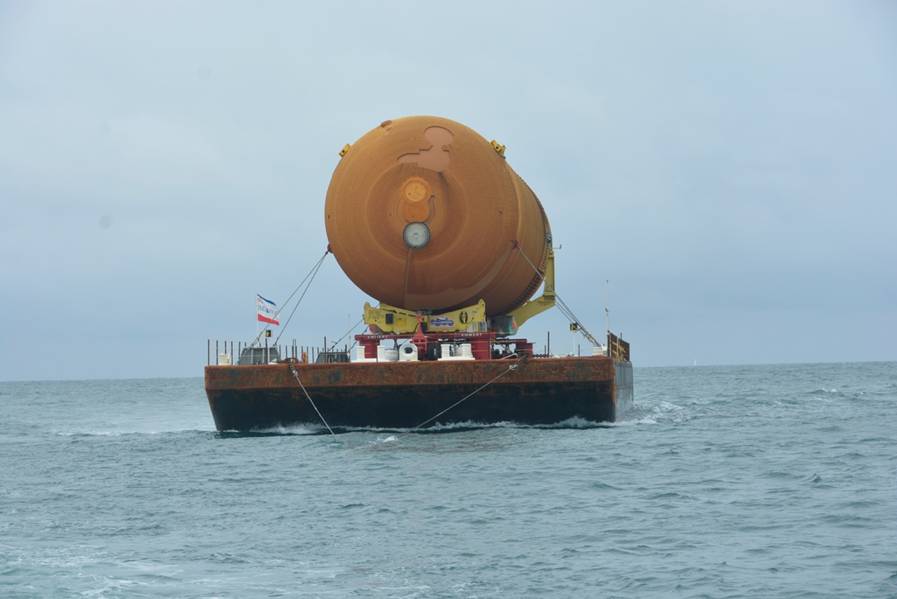 Making a brief pit shop in San Diego to clear customs today, the museum-bound space shuttle external fuel tank will reach Los Angeles for offloading from the transport barge on Wednesday, just days after a serendipitous rescue of the passengers from a sunken boat in the Pacific.
The tank left New Orleans on April 12, transited the Panama Canal and began the customs stop early this morning.
The trek will conclude between 6 and 8 a.m. local time (9-11 a.m. EDT; 1300-1500 GMT) on Wednesday at Marina del Rey in Los Angeles County, halfway between Santa Monica and the Los Angeles International Airport.
Crews will immediately release the tank from the barge and bring it on shore at Fisherman's Village within an hour of arrival, according to the official schedule.
The 16-mile street parade to deliver the tank to the California Science Center begins at 12 midnight local (3 a.m. EDT; 0700 GMT) on Saturday morning. That trip is expected to take about 17 hours.
A restoration of the tank will ready it for inclusion in displaying the retired shuttle Endeavour upright as if on the launch pad.
During the 3,000-mile trek from Panama to the U.S., the tugboat pulling the barge and tank made a live-saving detour.
On May 12, a fishing charter boat, named Maximus, sank off the coast of Mexico. The incident left four people, including three Americans, in a lifeboat.
The captain of the Shannon Dann tugboat transporting the shuttle tank was able to rescue all four people and bring the Americans to San Diego.
See our coverage of Endeavour's final spaceflight and retirement archive.