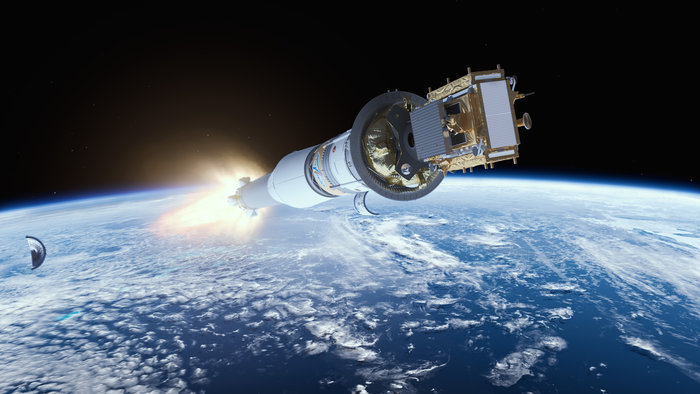 The term "direct flight" will go to new heights Friday with a four-hour flight by a Soyuz rocket and its Fregat upper stage to deliver five satellites to three distinct orbital destinations hundreds of miles above Earth.
The Russian Soyuz booster — crowned by a Fregat upper stage — is set for liftoff at 2102:13 GMT (5:02:13 p.m. EDT) Friday from the Guiana Space Center, a European-run spaceport on the northern shore of South America.
The rocket will take three laps around the planet before its job is complete to place in orbit Europe's Sentinel 1B environmental monitoring spacecraft, France's Microscope physics experiment and three student-built CubeSats from universities in Belgium, Italy and Denmark.
The delicate maneuvering required to put Sentinel 1B, Microscope and the CubeSats into different orbits will last four hours, with the Fregat upper stage tweaking its trajectory around Earth multiple times to put each payload in the correct position.
Powered by a core stage and four first stage boosters generating 930,000 pounds of thrust, the kerosene-fueled Soyuz rocket will turn north from its purpose-built launch pad in French Guiana and drop its RD-107A strap-on engines in the Atlantic Ocean two minutes after liftoff.
The rocket's clamshell-like nose cone will split open and jettison at T+plus 3 minutes, 29 seconds, followed by separation of the Soyuz core stage and its RD-108A main engine at T+plus 4 minutes, 48 seconds.
Four minutes later — at T+plus 8 minutes, 49 seconds — the third stage's RD-0110 engine will finish its burn and fall away from the Soyuz rocket's Fregat upper stage, which will ignite its hydrazine-burning main engine for the first time at T+plus 9 minutes, 49 seconds.
The first of the mission's five Fregat engine firings will end at T+plus 20 minutes, 14 seconds, after reaching a target orbit 686 kilometers (426 miles) in altitude at an inclination of 98.18 degrees.
The 2,164-kilogram (4,770-pound) Sentinel 1B satellite is due to deploy from the Fregat upper stage at T+plus 23 minutes, 35 seconds. It will unfurl its power-generating solar panels and C-band radar antenna in the hours after launch.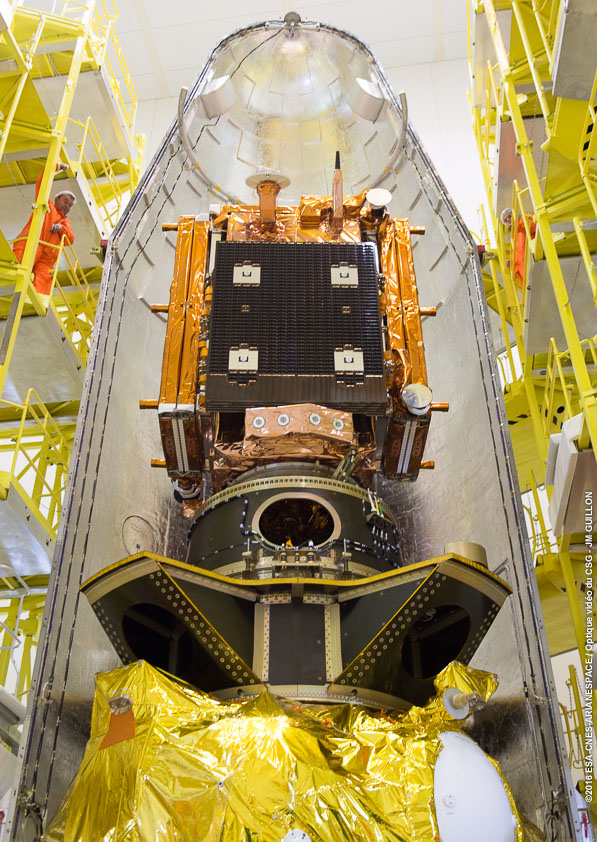 Meanwhile, the Fregat stage will coast for more than an hour-and-a-half until restarting its main engine at T+plus 2 hours, 5 seconds (2302:18 GMT; 7:02:18 p.m. EDT) for a planned 13-second burn.
That maneuver will lower the rocket's orbit for the release of the mission's three CubeSat passengers:
OUFTI-1 from the University of Liege, Belgium, will test an experimental communications subsystem
e-st@r-II from the Polytechnic of Turin, Italy, will demonstrate an attitude control system using measurements of Earth's magnetic field
AAUSAT-4 from the University of Aalborg, Denmark, will operate an automated ocean vessel identification system
Each one of the trio is about the size of the palm of a hand and weighs about a kilogram, or 2.2 pounds.
They will spring-eject from their container at T+plus 2 hours, 48 minutes, 11 seconds (2350:24 GMT (7:50:24 p.m. EDT), according to a mission timeline provided by Arianespace, the Soyuz rocket's launch services provider.
The mission profile aims to put the CubeSats in a lower orbit than Sentinel 1B — with a high point of 665 kilometers (413 miles) and a low point of 453 kilometers (281 miles) — to make the tiny spacecraft succumb to atmospheric drag and re-enter Earth's atmosphere faster, easing concerns that the satellites could become dangerous pieces of space debris.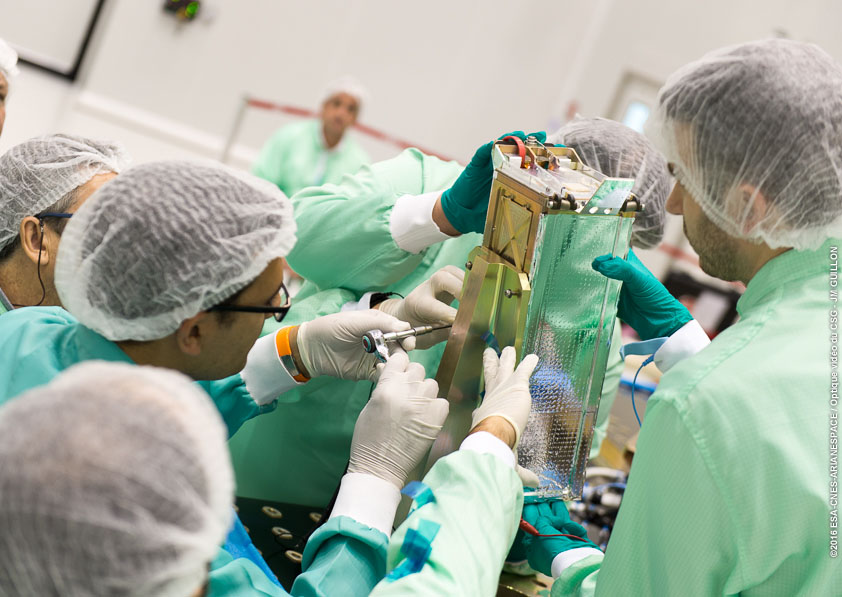 Fifty seconds after separation of the CubeSats — at T+plus 2 hours, 49 minutes, 1 second (2351:14 GMT; 7:51:14 p.m. EDT) — the Soyuz rocket's multi-payload carrier will jettison to reveal France's Microscope physics probe for separation.
But the Fregat upper stage must first steer into Microscope's intended orbit, a feat that requires two more brief burns of the main engine, which produces nearly 4,500 pounds of thrust at full power.
A 12-second engine firing is due to commence at T+plus 3 hours, 32 minutes, 35 seconds (0034:48 GMT; 8:34:48 p.m. EDT). Approximately 25 minutes later — at T+plus 3 hours, 57 minutes, 46 seconds (0059:59 GMT; 8:59:59 p.m. EDT) — the Fregat's fourth burn will begin and last for about 16 seconds.
The Fregat upper stage will set up for separation of the 303-kilogram (668-pound) Microscope spacecraft at T+plus 4 hours, 52 seconds (0103:05 GMT; 9:03:05 p.m. EDT).
Microscope will test the equivalence principle, which states that different objects fall the same way in vacuum. The principle is a tenet in Albert Einstein's theory of general relativity, but the concept was first proposed by Galileo.
Developed by CNES, the French space agency, Microscope contains two concentric cylindrical test masses to be suspended in an electrostatic field. The motion of the two test masses — one made of titanium and the other made of a platinum-rhodium alloy — should be the same if the equivalence principle is verified.
The Microscope mission has been in development since 1999 and aims to test the equivalence principle with 100 times greater precision than feasible on Earth.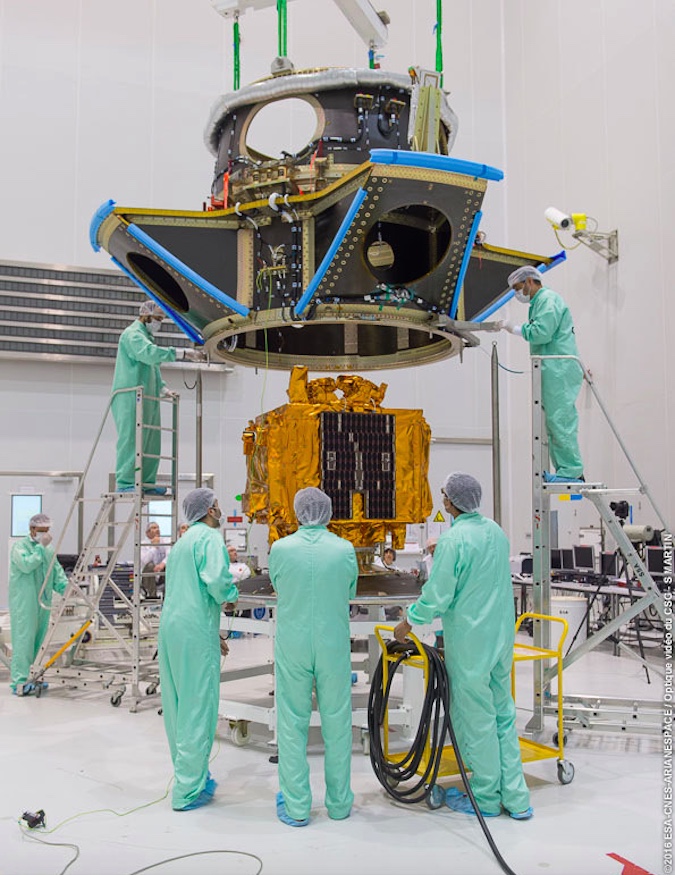 The Microscope satellite is destined for an orbit 711 kilometers (441 miles) above Earth at an inclination of 98.23 degrees, according to Arianespace.
A final ignition of the Fregat main engine about 15 minutes after Microscope's separation is expected to last about 29 seconds, enough to slow down the rocket's orbital velocity enough to re-enter Earth's atmosphere and burn up over the South Atlantic Ocean.
The four-hour mission will require tracking and communications support from ground stations in French Guiana, Saint-Hubert and Saskatoon in Canada, Lucknow, India, and Mauritius, according to Nathalie Philippe, Arianespace's quick look telemetry display technical authority.
Philippe said each of the ground stations will be used at least two times during Friday's mission, supplying data on the progress of the flight to managers in French Guiana and Russian engineers at the Fregat monitoring center in Moscow.
Email the author.
Follow Stephen Clark on Twitter: @StephenClark1.