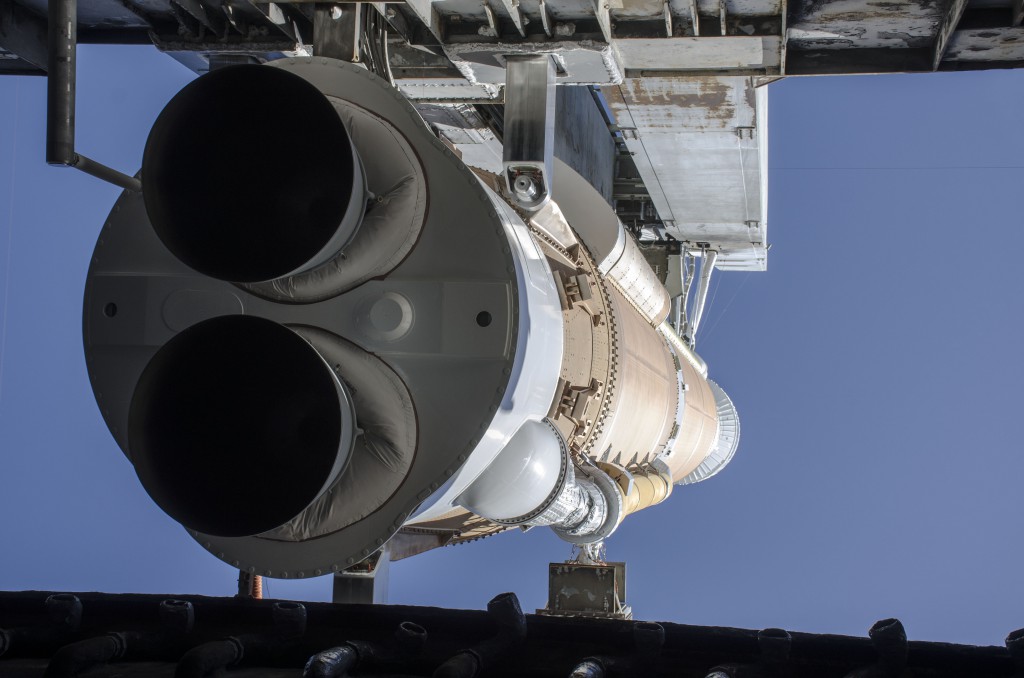 CAPE CANAVERAL — Kicking off United Launch Alliance's ambitious 2016 with as many as 15 launches planned for the U.S. military, intelligence community, NASA and commercial clients, an Atlas 5 rocket will thunder to orbit Friday to deploy the last satellite in the current generation of Global Positioning System navigation spacecraft.
The GPS 2F-12 satellite will ride to space from Cape Canaveral, departing Complex 41 on 860,000 pounds of thrust during a launch window of 8:38 to 8:57 a.m. EST (1338-1357 GMT).
The flight was delayed two days as a result of officials being notified of an industry-wide concern with electrical connectors. That prompted precautionary inspections of power and commanding connectors aboard the rocket.
"Frankly, a day or two delay cannot possibly compare to the loss of a vital national asset," said Walt Lauderdale, the Air Force's GPS 2F-12 mission director.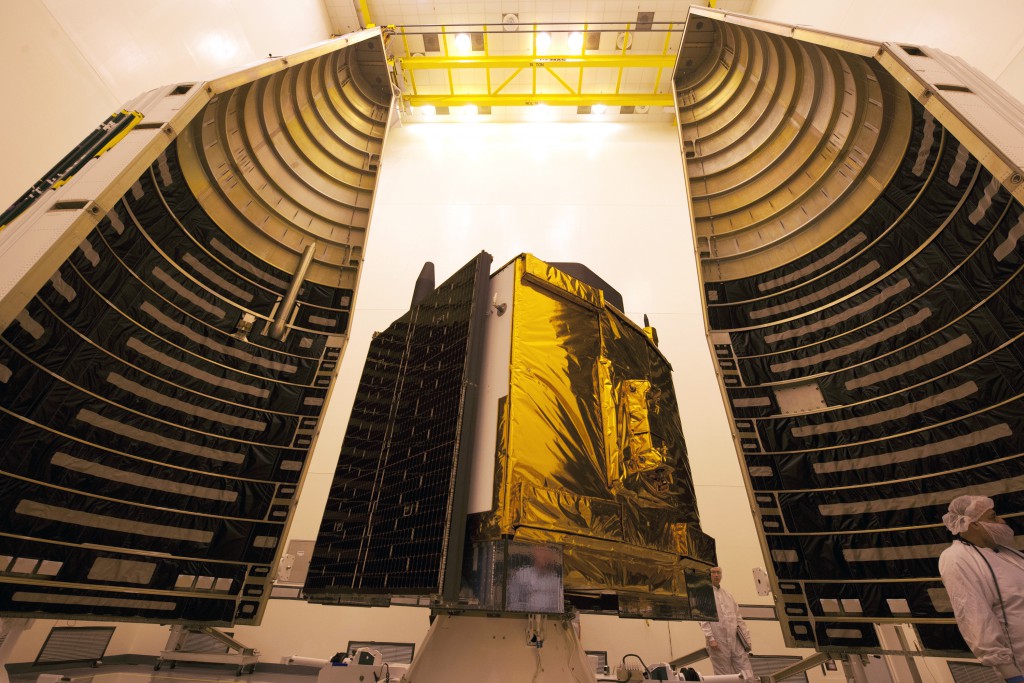 This is the 12th and final spacecraft built by Boeing for the Air Force under the Block 2F program. The craft have featured improved accuracy, better anti-jamming and longer design lives than previous designs.
"We stand ready to launch the final GPS 2F vehicle. This mission will signify an end of an era with completion of the 2F series and exemplify the historic milestone and achievement for all of us involved," said Col. Steve Whitney, director of the Air Force's Global Positioning Systems Directorate.
"Additionally, the upcoming launch mark the finale of one of the most aggressive launch campaigns in the last 20 years — seven GPS 2F in just over 21 months."
The new $245 million craft will assume the place of GPS 2R-6, a craft launched aboard Delta 281 on Nov. 10, 2000, in Plane F, Slot 1 of the constellation. The older craft moves to an alternate role in the network once the fresh GPS 2F-12 enters service.
"Placing 2F-12 in F-1 enhances the modernized navigation coverage for the GPS constellation. (2R-6) is a non-modernized vehicle, which is why it is being replaced," the Air Force's Space and Missile Systems Center told Spaceflight Now.
"(2R-6) will remain in service, and will be moved to another constellation location where it will enhance GPS legacy coverage and overall constellation robustness."
To make room in the fleet for this launch, the oldest satellite still operating in the constellation, the GPS 2A-10 launched aboard Delta 201 on Nov. 26, 1990, is being retired from service completely.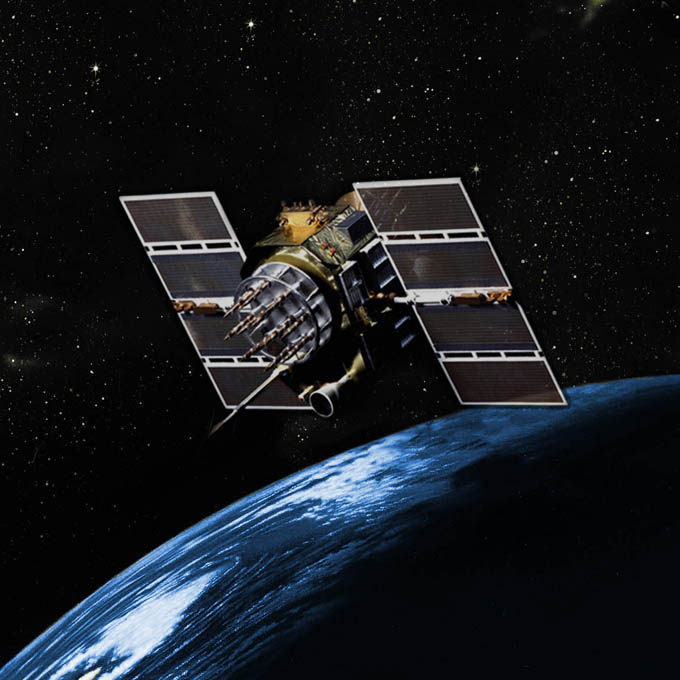 "(It) will be retired shortly before the launch of 2F-12, as it is nearing the end of its useful life on orbit," Air Force officials said.
The 12-satellite Block 2F project began launching in 2010 to form the backbone of the GPS fleet for the next 15 years.
GPS 2F-1: May 27, 2010 (Delta 4) Plane B, Slot 2
GPS 2F-2: July 16, 2011 (Delta 4) Plane D, Slot 2A
GPS 2F-3: Oct. 4, 2012 (Delta 4) Plane A, Slot 1
GPS 2F-4: May 15, 2013 (Atlas 5) Plane C, Slot 2
GPS 2F-5: Feb. 20, 2014 (Delta 4) Plane A, Slot 3
GPS 2F-6: May 16, 2014 (Delta 4) Plane D, Slot 4
GPS 2F-7: Aug. 1, 2014 (Atlas 5) Plane F, Slot 3
GPS 2F-8: Oct. 29, 2014 (Atlas 5) Plane E, Slot 1
GPS 2F-9: March 25, 2015 (Delta 4) Plane B, Slot 1F
GPS 2F-10: July 15, 2015 (Atlas 5) Plane C, Slot 3
GPS 2F-11: Oct. 31, 2015 (Atlas 5) Plane E, Slot 2
GPS 2F-12: Friday (Atlas 5) Plane F, Slot 1
"Since the first GPS 2F launch on May 27, 2010, these satellites have advanced the Air Force GPS modernization program by improving accuracy and security while introducing new civilian and military capabilities to a system used by billions of people around the world," said Mark Smith, Boeing's GPS 2F deputy program manager.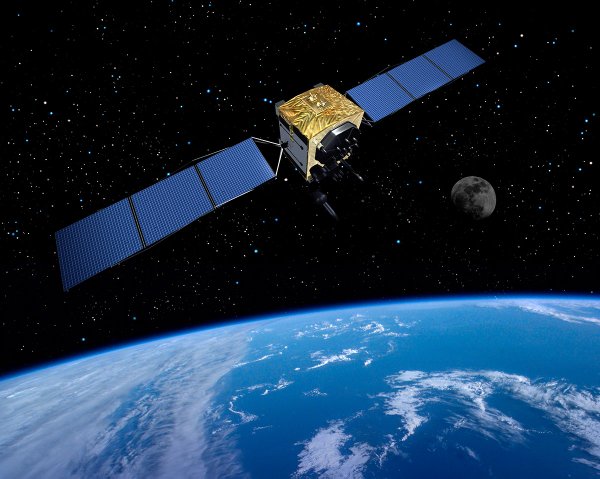 This will be the 72nd GPS satellite launch since 1978, the 17th to use an Atlas rocket and the sixth Block 2F on Atlas 5.
There are 30 satellites in operation today — 12 GPS 2Rs, 7 GPS 2R-Ms and 11 GPS 2Fs.
"The GPS constellation is healthy, stable and robust with 30 operational satellites on-orbit," said Whitney, adding that 9 more satellites are being held in residual, backup status.
The continuous navigation signals emitted by GPS satellites allow users to find their position in latitude, longitude and altitude and measure time. A GPS user receiver measures the time delay for the signal to reach the receiver, which is the direct measure of the apparent range to the satellite.
Measurements collected simultaneously from four satellites are processed to solve for the three dimensions of position, velocity and time.
The Air Force estimates there are four billion GPS-enabled devices worldwide, a number that is expected to double in the next five years.
For Friday's launch, the rocket will be flying in its 401-configuration, which is powered by the RD-180 main engine burning kerosene and liquid oxygen on the first stage and an Aerojet Rocketdyne RL10C cryogenic liquid hydrogen and liquid oxygen upper stage. The payload is shrouded in an aluminum fairing 14 feet in diameter and 39 feet long.
As the most-used Atlas 5 variant, the 401 has flown on 30 previous missions. It will mark the 67th Atlas flight of the RD-180 engine, the 465th production RL10 engine to be launched and the 10th RL10C-1.
The Launch Readiness Review will occur Wednesday to grant authority to proceed with rollout of the rocket to the pad. That transfer is planned for Thursday morning.
Countdown clocks will begin ticking a little after 1 a.m. EST on Friday as the vehicle stages are powered up and the launch day procedure begins.
"The integrated team will be diligent in listening to what (the hardware) is telling us as we proceed to liftoff. If there is anything that appears unusual, we will take the time necessary to ensure we know why we are ready to launch and not before," Lauderdale said.
"The travel to and through space is unforgiving, whether it is the launch vehicle or the spacecraft."
Weather forecasters are projecting a 40 percent chance of favorable launch conditions, with ground winds and clouds the main worries due to passage of a cold front. The odds improve to 80 percent GO on Saturday morning, if needed.
The ascent profile for AV-057 follows an initial flight azimuth of 45.8 degrees to the northeast and features two burns by the Centaur upper stage, separated by a three-hour coast period, to insert the payload into a circular 11,047 nautical mile orbit at 55 degrees inclination.
Deployment of GPS 2F-12 is expected at T+plus 3 hours and 23 minutes, or 12:01 p.m. EST (1701 GMT) given an on-time liftoff.
T-0:00:02.7 Main Engine Start
T+0:00:01.1 Liftoff
T+0:01:18.5 Mach 1
T+0:01:30.3 Max Q
T+0:04:03.9 Main Engine Cutoff
T+0:04:09.9 Stage Separation
T+0:04:19.9 Centaur Ignition 1
T+0:04:27.9 Nose Cone Jettison
T+0:17:04.0 Centaur Cutoff 1
T+3:17:03.3 Centaur Ignition 2
T+3:18:30.1 Centaur Cutoff 2
T+3:23:16.1 Spacecraft Separation
"There's always emotions involved in a launch," Whitney said. "This is the most important launch we have going right now."
The launch marks the 61st Atlas 5 rocket since 2002 and the 24th for the Air Force since 2007. For United Launch Alliance, it is the company's 104th launch overall since 2006 and the first of 15 tentatively planned this year.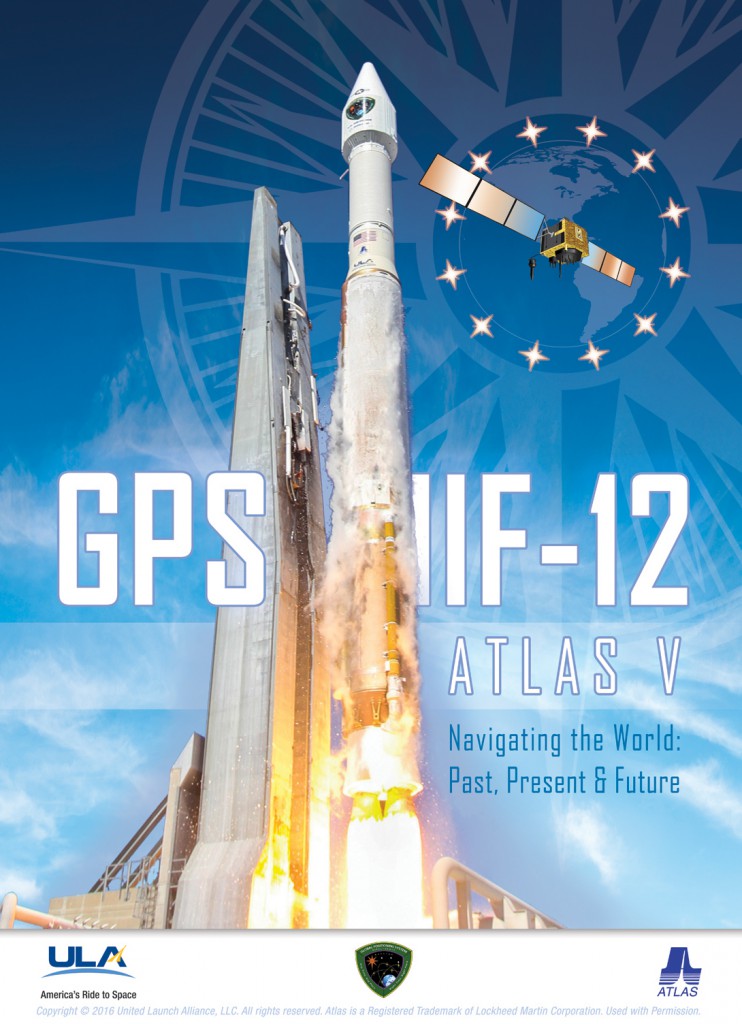 **2016 LAUNCH LINEUP**
(all dates subject to change)
GPS 2F-12
Atlas 5 (401)
Cape Canaveral
Feb. 5
NROL-45
Delta 4 Medium+(5,2)
Vandenberg
Feb. 10
CYGNUS OA-6
Atlas 5 (401)
Cape Canaveral
March 10
MUOS 5
Atlas 5 (551)
Cape Canaveral
May 5
NROL-37
Delta 4-Heavy
Cape Canaveral
May 12
NROL-61
Atlas 5 (421)
Cape Canaveral
June 24
AFSPC 6 (GSSAP)
Delta 4 Medium+(4,2)
Cape Canaveral
July 21
SBIRS GEO 3
Atlas 5 (401)
Cape Canaveral
July 27
OSIRIS-REx
Atlas 5 (411)
Cape Canaveral
Sept. 3
WORLDVIEW 4
Atlas 5 (401)
Vandenberg
Sept. 15
WGS 8
Delta 4 Medium+(5,4)
Cape Canaveral
Sept. 28
GOES R
Atlas 5 (541)
Cape Canaveral
Oct. 14
ECHOSTAR 19
Atlas 5 (431)
Cape Canaveral
Nov. 10
NROL-79
Atlas 5 (401)
Vandenberg
Dec. 1
AEHF 4
Atlas 5 (531)
Cape Canaveral
Dec. 15
See earlier GPS 2F-12 coverage.
Our Atlas archive.