STORY WRITTEN FOR CBS NEWS & USED WITH PERMISSION
On the 30th anniversary of the Challenger disaster, crew families, friends and space workers gathered Thursday to remember the 17 men and women who lost their lives on the high frontier, 14 in two space shuttle disasters and three in an Apollo-era launch pad fire 49 years ago Wednesday.
Speaking to an overflow crowd seated and standing under the shuttle Atlantis at the Kennedy Space Center's visitor complex, former shuttle commander Robert Cabana, director of the space center, said NASA would never forget the lessons of the past and would continue to build on the legacy of the fallen astronauts as the agency moves out into the solar system.
"They've shown us that exploration is not without risk, that we can learn from our mistakes and be better for them in the end," he said. "They continue to motivate us to explore and never quit just because it's hard. We are better for having known them. They are a part of us forever, and we will never let them down."
On hand for the Day of Remembrance ceremony were June Scobee Rodgers, widow of Challenger commander Francis "Dick" Scobee, and two children, Kathie Scobee Fulgham and Air Force Brig. Gen. Richard Scobee, and Evelyn Husband-Thompson, widow of Columbia commander Rick Husband.
Other family members included the widow of Challenger pilot Michael Smith, Jane Smith Wolcott, and daughter Alison Smith Balch; Sheryl Chaffee, daughter of Apollo 1 astronaut Roger Chaffee; and Scott McAuliffe, son of Challenger school teacher Christa McAuliffe.
Barbara Morgan, McAuliffe's backup in the Teacher in Space program, never gave up the dream of flying in space and eventually would join NASA as a professional astronaut, flying in space aboard the shuttle Endeavour in 2007. Speaking at the memorial service Thursday, Morgan recalled Scobee as "a deep and poetic thinker and a very loving person."
"Dick taught me that a true leader guides more than he commands," she said. "A true leader seems to walk beside us rather than ahead of us, and when we arrive at our goal we realize that he was already there long before us. Dick was there for us."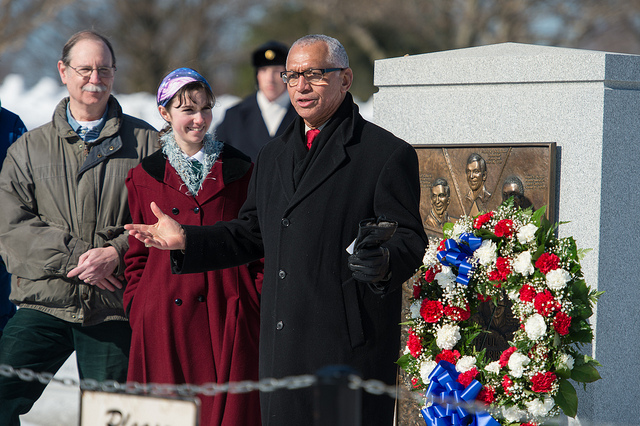 She recalled Challenger pilot Smith letting her take the controls of a T-38 jet trainer, Ellison Onizuka's humor, Ronald McNair's faith, flight engineer Judy Resnik's intense concentration and satellite engineer Gregory Jarvis' good spirits despite being bumped from earlier missions.
"From Christa McAuliffe, I learned to look for the best in all situations and all people," Morgan said. "She taught me to not worry about what is not important and at the same time, to work harder at what is important.
"What was important to Christa? People and their dignity. Her classroom was based on mutual respect. She taught her students to respect themselves, too, and she taught them to do the very best they could do, and stay true to their inner selves."
Cabana marveled that "it's hard to believe it's been 30 years since we lost Challenger and her crew."
"Those of us who are old enough to remember can probably tell you exactly where we were and what we were doing that morning, Jan. 28, 1986," he said. "Much like the assassination of President Kennedy, the landing of Apollo 11 on the moon and the attacks of Sept. 11, it was a defining moment in our history."
Cabana recalled hearing about the Challenger disaster while training at the Johnson Space Center in Houston as an astronaut candidate.
"It was sheer disbelief, and an unwillingness to accept that we had really lost the vehicle and the crew," he said. "Surely they had aborted, the crew was OK. But watching it over and over again on TV, reality set in and it was a really bad day."
But he stressed that NASA "learned many lessons from the loss of Challenger, and the vehicle that returned to flight two-and-a-half years later may have looked the same, but it had hundreds of changes making it safer and more reliable."
"We stand on the shoulders of giants in the crews of Apollo 1, Challenger and Columbia urge us forward," Cabana said. "We will continue to strive to be better, to rise from our mistakes, to reach out beyond our known limits, to explore beyond our home planet and to expand our knowledge of our universe."
On Jan. 27, 1967, astronauts Virgil "Gus" Grissom, Ed White, the first U.S. spacewalker, and Chaffee died in a fire during a routine launch pad test, victims of a short circuit that sparked an oxygen-propelled conflagration inside their Apollo capsule.
In the wake of the accident, NASA re-engineered the Apollo capsule, improving its wiring and changing the way the spacecraft's oxygen environment was managed. The redesigned Apollo capsule made its first flight in October 1968, nearly two years after the fatal launch pad fire. NASA went on to launch the Apollo 11 moon mission the following July.
Thirty years ago, on Jan. 28, 1986, the shuttle Challenger broke apart 73 seconds after liftoff, killing all seven crew members.
The Challenger disaster was blamed on the failure of O-ring seals in the joint connecting two fuel-segments in the ship's right-side booster. But a presidential commission also blamed NASA for a series of management miscues and a decision to launch in cold weather over the objections of booster engineers who recommended a delay.
NASA redesigned the booster joints, improved communications, oversight and management, put  astronauts in many key positions. Shuttle flights resumed on Sept. 29, 1988, with launch of Discovery.
"We learned many lessons from the loss of Challenger, and the vehicle that returned to flight two-and-a-half years later may have looked the same, but it had hundreds of changes making it safer, and more reliable," Cabana said.
NASA would launch 87 successful shuttle flights in a row before Columbia, at the end of the agency's 113th mission, broke apart during re-entry on Feb. 1, 2003.
Killed in NASA's second shuttle disaster were Husband, pilot William McCool, flight engineer Kalpana Chawla, Laurel Clark, Michael Anderson, David Brown and Israeli flier Illan Ramon.
During Columbia's launch 16 days earlier, a chunk of foam insulation broke away from the ship's external tank and blasted a hole in the leading edge of the shuttle's left wing. During re-entry, hot gas burned its way into the interior of the wing, eventually triggering the orbiter's breakup.
In the wake of the mishap, NASA implemented across-the-board upgrades and improvements, including removing the foam insulation on the external fuel tank that was the root cause of the failure and implementing post-launch inspection procedures and repair tools and techniques to cope with any similar problems.
But one year after the accident, the Bush administration ordered NASA to complete the International Space Station and to retire the space shuttle by the end of the decade. Shuttle flights resumed in July 2005, and after 22 post-Columbia flights, Atlantis closed out the program's final mission in July 2011.