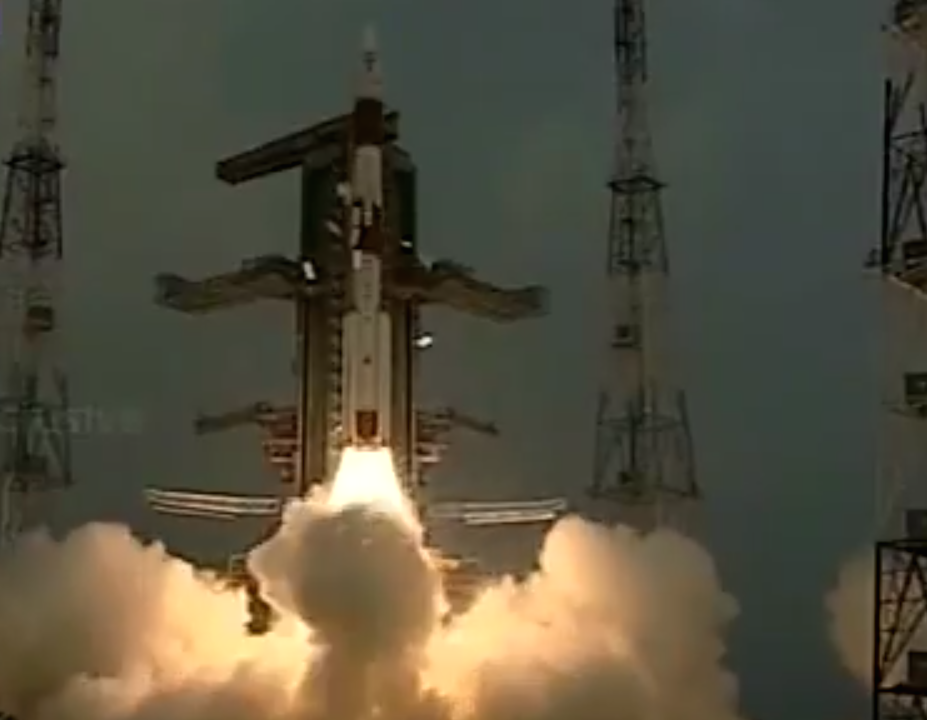 The fifth satellite for India's regional navigation network rode into orbit Wednesday aboard a Polar Satellite Launch Vehicle, joining a growing fleet of spacecraft to provide positioning services to users across South Asia.
The mission lifted off at 0401 GMT Wednesday (11:01 p.m. EST Tuesday) on the 33rd flight of India's PSLV, the country's most prolific launch vehicle.
The PSLV ignited its solid-fueled core rocket motor and strap-on boosters at 9:31 a.m. local time to fire away from the Satish Dhawan Space Center on Sriharikota Island, India's spaceport located on the Bay of Bengal about 80 kilometers, or 50 miles, north of the Indian industrial city of Chennai.
The rocket flew in its most powerful configuration, known as the PSLV XL, with six solid rocket boosters packed with extra propellant to carry heavier satellites into orbit.
The 44.4-meter (145.6-foot) launcher veered southeast from its launch pad at Sriharikota, shedding its six boosters and first stage in less than two minutes as the PSLV's hydrazine-fueled Vikas second stage engine took over to continue accelerating toward space.
The PSLV jettisoned its nose cone moments later, then a solid-fueled third stage fired for two minutes. The rocket's fourth stage propulsion system, burning a mixture of liquid propellants, ignited to push the fifth satellite for the Indian Regional Navigation Satellite System into orbit.
The IRNSS 1E spacecraft deployed from the PSLV's fourth stage more than 19 minutes after blastoff, and the Indian Space Research Organization declared the mission a total success.
The rocket put IRNSS 1E in an orbit with a low point of about 282 kilometers (175 miles), a high point of 20,655 kilometers (12,834 miles) and an inclination of 19.21 degrees, very close to preflight predictions, according to ISRO.
Engineers stationed at a facility in Hassan, India, took control of the 1,425-kilogram (3,141-pound) satellite shortly after it separated from the launch vehicle, according to M. Annadurai, director of the ISRO Satellite Center.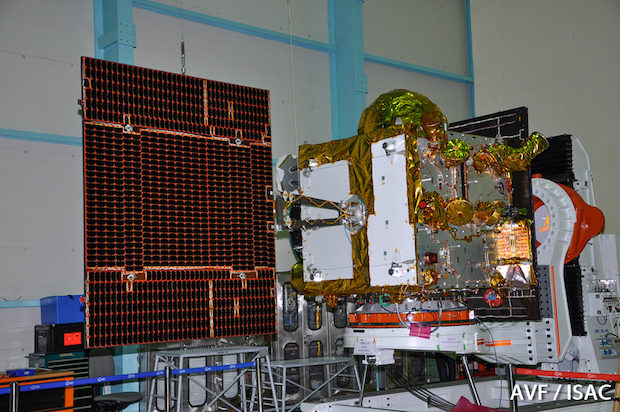 Annadurai said IRNSS 1E's solar panels unfurled as planned, and the satellite was healthy after launch.
"With this satellite in place, within our country we will be able to get, 24 x 7, a good positional accuracy," said A.S. Kiran Kumar, ISRO's chairman, in a speech after Wednesday's launch. "Let me take this opportunity to congratulate the entire ISRO team for the wonderful work they have done."
IRNSS 1E will raise its orbit to an altitude of nearly 36,000 kilometers — about 22,300 miles — over the next few weeks, entering an orbit centered on 111.75 degrees east longitude and oscillating up to 28.1 degrees north and south of the equator.
Two more IRNSS spacecraft are due for launch aboard PSLVs before the end of March to complete the constellation.
The seven satellites — four in inclined geosynchronous orbits like the one intended for IRNSS 1E, and three in equatorial geostationary orbit — will give India an independent navigation system with coverage over Indian territory and regions extending up to 1,500 kilometers (932 miles) from its borders.
India is one of several countries building indigenous navigation systems to join the U.S. Global Positioning System and Russia's Glonass satellite constellation. China and the European Union are deploying satellites for their own global navigation network, while Japan plans a regional positioning fleet similar to India's IRNSS program.
India started launching its navigation satellites in 2013, and each spacecraft is designed to operate for 12 years.
"We have a long way to go," Kiran Kumar said. "We have two more satellites in this constellation, which we intend to complete in the next couple of months."
Email the author.
Follow Stephen Clark on Twitter: @StephenClark1.