STORY WRITTEN FOR CBS NEWS & USED WITH PERMISSION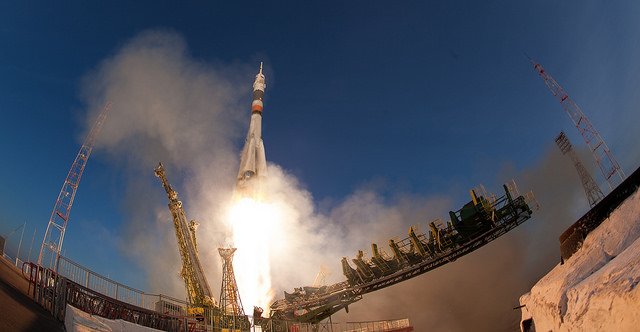 A Russian Soyuz spacecraft streaked into space and chased down the International Space Station Tuesday, but a problem with the ferry ship's automated rendezvous system forced commander Yuri Malenchenko to take over manual control at the last minute. After backing away and assessing the ship's alignment and control, he deftly guided the craft in for docking at the lab's Rassvet module to complete a four-orbit rendezvous.
While manual dockings are relatively rare, Malenchenko, one of Russia's most experienced cosmonauts and a veteran of five previous flights, had no problem lining back up on the Rassvet docking target and the ship nosed into the attachment mechanism at 12:33 p.m. EST (GMT-5).
"Well, we have finally arrived," Malenchenko radioed after the Soyuz was pulled into place.
The dramatic manual docking came just six hours after Malenchenko, NASA flight engineer Timothy Kopra and British astronaut Timothy Peake thundered away from the Baikonur Cosmodrome in Kazakhstan at 6:03:10 a.m. EST (GMT-5; 5:03 p.m. local time).
Taking off under a clear blue sky about an hour before sunset, the workhorse rocket, mounted atop the same launch pad used by Yuri Gagarin at the dawn of the space age, climbed away to the east atop a torrent of brilliant exhaust, leaving a crackling roar in its wake.
Television views from inside the central crew module showed Malenchenko calmly monitoring cockpit displays with Kopra, acting as co-pilot, strapped in to his left. In another view, Peake, strapped in on Malenchenko's right, flashed a vigorous thumbs up.
Providing a rare, if not unprecedented view, live television from the International Space Station provided an unusual shot of the Soyuz climbing toward space behind the lab complex, the rocket's gossamer exhaust plume clearly visible against the limb of the Earth.
The ascent appeared to go smoothly and about nine minutes after liftoff, the rocket's third stage shut down and the Soyuz TMA-19M spacecraft was released to fly on its own. A few moments after that, the spacecraft's solar arrays unfolded and navigation antennas snapped into place.
The space station passed over the launch site a few minutes before liftoff and by the time the Soyuz reached orbit, the lab was some 1,983 miles ahead. The ferry ship executed a seemingly flawless automated rendezvous with the station, closing in for final approach four orbits later, around 12:15 p.m.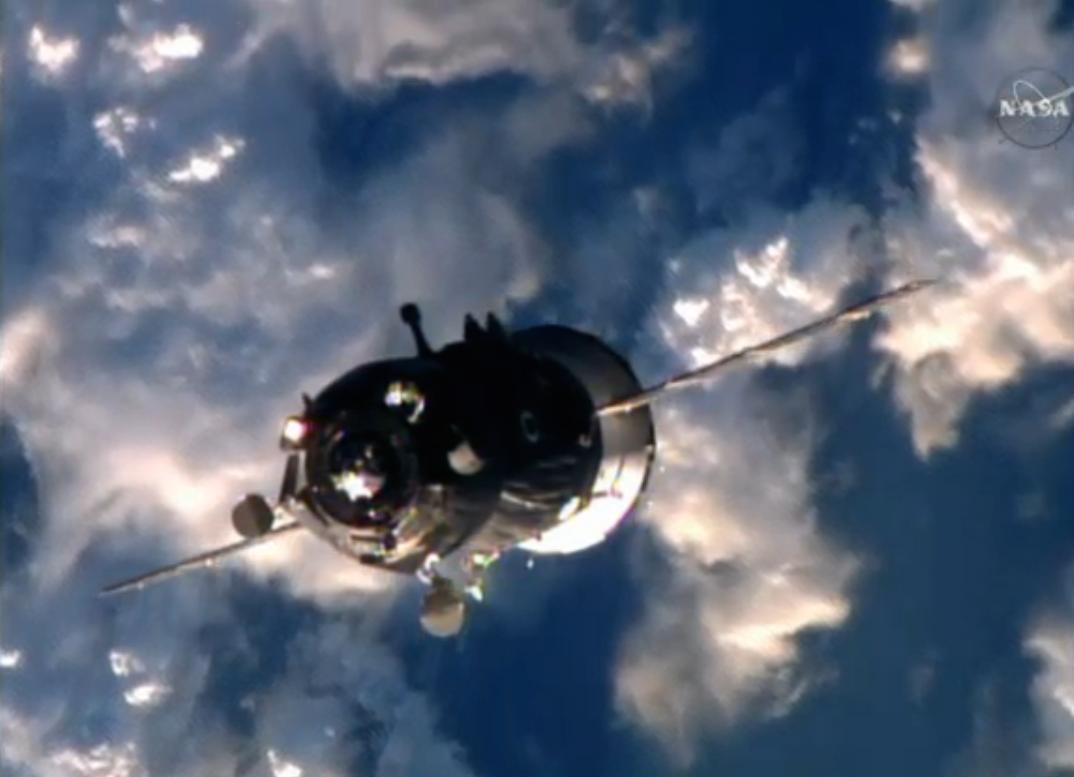 But at the last minute, the spacecraft suddenly began backing away and Malenchenko took over manual control. It's not yet known what interrupted the automated approach, but the manual system appeared to work normally and in any case, Malenchenko had no problems completing the rendezvous.
Two-and-a-half hours after docking, at 2:58 p.m., leak checks were finally complete, hatches were opened and Malenchenko, Kopra and Peake floated into the space station, welcomed aboard with hugs, smiles and handshakes by Expedition 46 commander Scott Kelly, Mikhail Kornienko and Sergey Volkov.
Following space station tradition, the combined six-member crew gathered in the Zvezda command module for a brief video chat with friends and families at Baikonur.
"We had a great day today, but I think you had a better one," Kopra's wife, Dawn, radioed. "It was a beautiful launch."
"Thank you, we enjoyed the ride," Kopra replied. "We've been on station here for about, oh, three minutes now. It's pretty nice to be here!"
Peake, the only rookie on the crew, was asked how he enjoyed the view from the Soyuz.
"It was a beautiful launch," he said. "We got launched straight into night and got on with the work. But that first sunrise was absolutely spectacular, and we also got the benefit of a moonrise on the first orbit as well, which was beautiful to see."
Last Friday, three other crew members — Oleg Kononenko, Kimiya Yui and Kjell Lindgren — departed and returned to Earth aboard the Soyuz TMA-17M spacecraft to close out a 141-day mission.
With the arrival of Malenchenko and his crewmates, the station crew will be back up to full strength for a busy few days of work before a break for the Christmas holiday.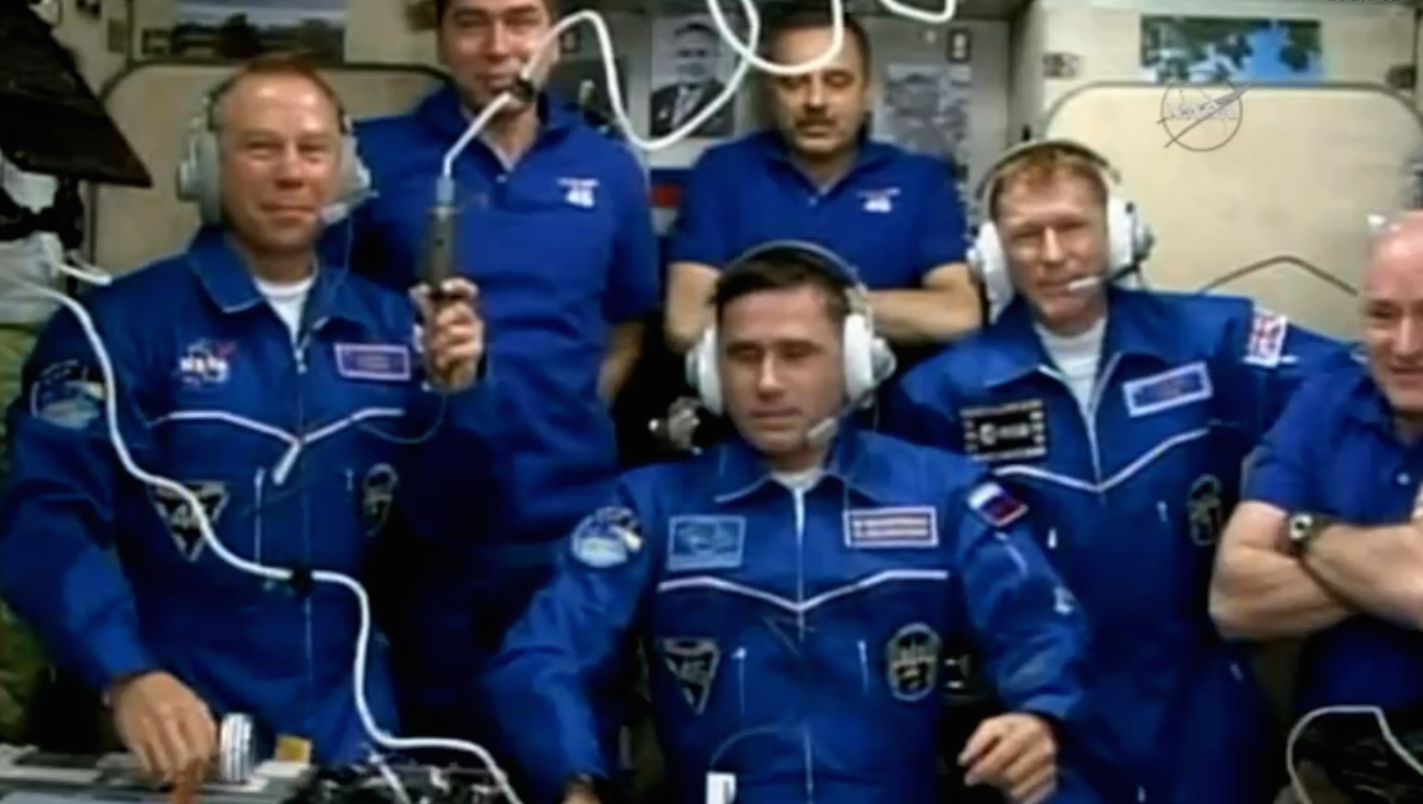 While the new crew gets familiar with the lab complex, work to unload an ATK Cygnus cargo ship that arrived last Wednesday will continue amid preparations for the arrival of a Russian Progress cargo ship on Dec. 23.
Among the items on board the Cygnus are holiday gifts for the crew and a refurbished spacesuit that may be used in mid January for a spacewalk to replace a shorted-out solar array component that has knocked one of the station's power channels out of action.
Then, on Feb. 3, Malenchenko and Volkov plan to venture outside for a Russian spacewalk. Another U.S. spacewalk is planned in April to continue work to rig the station for installation of new docking mechanisms needed by commercial crew ships being built by Boeing and SpaceX.
Along with the spacewalks, Malenchenko, Kopra and Peake expect up to six visiting supply ships during their stay in orbit. Along with the Progress launch on Dec. 21 and docking two days later, SpaceX plans to resume station resupply flights in early February following a launch failure last June.
Two more Cygnus missions are expected before the new crew departs on June 5, along with another Progress and yet another SpaceX Dragon cargo ship.
"It's going to be an exciting time," Kopra said before launch. "I think we'll have most of the ports occupied when we arrive between all the Soyuz and resupply vehicles. Tim and I expect to see … maybe a couple of SpaceX vehicles and maybe another Orbital ATK vehicle. It's a pretty unique aspect of our job in that we use the robotic arm to grapple this hovering spaceship so that we an dock it onto space station. That'll be a sight."
Malenchenko ranks seventh on the list of most experienced cosmonauts, logging 641 days in space across five flights including a stint as commander of the Russian Mir station, a shuttle flight and three tours as commander of the International Space Station.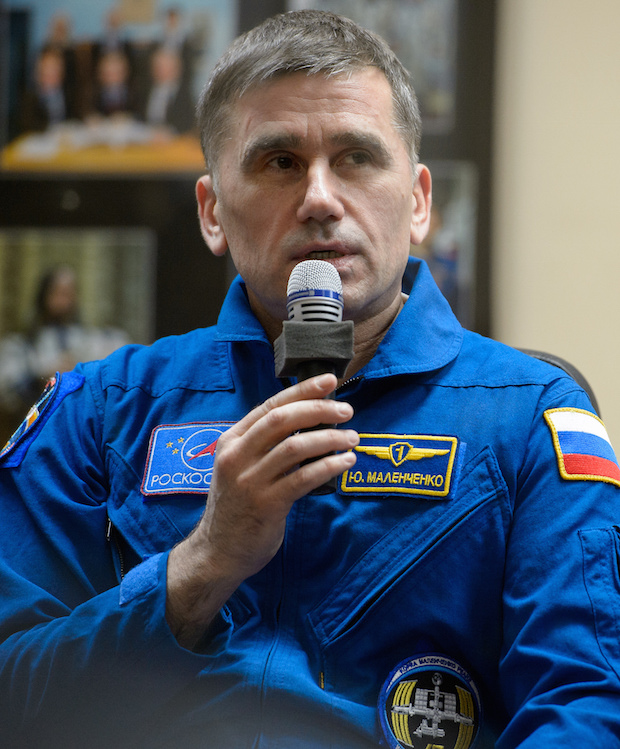 Kopra is a veteran Army helicopter pilot who spent two months aboard the space station in 2009. He was assigned to a February 2011 shuttle mission, but was injured in a bicycle crash a few weeks before launch and was bumped from the crew. The shuttle program ended two flights after that.
"I might be one of the most grateful astronauts to be able to fly in space because once you lose something you really recognize how important it is," he said in an interview. "So to this point, I would say the two years of training I've had has been 100 percent worth it, and I'm very excited about going."
Kopra and his crewmates initially expected to spend about five months in orbit, but changes to the Russian launch schedule added nearly a month to their time aloft.
"Really, the first couple of weeks you're on space station and in space you're really acclimating to your environment, you're getting used to the fact you're in zero gravity and sort of getting your space legs, so to speak," he said. "This time, there'll be plenty of time to get on track and do the things we want to do on board.
"Space station is a great place to live and work, and I'm just so excited I have the opportunity to spend time on board."
Peake, an astronaut with the European Space Agency, is only the second British citizen to fly in space and the first to be assigned to a long-duration space station mission. While he's looking forward to carrying out research on the station, he said he couldn't wait to get a chance to look down on Earth from the lab's multi-window cupola.
"I doubt that that experience will ever leave you," he said. "Living and working in weightlessness is going to be incredibly exciting. I've only experienced it very briefly when we do our parabolic flight training in the back of an aircraft. But to actually let your entire body adapt to this new environment and to experience sleeping and eating and working (in weightlessness), that's just going to be amazing."