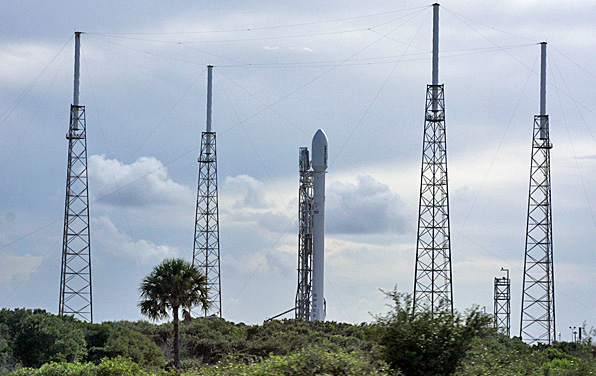 SpaceX's launch of a cluster of communications satellites for Orbcomm, set for as soon as next weekend, holds the headlines, but the company's Falcon 9 rocket could fly at least four times in the next two months, assuming smooth launch campaigns and no glitches.
The launch of 11 message relay satellites for Orbcomm, set for no earlier than Dec. 19, will be the first Falcon 9 flight since a June 28 failure grounded SpaceX's commercial workhorse.
Mounted on a ring atop the Falcon 9 rocket, the Orbcomm satellites — each about the size of a dishwasher — will be deployed into orbit approximately 400 miles (643 kilometers) above Earth after blasting off from Cape Canaveral and steering northeast from Florida's Space Coast.
The launch window Dec. 19 opens at 8:25 p.m. EST (0125 GMT on Dec. 20) and extends for three hours. The launch window is timed to allow the Falcon 9 rocket to place the 11 satellites on the correct trajectory to join Orbcomm's constellation of data relay satellites.
Officials said the satellites, made by Sierra Nevada Corp., are loaded with maneuvering propellant and attached to their deployment system. An ignition test of the Falcon 9's nine Merlin 1D main engines is planned as soon as Wednesday in the run up to Saturday's launch.
SpaceX's manifest, with a backlog of more than 50 launches the company claims is worth $7 billion, ground to a halt after a Falcon 9 rocket disintegrated moments after launch.
In the wake of the investigation, which traced the failure's likely cause to a broken support strut in the upper stage, SpaceX and its customers shuffled the Falcon 9 schedule, with the Orbcomm launch leapfrogging other missions.
The Dec. 19 launch will be the first flight of an upgraded Falcon 9 rocket with larger fuel tanks and higher-thrust main engines. The changes allow the Falcon 9 to haul heavier satellites into orbit, but the maiden flight of the modified booster makes the Orbcomm mission take on extra importance.
SpaceX may also attempt to land the Falcon 9's first stage at a landing facility the company leases from the U.S. Air Force at Cape Canaveral. If the landing attempt goes ahead — it is pending final regulatory approvals — it would mark a new chapter in SpaceX's efforts to prove the reusability of the Falcon 9 after being unable to nail landings on an offshore barge.
Marc Eisenberg, Orbcomm's chief executive, tweeted a photo of the Falcon 9 first stage inside SpaceX's hangar at Cape Canaveral's Complex 40 launch pad, hinting at the possible landing attempt.
#Falcon 9 Booster being prepped for launch. This one might be coming home. pic.twitter.com/ICL9K9Jrob

— Marc Eisenberg (@Marc944Marc) December 12, 2015
While experiments with reusability may pay off in the long run, SpaceX's near-term challenge is reliably churning out launches to meet its manifest.
Waiting in the wings after Orbcomm are a pair of Falcon 9 launches in mid-January from Cape Canaveral and Vandenberg Air Force Base in California.
The SES 9 video broadcasting platform arrived at Cape Canaveral in early December after a cross-country trip from its Boeing factory in El Segundo, California, where the satellite was stored to await a launch opportunity after the Falcon 9's grounding in June.
Owned by SES of Luxembourg, the satellite will offer broadcast services across Asia and the Indian Ocean region. SES views the mission as a source of a new revenue stream for the company.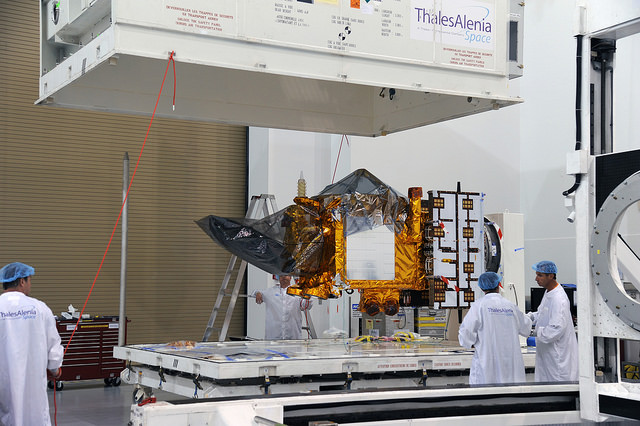 The U.S.-French Jason 3 oceanography satellite has been fueled for launch aboard a Falcon 9 rocket from Vandenberg Air Force Base on California's Central Coast on Jan. 17. The launch time is set for 1:42:18 p.m. EST (1842:18 GMT; 10:42:18 a.m. PST) from Vandenberg's Space Launch Complex 4-East, officials announced Friday.
Launch preparations resumed in November after officials halted processing at Vandenberg following the June rocket crash, which delayed Jason 3's liftoff from August to January.
Jason 3 is an international project managed by NOAA, the French space agency CNES, NASA and Eumetsat, the European weather satellite agency. It will measure the roughness of the world's oceans, a key data point in forecasting tropical cyclones and severe weather, and also monitor long-term sea level rise.
The launch of Jason 3 will use the last in SpaceX's older-generation Falcon 9 vehicles with less powerful engines and smaller fuel tanks.
It is not clear whether SES 9 or Jason 3 will launch first, but a SpaceX official said Friday the company expects to need several days between missions from the East Coast and West Coast for flight data reviews.
Next will likely be SpaceX's eighth commercial resupply mission to the International Space Station, and the firm's first since a Dragon supply ship crashed during the Falcon 9 launch failure. NASA officials said Friday the cargo launch is expected in February, carrying up food, experiments, provisions and an inflatable module for Bigelow Aerospace.
Email the author.
Follow Stephen Clark on Twitter: @StephenClark1.