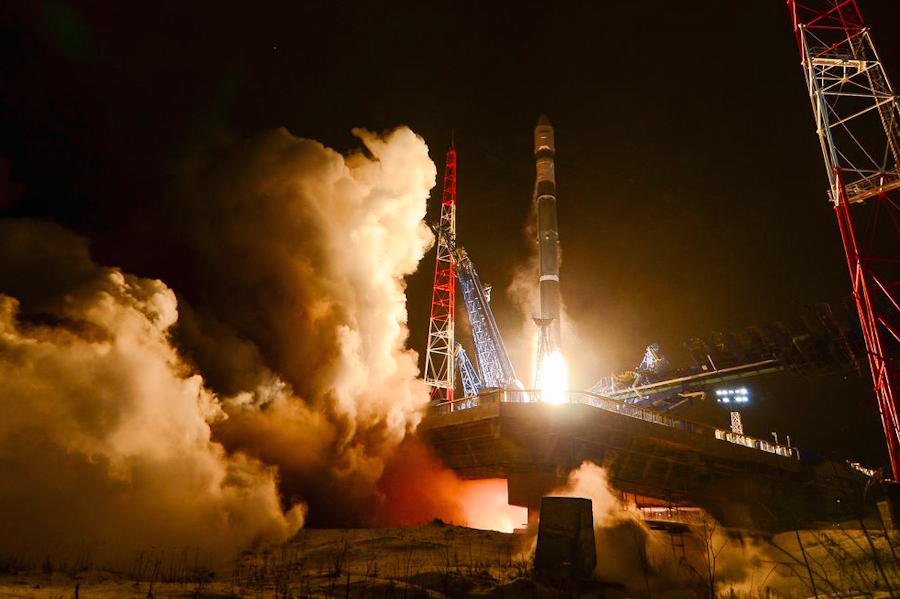 A Russian satellite burned up in Earth's atmosphere Tuesday, less than three days after it failed to deploy from its rocket after reaching orbit, according to tracking data released by the U.S. military.
The re-entry destroyed the Kanopus ST Earth observation satellite, which remained attached to its Volga upper stage following launch Saturday from the Plesetsk Cosmodrome in northern Russia.
One of four locks connecting the spacecraft to the Volga stage failed to disengage after an otherwise successful liftoff aboard a highly modified Soyuz booster, according to Russia's state-owned Tass news agency.
A secondary payload on Saturday's launch successfully deployed from the upper stage, beginning a mission to help calibrate ground-based military radars for Russia.
A notice from the military's Joint Space Operations Center headquartered at Vandenberg Air Force Base in California said the object fell back into Earth's atmosphere around 0543 GMT (12:43 a.m. EST) Tuesday. The craft was flying over the South Atlantic Ocean at the time.
An artist's concept from Anatoly Zak, a respected Russian journalist who runs the website RussianSpaceWeb.com, shows what the Kanopus ST satellite may have looked like attached to its Volga upper stage.
IT IS OVER: #KanopusST to plunge into the atmosphere as soon as tomorrow. Details, updates: https://t.co/FVScqKqoID pic.twitter.com/OLh5FwVUVG

— Anatoly Zak (@RussianSpaceWeb) December 7, 2015
Kanopus ST carried microwave and ultraviolet sensors designed to study the world's oceans. Some sources claimed the military's use of the satellite involved repurposing the scientific instruments to track ocean disturbances caused by submarines.
The mission was supposed to release the Kanopus ST satellite and its co-passenger into a circular sun-synchronous orbit nearly 700 kilometers (435 miles) above Earth. The secondary payload, named KYuA 1, is in the correct orbit, but Kanopus ST was left stuck to the Volga upper stage as it completed pre-programmed maneuvers to lower its orbit and hasten its re-entry to avoid adding space junk to busy orbital traffic lanes.
Email the author.
Follow Stephen Clark on Twitter: @StephenClark1.